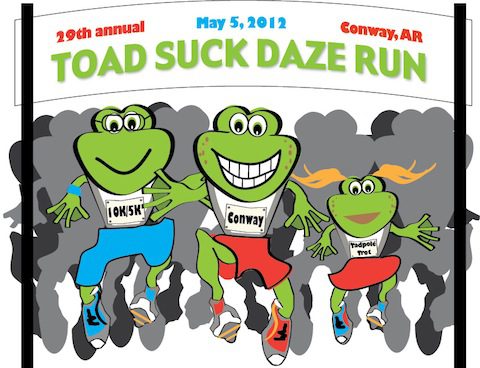 Apr 04, 2012

Registration now open for Toad Suck Daze Run

Runners and walkers of all ages are invited to participate in the 29th annual Toad Suck Daze 5K/10K Run (an RRCA Grand Prix event) on Saturday, May 5, at Conway High School West at John McConnell Stadium.

Proceeds from the race will benefit a variety of local non-profits – the Faulkner County Boys and Girls Club, Faulkner County Day School, Big Brothers/Big Sisters, City of Hope Outreach, Community Connections, Junior Auxiliary of Conway, the American Red Cross and HAVEN (Help for Abuse Victims in Emergency Need).


Over the years, the race has raised nearly $300,000 for local charities.


The event, which includes a 10K Run (the 2012 RRCA Grand Prix Arkansas State Championship Race), 5K Run, 5K Fun Walk and Tadpole Trot runs for kids, represents one of the largest events of its kind in the state. The Conway Kiwanis Club and Regions Bank are the main organizers of the event.


The 10K and 5K events will begin at 8 a.m. Pre-race registration is open online at toadsuckrun.com, and day of race registration begins at 6:30 a.m. and ends at 7:30. Participants can also register and pick up packets from 4-7 p.m. Friday, May 4, at the Conway High School West Field House at John McConnell Stadium.


The Tadpole Trot starts on the track at about 9:30 a.m. and includes races for children ages 4-12. Kids ages 4 through 8 will run 1/2 lap, kids ages 9-10 will run 1 lap, and ages 11-12 will run 2 laps (one-half mile).


The Faulkner County school with the largest percentage of participants (based on enrollment) in the Tadpole Trot will win a traveling trophy and $200 for their physical education department. The 2011 winner was Conway Christian School.


In the Tadpole Trot, the first, second and third place finishers in each race will receive trophies and all other entrants will receive a ribbon.


Wireless chip timing technology will be used for race results. Participants must wear a race chip to get an official time. Race chips and packet pick-up will be held ONLY 4-7 p.m. Friday, May 4, and on race day 6:30-7:30 a.m. at the Conway High field house. Participants registering after 7:30 a.m. will not receive a timing chip and will not be timed.


Online registration is available at toadsuckrun.com until 8 p.m. Thursday, May 3.


Online and mail registrants can pick up a racing packet, number, and timing chip on Friday evening, May 4, or the morning of the race.


Entry fees for the 10K and 5K events are $20 through Thursday, May 3, and $25 beginning Friday, May 4. The Tadpole Trot costs $5 without a T-shirt or $8 with a T-shirt.


All entrants in the 10K and 5K events who register will receive a cotton Toad Suck Daze Run T-shirt. Additional shirts can be purchased for $10 on the day of the race after 8 a.m. at the field house. NewBalance NDurance shirts may be purchased online for $12.


Free refreshments will be provided for all entrants.


The event is supported by the Conway Convention & Visitors Bureau. Other sponsors include: Kohls, Academy Sports, The Sporty Runner, Regions Bank, Reliance Healthcare, Smith Ford, Jason Rapert for Senate, Linda Tyler for Senate, Arkansas Eye Care Group, Bruce Hendricks Construction, Central Baptist College, AAA Insurance – Joe Pruett Agency, Jay Bernard State Farm Insurance, Patterson Eye Care, Denver Prince Family Rentals, Banister Family Dental, Nabholz Construction Corp. and Conway Urology.


For more information, contact Kevin Wish, race committee member, at Regions Bank 501.450.4786 or visit toadsuckrun.com.