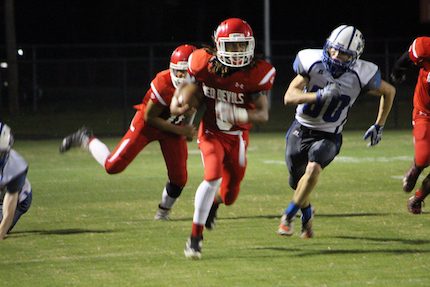 21 Nov 2017

Red Devils break through in 2017

by Mark Oliver


In a year filled with great football stories, one 501 team found a way to reignite a flame that had been missing for so many years — sparking one of the biggest comeback stories in recent Arkansas high school football history.


Nestled in northwest Garland County, Mountain Pine, a community of less than 800, has had its share of athletic success over the years. Adorning the football and basketball facilities are banners, trophies and plaques representing various victories from years past. Up on the hill at Stanley May Field lies, arguably, the school's greatest achievements — reminders of its back-to-back state football championships from 1978 and 1979.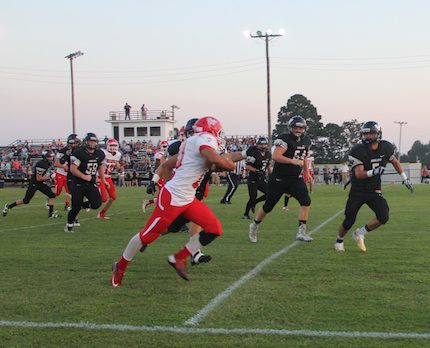 Over the past six seasons, however, the football program had fallen on hard times. From a 31-game losing streak to forfeiting the 2016 campaign due to a lack of players, the Red Devils managed just three wins since 2011, and left many wondering if the team could ever return to its former greatness.

"From a former player's standpoint, it was tough witnessing my school struggle, especially after always experiencing success in the time I spent there as a player," Red Devils Offensive Coordinator Joey Alderman said.

Then, the unthinkable happened. After being blanked by longtime rival Jessieville, 35-0, in the 2017 season opener, Mountain Pine found a spark in Week 2 that started something bigger than anyone could have imagined.

"The Cutter Morning Star game was a big game for us," Red Devils Head Coach Sam Counce said. "After losing the way we did against Jessieville, we knew that getting a win there would be crucial for us. We came from behind and won a close one, 8-7. At that moment, that's when everything started rolling. You could see that the kids were starting to believe in what was possible. The next week, on the road at Woodlawn, we went out and had a good game and picked up our second win in a row."

For the Red Devils, one win became two and soon the streak quickly grew to seven, something the school hadn't achieved in more than a decade. Suddenly, Mountain Pine was not just the hottest team in Garland County — news of the team's success began to spread beyond the 501 like wildfire.

"Once we had our confidence, it was a great environment for us to be in," Counce said. "The coaching staff loved to come to work every day. The kids loved to show up and work hard. Winning was something that they hadn't experienced before, and they really enjoyed it. Even Bobby Bones was talking about us on his nationally syndicated radio show. It was huge for the community."

Reminiscent of its teams of old, Mountain Pine found strength in its running game. Senior Dafavioun Haywood led the Red Devils with 151 carries for 1,365 yards and 20 touchdowns and eight games of 100 or more yards rushing. Sophomore quarterback Collin Smith recorded 107 carries for 772 yards and 11 touchdowns, including three games with 100 or more rushing yards. Defensively, senior Carter Chapman shined with 120 tackles.

"I believe our offense was huge for us," Alderman said. "On offense, we were able to advance and expand all season. We had a talented backfield with some depth that allowed for fresh bodies. Our quarterback did a great job leading our offense and making reads and changes at the line. Our offensive line was young, with us starting three sophomores, but they communicated well and were able to get the job done."

Riding a seven-game winning streak into Week 9, the Red Devils had set the stage for a huge showdown — facing reigning Class 2A state champion Mount Ida for a chance at the 7-2A conference championship.
"At that point in the season, I knew that we were battle tested," Counce said. "Going into the last two games of the year against Mount Ida and Foreman, I knew that they would be the toughest teams we'd face all year. Being where we were, in that moment, was a big accomplishment for us. Unfortunately, we were just too inexperienced and couldn't stand up to the senior-laden teams in Mount Ida and Foreman."

Although the streak had come to an end, Mountain Pine had secured a position in the Class 2A playoffs, something that hadn't been done since 2010. The team's seven wins were more than the past six seasons combined, and the team's bond was stronger than ever before.

"We did some great things," Alderman said. "Being able to give ourselves the opportunity to be in the playoffs was a great accomplishment after not having a season."
On the road at Palestine Wheatley for the first round of the Class 2A playoffs, the Red Devils led late, but a couple of costly safeties spelled defeat as Mountain Pine fell, 36-35, ending the team's great run.

"After the game, I told the kids that I loved them," Counce said. "I told them that they accomplished a lot this year, and I told them I was proud of the way they competed and how they gave back to the program at Mountain Pine. Although their season is over, I hope that they can look back one day and say, 'Look at what we started.' I hope they see that they helped set the foundation for these younger guys going forward.
"We had a great year as far as what we accomplished, and we have a lot to look forward to in the future. Our younger guys got great playoffs experience going to Palestine Wheatley, and I believe that we set the standard for Red Devils football going forward. Winning has helped the whole school atmosphere, and it's not just in football — it's showing on the basketball court and on the baseball field as well. It gives you a lot of pride in your school, and I can't wait to see what happens next."