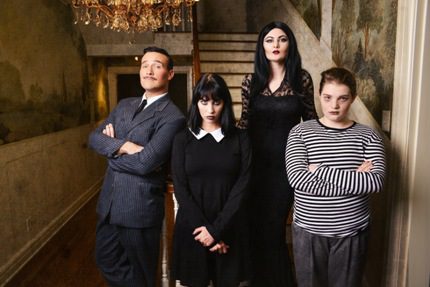 12 Sep 2016

Red Curtain plans The Addams Family

Posted at 10:55 AMh

in

News

Red Curtain Theatre will present the magnificently morbid tale of "The Addams Family – A New Musical Comedy," Friday, Sept. 30, through Sunday, Oct. 2, at the Treischmann Fine Arts Building at Hendrix College.


The musical production of this zany family and their ancestors is based on the book by Marshall Brickman and Rick Elice; music and lyrics by Andrew Lippa; based on characters created by Charles Addams.


Two-time Tony award nominee, including Best Original Score, "The Addams Family" features an original story, and it's every father's nightmare. Wednesday Addams, the ultimate princess of darkness, has grown up and fallen in love with a sweet, smart young man from a respectable family – a man her parents have never met. Everything will change for the whole family on the fateful night they host a dinner for Wednesday's "normal" boyfriend and his parents. "The Addams Family" has mildly mature content.


Director Justin A. Pike relates to the story, "At its core, 'The Addams Family' is a tale of a seemingly unconventional family grappling with change – that tumultuous time when the first born child succumbs to the waning of adolescent angst and faces the hopeful dawning of adulthood. Once one strips away the spooky and the macabre, 'The Addams Family,' is a family unit just like any other. They still feel, love, teach, accept, and relate to one another the same way, regardless of an outsider's perspective or societal norms. They are their own normal. Beyond the silliness and showmanship of this outrageous musical comedy, those primary ideas are what make 'The Addams Family' an important show for all kinds of families to experience together."


Red Curtain Theatre is a performing arts theatre company in Conway. The mission of the organization is to provide an atmosphere that nurtures and inspires actors of all ages by offering performance opportunities through workshops and community theatre. Their most recent performances include the hit musicals "The Music Man," "Alice in Wonderland Jr." and "The Jungle Book Jr."


Red Curtain Theatre's production of "The Addams Family – A New Musical Comedy" will be performed at 7 p.m. Friday, Sept. 30, at 2 and 7 p.m. Saturday, Oct. 1, and at 2 p.m. Sunday, Oct. 2.


Tickets are $15 and may be purchased at redcurtaintheatre.com or by calling 501.499.9776. For more information, please email [email protected].