30 Oct 2022

Ready to race

By Stefanie Brazile

Like many other 10-year-olds, Westen "Kyler" Osborne likes football, baseball, basketball and dirt bikes. He also loves driving more than 70 mph.

Kyler competes in the Jr. Dragster Racing League (JDRL) and travels across the South racing against other kids around his age. "It feels really exciting when you get in the car," Kyler said. "It makes me happy racing a lot of other kids my age and older than me."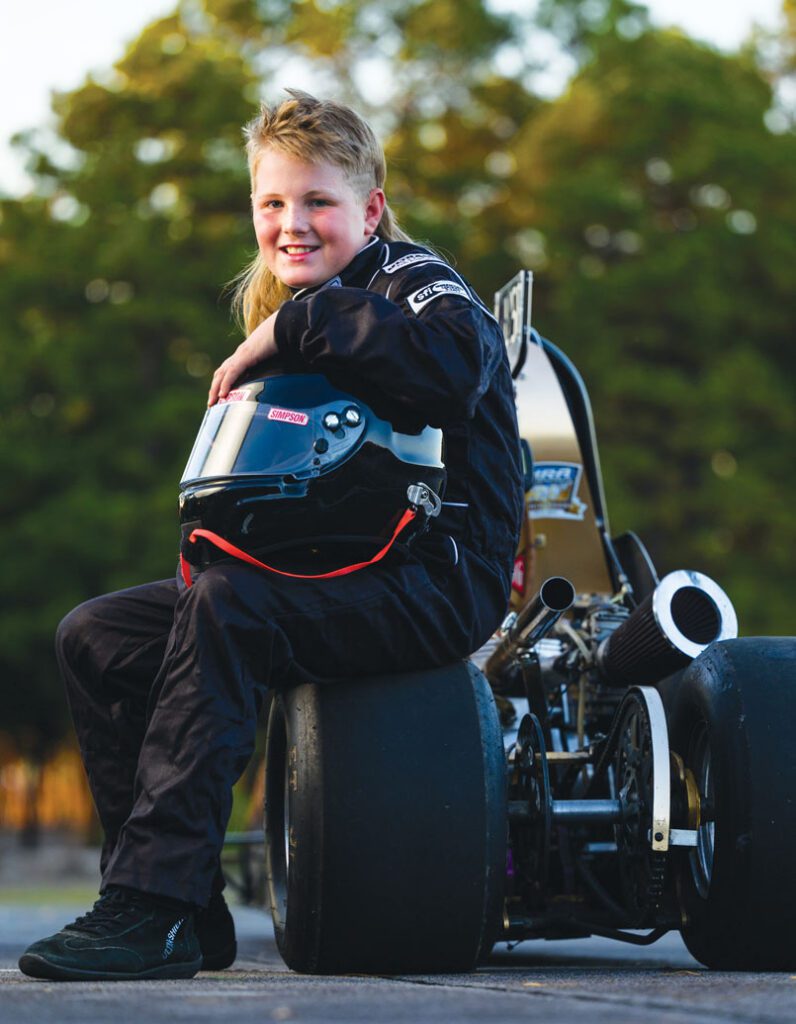 This year he's running 72 mph on the 1/8-mile track in Paragould (Greene County). He wins trophies and money, and each race fuels his desire to keep driving – fast! The cars that JDRL competitors race are called Jr. Dragsters, which are half-scale versions of Top Fuel dragsters, according to jrdragster.nhra.com. In most races, eight to 16 kids compete. The criteria to compete includes a height and age requirement.
His mother, Beverly Osborne, said Kyler has a dragster and has raced throughout Arkansas, including in Paragould (Greene County) and at Centerville Dragway in Dardanelle (Yell County), as well as out-of-state in Byhalia, Miss.; Memphis, Tenn.; and Missouri. His car is currently black with "6x" printed on the side, with plans to wrap it in white. Kyler carries the number 6x from his cousin, Hayden Hartwick, who competes in dirt track races. Many competitors have a charm or a ritual they follow before a race. Kyler has a drag racer's prayer and a cross necklace that he puts in his car "to help me not get hurt and for good luck. I hope when I get older, I can still race."
He is from Wilburn in Cleburne County and is a fifth grader at Pangburn Elementary School. Kyler became interested in Jr. Dragster racing because of his mother's boyfriend, Brad Andrews, whom he considers his dad. His cousins and a stepbrother also share the hobby. His home base track is in Paragould where he practices his technique and reaction time.
Besides Jr. Dragster Racing, Kyler plays middle linebacker for Heber Springs Peewee Football. He will play basketball again for Pangburn Elementary and then plans to play baseball for Heber Springs in the outfield, or at second or third base.
He has a sister, Kynlee, and considers Andrews' children family. His stepbrother is Hayden, and his stepsister is Blaire. Kyler enjoys his dogs Gypsy and Little Bit, a cat named Lilly, and a turtle named Speedy, believe it or not. His grandparents are Barbara and Steve Osborne of Wilburn and Marcus and Jackie Andrews of Tumbling Shoals. Kyler's drag racing hero is his dad.