29 Oct 2020

Re-tail therapy

Nowadays when you approach a retail business, you are greeted with signs about wearing a mask, a hand sanitizer station and often a thermometer. But at a newer furniture store in El Paso (White County), you'll also be greeted by a friendly Goldendoodle.

"Stella absolutely has the best personality," owner Courtney Hawkins said. "She loves to give kisses and loves for me to hold her like you would a kid."

A Golden retriever-poodle mix, Goldendoodles are a relatively new dog breed, first appearing in the U.S. in the 1990s. While not officially a registered breed, they are considered a "designer breed" because each parent is purebred. Because poodles don't shed and are intelligent and Golden retrievers are lovable and playful family dogs, Goldendoodles are great companions. A three-year-old Goldendoodle, Stella Bella Hawkins was hand-picked by her fur mom, Courtney.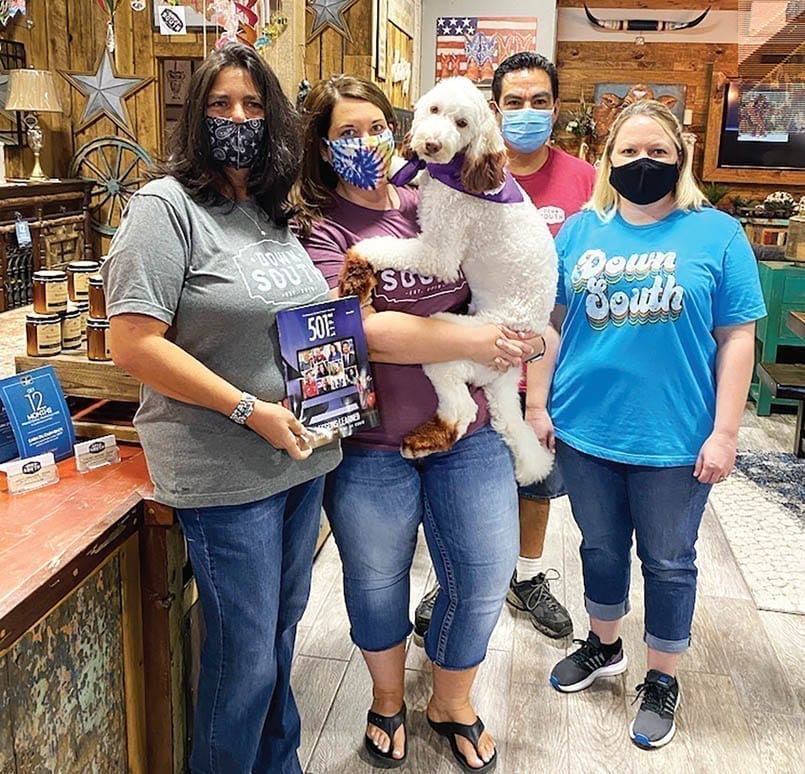 "I had a pug named Bailey for 17 years that I had to put down – and it almost killed me. I had secretly loved and wanted a Doodle for a couple years, but I knew Bailey couldn't handle a puppy so I just ignored the urge. When I lost Bailey, I was devastated and thought I could never go through that pain again."
She said she was lonely without a pet, so about seven months later started looking online at rescues, but there were no local doodle rescues. "I wanted a female dog that wouldn't remind me of a pug at all," Courtney said. While at a hair appointment, Courtney mentioned to her stylist, and a best friend, that she had been looking online.
The friend told her that she was housesitting at that time for a client who had a pregnant Goldendoodle. The rest is history and now Stella and her mom are inseparable. When she first chose Stella, she owned Trailer Country in Cabot and the puppy went to work with her every day. About a year ago when she and her mom, Danita, opened Down South, the friendly white dog continued to go to work every day. "She doesn't know any different," Courtney said. "The staff has adopted her as their own and customers come by just to see her sometimes.
"Stella goes everywhere with me. She is literally like my kid," she said with a smile. "She cheers people up wherever she goes."
When shoppers visit the huge showroom of Southern inspired décor and gifts, Bella happily greets them, unless it's naptime. She can show-off her bag of tricks which includes: sit, shake (with both paws), lay and crawl.
"Kids love her and she loves them, especially little boys – boys are her favorite for some reason," Courtney noted. "She is also crazy about babies and has been since she was a puppy!"
Weighing only 35 pounds, which is small for a Goldendoodle, Bella loves to chase lizards and to eat vanilla ice cream, thanks to her grandpa. Every three weeks she visits the groomer. Over the summer, they began dying the bottom of her legs and paws brown because as she walked through mown grass, they were turning green.
This Thanksgiving season, Courtney and Bella invite you to come by and meet them.