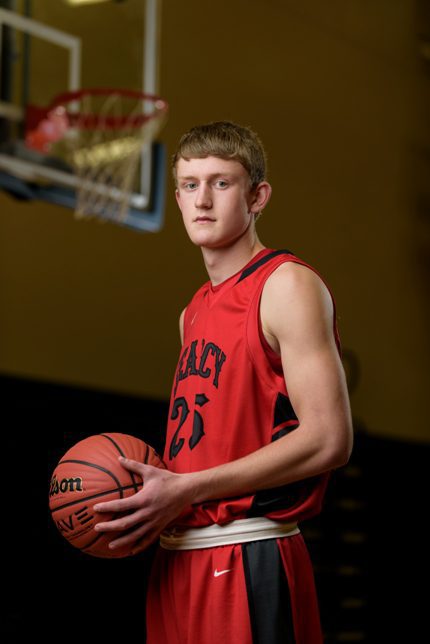 01 Feb 2017

Ramey guides new-look Lions

by Mark Oliver


As a child, Searcy forward Kaleb Ramey was taught an important lesson from his parents — to never give up when the going gets tough. It's a virtue that's stayed with the senior for the entirety of his basketball career.


"From an early age, my parents taught me to never give up on anything," Ramey said. "Over the years, there have been plenty of times where I felt like giving up on basketball. For most of my senior high career, we haven't been able to win more than three games in a season, and the game was becoming more of a chore than something that was fun to do."


In his final season with the team, persistence paid off for Ramey and the Lions.


"This year, everything changed," Ramey said. "We brought in Coach White, and he has been one of the best coaches we've ever had. He works on personal development with us and inspires us to love our time at practice and on the court. As a team, we've gotten much better and much closer. Right now, we're winning games and having fun, and it's easily becoming the best year of high school that I've ever had."


Ramey was selected to this year's 501 Basketball Team — 34 players representing the best the 501 has to offer both on and off the court. The senior was nominated by his head coach, John White. The team is sponsored by First Service Bank and First Security Bank.


"Kaleb is unselfish and athletic," White wrote. "He's honest, respectful and a great student. [We expect him] to be a senior leader who is able to battle through adversity and to be an efficient scorer and relentless rebounder."


With the Class 6A conference tournament on the horizon, Ramey is committed to helping the Lions (7-14, 1-6 Class 6A East) reach their goals down the home stretch.


"As a team, our major goal this year is to go to the conference tournament," Ramey said. "It will be the first year that our group has done it, and I would love to have that as a memory for my last year. Coming into this year, the expectations of this team were unknown, but I knew that I wanted to make the guys around me better so they have a better shot next year after I'm gone. I think we've done that this season."


According to Ramey, much of the Lions' success this season revolves around team chemistry.


"Chemistry is incredibly important for us this year," Ramey said. "In the past, our team would get along fine, but we never invested in each other as teammates. Before this season started, we went on a team-building retreat so that we could all get on the same page together. Throughout the year, I've worked to reassure the younger players that we have their back if they make mistakes. That advice has helped take some of the pressure off of them and allowed us to play better as a team."


Off the court, Ramey believes in the importance of giving back to the youth of the 501.


"One of the best things I can do is help the youth in my community," Ramey said. "They are our future. If I can share with them something that I love and am good at, then I like to think that I can help them become better people. If I can get them into sports and academics, they may not want to find themselves in the peer pressures of the world. As older people, that's something we can work on to make our future better."


This spring, Ramey will graduate from Searcy High School with honors. After high school, the senior plans to pursue a medical degree at the University of Central Arkansas in Conway.


Searcy plays at Morrilton on Friday, Feb. 3.