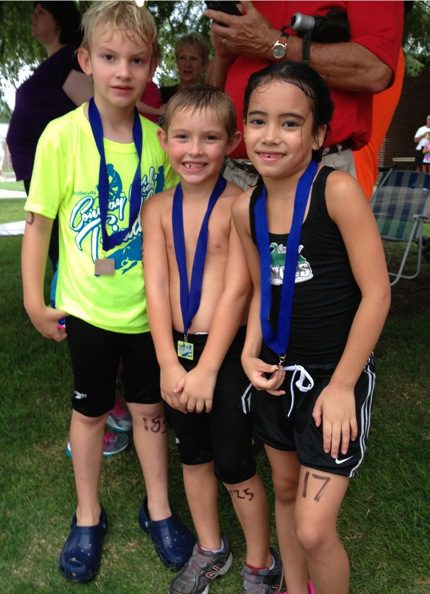 14 Aug 2013

Rain cuts kids' triathlon short

For the first time since the event has been held, the weather did not cooperate for the 16th annual First Security Conway Kids' Triathlon.

"This was the first time in 16 years to have inclement weather," said race director Shannon Milam. "We had to cancel the event about 45 minutes in. The 6 to 8-year-old girls were able to finish, along with the 6- and 7-year-old boys and a few 8-year-olds."


The overall winners of the 6- to 10-year-old division were Kristina Games of North Little Rock, 8, with a finish time of 16.24 minutes and 8-year-old Charlie Meek of Conway with a finish time of 17.15 minutes.


"We had 355 register for the event," Milam said.
The two largest teams that participated this year were the Conway Crocs and the Centennial Valley Tri Club. There were almost 30 kids on each of the teams. "We love seeing kids train together, supporting and encouraging one another."

Outside of Arkansas, there were participants from Mississippi, Missouri, Texas and New York.
"We're always thankful for our sponsors and hundreds of volunteers that help make this event happen. Also, our board members are incredible – it couldn't happen without them!"

Board members are Dana Goff, Teresa Blumenberg, John Courtway, Pete Tanguay, Kimberly Porter, Erik Leamon, Jeff Goff, Luke Porter, Brad Rogers, Tara Leamon and Don Potter.

The event is supported by the Conway Running Club and title sponsor First Security. It emphasizes health, self-esteem, self-confidence and fun in a safe, family-friendly environment. This year's triathlon benefited Soul Food Café Mission. Visit conwaykidstri.com for more information.