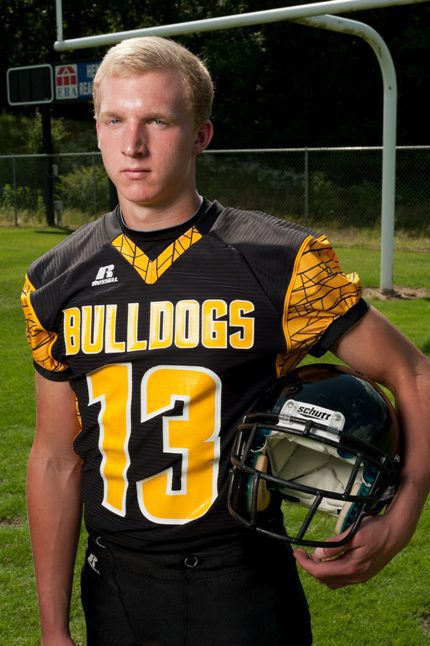 01 Oct 2014

Quitman's McGhee embraces 'challenge' of starting role

by Mark Oliver


As the starting quarterback for the 7-1 junior high conference co-champions, Quitman sophomore quarterback Trey McGhee enjoyed success a year ago.

However, as he becomes the starting quarterback for the senior high Bulldogs in 2014, McGhee faces new challenges on a team fighting for a playoff spot in a tough conference.


McGhee was selected to this year's 501 Football Team — 24 players representing all 11 counties of the 501. The team boasts the best the 501 has to offer both on and off the field. McGhee was nominated by Quitman's new head coach, Brett Shrable.


"Trey is the type of athlete that makes sure that the other players are getting recognized and getting the credit they deserve," Shrable said. "He has solid football knowledge of how the game flows and is an outstanding leader."


Off to a 1-2-1 start, Quitman opened conference play a week ago with a 45-14 loss to Bigelow. This week, McGhee and the Bulldogs look to get back into the win column against conference rival Cutter Morning Star tomorrow night.


"In a way, I enjoy the challenge," McGhee said of the 5-2A conference. "Having the older guys on the team pushing me to the limit and pushing me to keep my position could be really good for me. I want to improve myself as a quarterback and gain the trust of the senior high team, and I'm confident that I can do that."


With the team searching for its first playoff berth since 2011, McGhee embraces the new style of coaching that Coach Shrable offers in his first season with the Bulldogs.


"Coach Shrable really wants us to break things down to the basics," McGhee said. "It has put a whole new twist to the attitude of the team."


"Trey is versatile," Shrable said. "He led the team in passing, rushing and overall leadership last year. He will, again, be a leader and the player that the team trusts to make things happen. His skills continue to improve on a daily basis."
Off the field, McGhee is also a leader in the classroom.

"Trey is a straight-A student and is involved in multiple organizations," Shrable said. "Students are drawn to his leadership and you will never find a young man with better manners."

Outside of football, McGhee is also invested in basketball and track and field at Quitman. When he's not focusing on schoolwork and athletics, McGhee volunteers his time helping Quitman's youth learn about sports.

"After our football practices, I really enjoy going to watch the younger kids play the game," McGhee said. "I enjoy watching them come up, just as I did when I was that age. It's really fun to watch them grow up."

"Trey works with younger players in football and basketball, teaching them skills," Shrable said. "He is always looking to help any student or even member of the community who is in need."

In the future, McGhee hopes to give back to the community he calls home.

"Even if sports and football don't work out for me after high school, I still want to be around these athletes," McGhee said. "Maybe I'll look into getting a degree in physical therapy or maybe I'll come back to Quitman to coach these kids. I love the intensity of this game, and I hope to be able to share that with them one day.

"Being from a small town, I know I'm not in the lights and the buildings, but that's not important to me. Just being able to pass through and say that I was a part of this place and recognizing where I come from is what's most important to me."