02 Jun 2023

Purple Passion

By Donna Benton

I've been working on my mindfulness. Little moments where I cajole my brain to relax. It's usually during peak hubbub and flurry when I suddenly realize I need to take a moment to ground myself. I close my eyes, get quiet and still and go to my happy place, as they say. Summer sun touching my shoulders. A little breeze puffs my cotton dress where it's hardly touching my skin at all. I'm surrounded by flowers. Bushes of them in uniform rows of purple plumes flank the path where I walk, close enough on each side to run my hands through the shrubby blooms, unearthing their sweet and sage-y herbal bouquet. My happy place has towering, gnarled, old-man trees too, giving shade if needed. And it has water; dark, still water, reflecting giant cypress trees in a shimmering inverted replica, rippled only by an occasional sun perch or wading bird. It sounds like a dreamy, imaginary place, but I've been there in real life!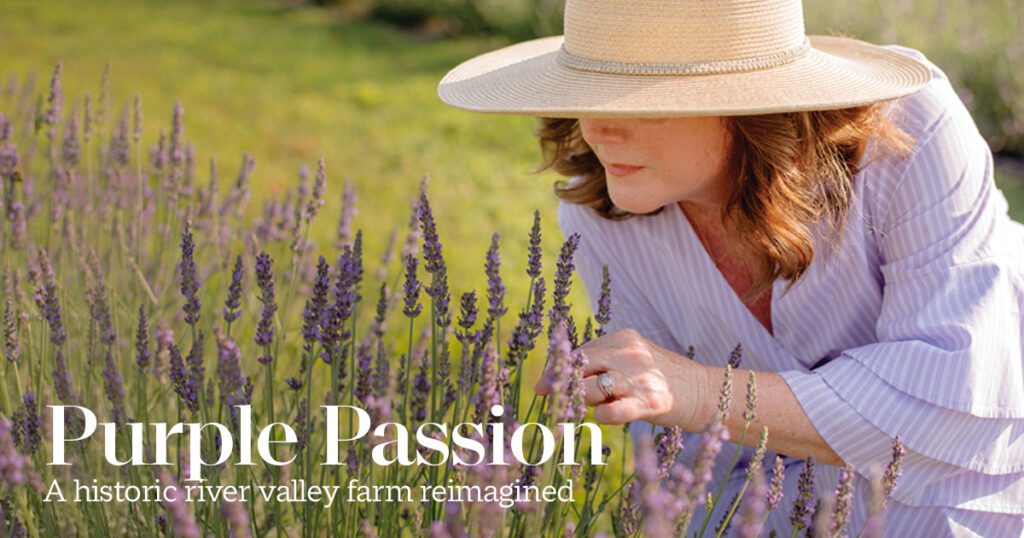 Not too long ago, I was invited down to Scott, just south of Little Rock, where the freeways turn into two lanes and the parking lots turn into manicured farmland. Horizontal expanses of green, divided by the meandering Arkansas River and its glassy oxbow lakes that the mighty river left behind. It's the kind of place that feels like everyone up and left for the city and gave the earth there a chance to breathe.
I was invited there by Nicole Locke, to help her reimagine the perfect farmhouse kitchen at their new homestead. Nicole and her husband, Chris, had just sold their house in the city and moved their family to this historic spot of land on the banks of one of those mysterious oxbow lakes. The Lockes had a vision that began to cultivate as they started renovating the old farmhouse, taming the overgrown trees and shrubs and bringing the land back to life. It was easy to imagine raising chickens, growing a garden and fishing on the lake here, but Nicole's true dream for the farm was taking shape just at the edge of the old soybean field.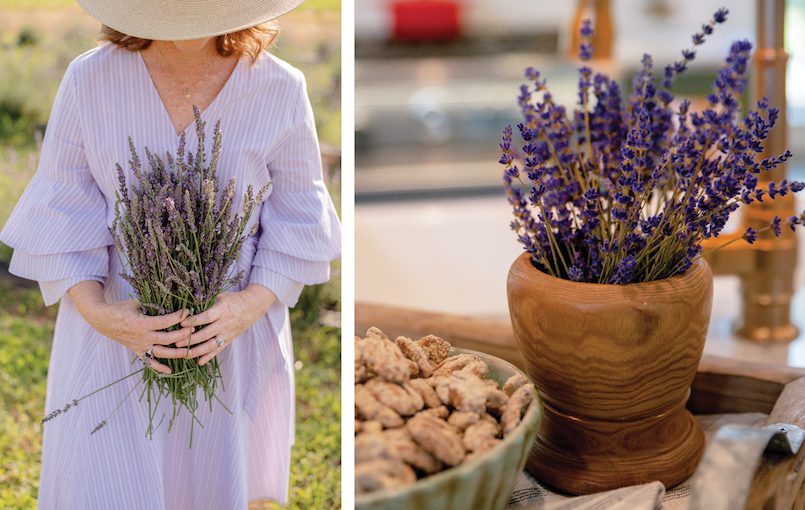 I could hardly think about the renovation task at hand, dreaming about those wispy rows of test plants out at the edge of the field. Natural State Lavender Co. was beginning to take root. Lavender plants to test Mother Nature and her sandy, loamy river valley soil and to test the resolve of the Lockes to see if they were cut out for the rigors of farm life.
Flash forward a couple of years and the lavender farm is operating full steam ahead. With more than 1,000 plants of French and English varieties and plans to expand, their offerings continue to grow. It's all hands on deck during harvest season when the kids, Chase (22), Chloe (17) and Coleson (13), all pitch in to help. You can find their lavender products on their website if you are lucky, but most of their goods are sold seasonally at local pop-up shops and by word of mouth from friends and repeat customers.
Did I mention there is a pecan grove? Rows of 100-year-old giants with limbs as big as trees themselves, planted generations ago and once harvested commercially. They expect to have a big pecan harvest this fall and offer candied pecans, including, you guessed it, Sweet Lavender Sugar Pecans.
The kitchen renovation turned out pretty well too! I think it is a kitchen befitting a dreamy lakefront lavender farm with a pecan grove. The contrasting sage green and crisp white cabinets look amazing with the ever-present lavender bouquet, dried or fresh depending on the season–a great place to pull up to the bar and share a swig of lavender lemonade. You can buy a mix from Natural State Lavender Co., or you can make the homemade version with Nicole's recipe. I am partial to the kitchen. From now on when I go to my happy place, I'll have to stop into the kitchen for a glass of Nicole's lavender lemonade.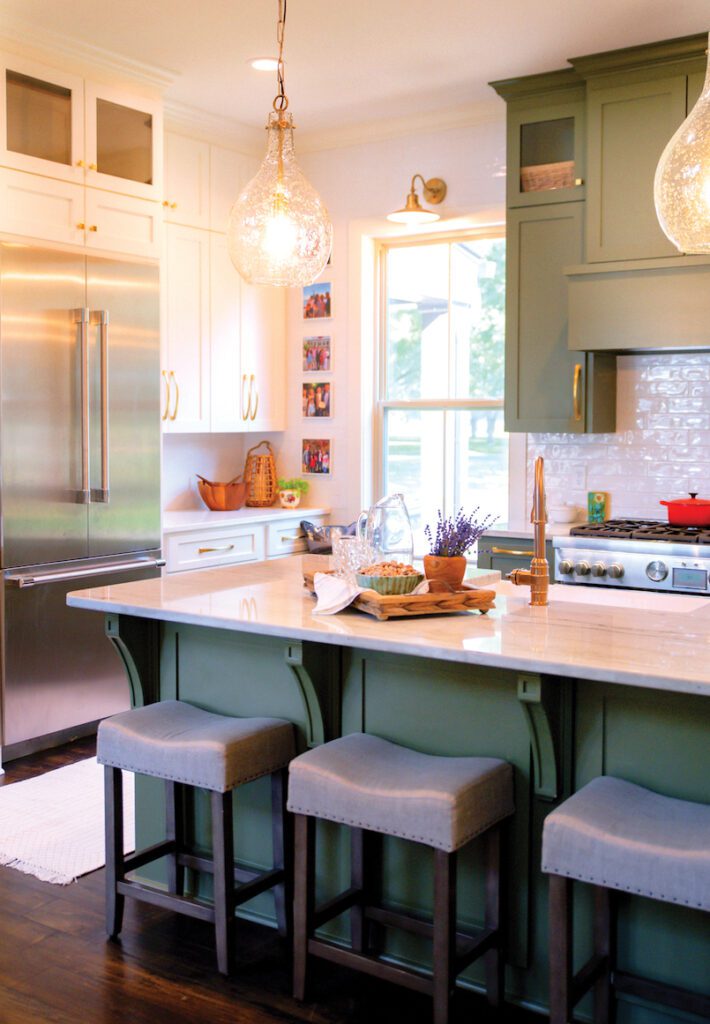 See more of the author's work on Instagram at waterhousemarket.
Nicole'sLavenderLemonade
2 cups of freshly squeezed lemons (about 10 lemons)
3 cups of ice-cold water (to taste)
Lavender simple syrup (recipe below)
Ice
Lavender Simple syrup
1 cup granulated sugar
1 cup water
2 Tbsp. culinary lavender
Combine sugar, water and lavender buds in a saucepan and simmer over medium heat. Stir until sugar is dissolved, then two more minutes. Let cool and strain.
For lemonade: In a large pitcher, combine lemon juice and lavender simple syrup. Add about 3 cups of cold water, and taste as you go until it's just right. Garnish with a Natural State Lavender Co. cocktail pick and a lemon wedge.
For a fun twist, freeze lavender lemonade concentrate (lavender simple syrup and lemon juice) into large cubes and pour sparkling water over them for a refreshing and bubbly beverage.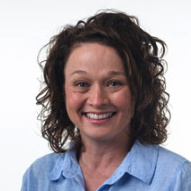 Latest posts by Donna Benton
(see all)