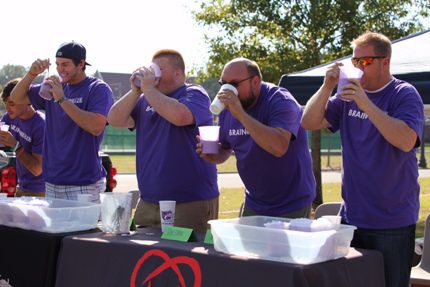 12 Oct

Purple Cow Milkshake contest to benefit Bethlehem House

Purple Cow in Conway will host its second annual "BrainFREEZE," a milkshake drinking competition, from 2 to 4 p.m. Sunday, Oct. 18, on the Green at Hendrix Village.

The event will feature three competitive divisions: child, church and celebrity. Registrants are encouraged to raise the registration fee. Fees for the celebrity division are $250, church division fee is $100, and $50 for children's division.

Conway Coach Todd Kendrick will be defending his Celebrity Championship Title. Last year, Kendrick drank 3 pounds and 7 ounces of Purple Cow milkshakes.

Organizers promise a fun, family adventure with kid-friendly activities including face painting, pumpkin painting, a coloring competition and free balloon animals.

All funds raised at the Purple Cow "BrainFREEZE" will benefit Bethlehem House, Conway's homeless shelter.

Bethlehem House is a transitional shelter in Conway that seeks to encourage, equip and motivate homeless and nearly homeless individuals and families to take the necessary steps to improve their life situations. For more information or to help, go to bethlehemhouse.net.