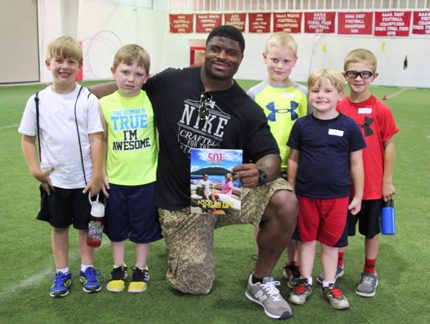 17 Jun 2015

Professional football player visits youth camp at Cabot

Tampa Bay Buccaneers Clinton McDonald made a surprise visit last week to a youth football camp at Cabot. Dozens of young players were excited to meet the NFL Football star.


McDonald is a graduate of Jacksonville High School and happened to be in town and was happy to visit with the players. He even brought his Super Bowl XLVIII Championship ring.


The theme of the two day camp was "All Out." McDonald told the players you have to go "All Out" to be successful. It takes being obedient, discipline and hard work. He shared how working with his father in construction prepared him for life and taught him not to take opportunities for granted.


After sharing his story, McDonald gladly signed autographs and posed for pictures with the future football players. He told them if someone from Jacksonville, Ark., which is just 10 minutes down the road, could make it to the NFL, then a Cabot Panther could too!