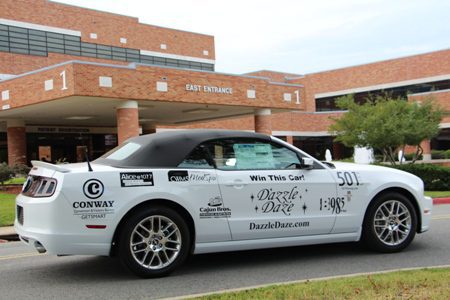 20 Oct 2014

Prizes listed for Dazzle Daze Raffle

Posted at 1:53 PMh

in

News

Thirteen will be a lucky number for Dazzle Daze supporters this year. In its 13th year, Dazzle Daze is loaded with valuable prizes for its 2014 raffle.

Dazzle Daze – sponsored by the Conway Regional Women' Council – will return to the Conway Expo Center and Fairgrounds this year on Thursday, Nov. 20, through Saturday, Nov. 22, offering a wide variety of holiday shopping with more than 90 merchants expected. 501 LIFE is a Presenting Sponsor for the event.


The raffle is one of the headliners for Conway's annual holiday shopping extravaganza each year. A 2014, white Ford Mustang convertible from Smith Ford is the grand prize for the raffle. The Mustang is valued at more than $34,000 and there are a variety of other prizes that are worth the $100 ticket, including:


Second place – A $3,500 Bad Boy 54-inch mower donated in part by Tractor Supply of Conway.


Third place – A $3,000 Med Spa gift certificate donated by Conway Women's Med Spa.


Fourth place – A $1,000 gift certificate donated by Cajun Brothers Furniture.


Currently available, only 500 tickets will be sold at $100 each. The drawing for the four winners will be held at 4 p.m. Saturday, Nov. 22, at the conclusion of Dazzle Daze.


Proceeds from the raffle and Dazzle Daze 2014 will provide health student scholarships and equipment purchases and support patient and community programs at Conway Regional. During the past 12 years, the event has raised nearly a half million dollars.


Anyone wishing to purchase a ticket can do so from a Women's Council member or at the Conway Regional Health Foundation offices, located at Western and Louvenia streets. Other Conway outlets include: 501 LIFE, the Log Cabin Democrat, Smith Ford, Cajun Brothers Furniture, H3 Home + Décor and the Conway Regional Health & Fitness Center. Greenbrier locations are First Security Bank and Daisy-A-Day Florist. Tickets are also available at La-Z-Boy Furniture Gallery in Little Rock.


For more information about Dazzle Daze or the raffle, visit DazzleDaze.com or call 501.513.5191.


Dazzle Daze was established in 2001 by the Conway Regional Women's Council.


The Council is an advocacy group with more than 140 members who promote women's health education in addition to raising funds for health care at Conway Regional.