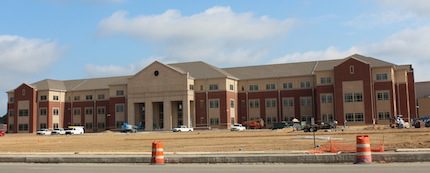 16 Jul 2012

Preview party Thursday at new Conway High School

Posted at 5:45 PMh

in

News

A special preview party is planned Thursday at the new Conway High School to help raise money for teacher grants.

The event is being planned by the Conway Public Schools Foundation.


Jan Spann, foundation president, points out that construction has not been completed but enough is finished to give the community an idea of what the building will look like once school starts in mid-August. Tickets for the preview party are $25 each and can be purchased at the door or on the foundation website – cpsfoundation.com.


"It's an early preview," Spann said. "It's not an open house. The building will not be finished but you can see what the building will be."


The new, three-story, 165,000-square-foot school will feature 10 science labs, eight special needs classrooms, four art classrooms and six computer labs. The building will also house administration offices and a lecture hall that will seat three classrooms of students.


An official open house and dedication are planned Sunday, Sept. 16.


The preview party will include a self-guided tour of portions of the new building. Points of interest include:

First floor – Art and photography work by CHS students; and a lecture hall that seats 150 with audio and projection capabilities.
Second floor – Music performed by ensembles representing the Conway band, choir and orchestra; the media center with large windows that provide a view of the future Wampus Cat Courtyard; a state-of the-art classroom; and English and history displays.
Third floor – State-of-the-art labs for biology, chemistry and physics.
Sponsors for the preview party include:

Champion – Arvest Bank, Crews and Associates, First Security Bank.
Founder – Centennial Bank, Crain Buick GMC, the Monte Smith Family and Smith Ford.
Patron – Bank of Little Rock Mortgage, Central Baptist College, the Faulkner County Board of Realtors, Nabholz Corporation, Bill and Virginia Nutter, Panera Bread and WER Architect/TME Engineering.
The foundation has also organized the "Honor the Past, Build a Foundation" brick campaign. For $100, a personalized brick will be placed in the new Wampus Cat Courtyard between the new high school building and the new cafeteria to be completed in 2013. Bricks can also be ordered on the foundation website.

The foundation's purpose is "helping teachers help students."

According to Spann, funds from the preview party, brick campaign and other contributions will go into an en­dowment at the Arkansas Commu­nity Foundation, from which annual teacher grants will be generated from the endowment's net income, leav­ing the principal preserved as a perpetual source of funding.

Teacher grants support classroom and school grants, classroom supplies and teacher development and recognition. These programs and supplies cannot be funded through the regular budget, and teachers quite often fund these needs themselves.

"Your investment in CPSF's mission helps ensure the best educational opportunities for our students, helping them to reach their full potential," Spann said.

In addition to Spann, other foundation members include Arch Jones, vice president; Margaret West, secretary; Beau Wilcox, treasurer; Rosemary Adlong, Ben Bakker, Susan DeBoard, Sue Farris, Michael Hutchison, Aaron Knight, Jeff Matthews, Penny McCray, Karen Walker and Peggy Woosley. Ex-officio members are Bernard Coleman, Julie LaRue, Susan McNabb and Dr. Greg Murry.

The Sneak Preview Event Committee includes board members and event assistants, Teri Murphy, Pat Otto, Sharon Rapp, Cendey Roberts and Kathy Woodcock.

For more information on the foundation, the event or the brick campaign, contact Spann at 501.339.7544 or [email protected].