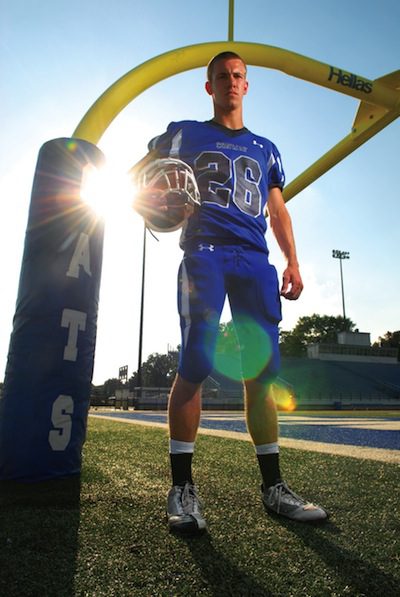 26 Oct 2011

Powell in search of another state title

by Donna Lampkin Stephens


Kipley Powell has already won one state championship in 2011, but he's hot on the trail of another one.


Powell, a senior safety for Conway, played center field for the Wampus Cat baseball team, which capped a dream season in May with its first state title in 22 years with a 12-3 win over Bryant, the defending state champion. Because of a conflict with the University of Arkansas's Baum Stadium, the state finals were played at the University of Central Arkansas, so the Wampus Cats got to share the joy with multitudes of fans.

"It's unreal because that's what you play for," Powell said. "The main goal anybody plays for is a state championship, and just the fact that we got to be there and it was in our hometown was really special. It was a great crowd."


The football Wampus Cats are chasing the same dream. They are 6-2 overall, 4-1 in the 7A-Central.


But Powell, one of the 17 players named to the first 501 Football Team, knows that championships don't come easy.


"I've learned definitely just to work hard in everything you do," he said. "It doesn't matter; hard work pays off, and you learn from your mistakes."


501 Football honorees were nominated by their coaches. The criteria for selection is split equally between their play on the field and contributions off it.


Third-year CHS coach Clint Ashcraft said he'd love to have a dozen more Kipley Powells on his team.


"He's a very mature young man and just a pleasure to coach," Ashcraft said. "He's football-smart, a hard worker who gives his all every snap, and he's dependable. He's a guy our team can count on."


Powell didn't play football until he was in sixth grade. He quarterbacked his Eagles to the Optimist League Super Bowl. When he went to middle school, he moved to cornerback and wide receiver. He earned all-conference honors at CB last year before moving to safety this season, where he and Ashcraft are hoping for an all-state season for him.


"I like it," he said of his new position. "I'm out there calling the defense."
The football smarts carry over to the classroom. Powell earned a 29 on his ACT. He has applied to the University of Arkansas, where his sister, Caroline, is a recent engineering graduate.

"I'm stuck between engineering or the dentistry field," he said. "I think I'll go up there planning on biomedical engineering, and I could go into the medical field from there if I decide to."

His other sister, Kelsey, is a UCA student.

Among other things, Ashcraft praised Powell for his sportsmanship.

"Kipley plays all-out from whistle to whistle," he said. "When a play is over, he'll help his opponent up or give them a pat on the back. He just loves to compete. He's good about helping his younger teammates who may be struggling with what we are doing. He's a leader on the field, in the locker room and in the classroom."

Powell is a member of National Honor Society and is active in his youth group at Central Baptist Church.

"He always has a positive attitude and a smile on his face," Ashcraft said.

So while he's still chasing another state title, Powell knows that his football days are nearing an end. He said he would focus on being a college student next year.

But he is proud to represent the Wampus Cats on the 501 Football Team.

"It is definitely an honor," he said. "I was surprised, but it was definitely a pleasant surprise."