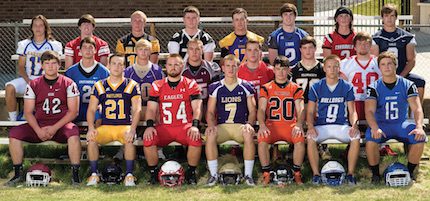 06 Aug 2016

Players named to 501 Football Team 2016

With the close of summer comes the beginning of football in the 501, and 501 LIFE is honored to announce the 2016 edition of the 501 Football Team.


The team features 26 student-athletes — the best the 501 has to offer both on and off the field. Every county in the 501 is represented.
The team is sponsored this year by First Security Bank and First Service Bank.

2016 team members include: Steven Benson (Jessieville), Brayden Brazeal (England), Hunter Bryant (Fountain Lake), Carter Burcham (Greenbrier), Ethan Davis (Bigelow), Caleb Dean (Hot Springs Lakeside), Nick Gentry (Vilonia), Lane Granberry (Morrilton), Hayden Gray (Cutter Morning Star), Dillon Hager (Harmony Grove Haskell), Rob Hogue (Conway Christian), Trent Langrell (Mayflower), Hudson Laster (Maumelle), Trey McGhee (Quitman), Pierce Mitchum (Heber Springs), Parker Payne (Beebe), Jack Pillow (Conway), Josh Pryor (Clinton), Zac Rednour (Magnet Cove), Trenton Reed (Rose Bud), Easton Seidl (Cabot), Preston Stone (Benton), Ryan Turley (Harding Academy), Dylan Western (Bald Knob), DeAirus Whitney (Searcy) and Grant Wood (Central Arkansas Christian).


Players were nominated by their respective coaches and selected by the 501 LIFE staff. Nominations were weighted equally between on- and off-the-field attributes.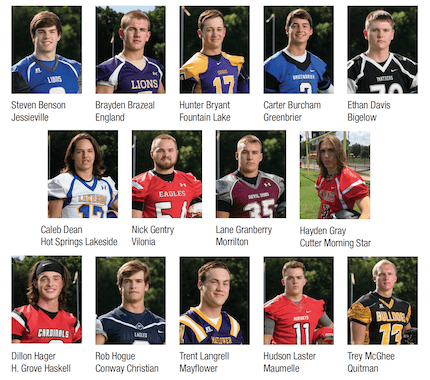 "I'm continuously appreciative of the coaches in the 501 who make time to honor one of their student-athletes by nominating them," said Levi Gilbert, associate editor. "We consider it a great privilege to be able to share and highlight these players' positive stories throughout the fall."

The team recently met at Conway Christian School's field for a photo shoot and individual interviews. In addition to being recognized in this year's edition of 501 LIFE's football preview issue, 501 Football 2016, each player will be featured individually throughout the fall online at 501lifemag.com and in 501 Sports Extra, 501's sports e-newsletter. (To sign up, visit 501lifemag.com or email [email protected].)

Player features will begin publishing weekly online and in 501 Sports Extra starting a few weeks before the kickoff of the 2016 high school football season.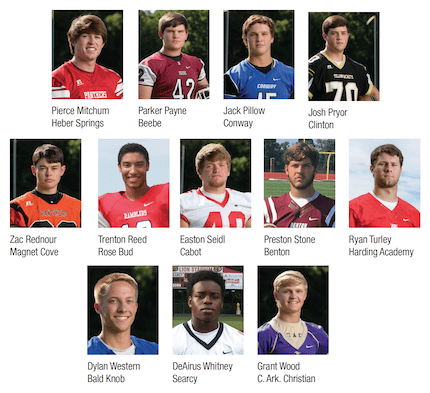 "The level of talent in the 501 is impressive," Gilbert said. "Last year, two teams from the 5-2A — Conway Christian and England — made it to the 2A semi-finals and could easily get back there again this year. Harding Academy won it all in 3A. Cabot had an undefeated regular season. And all of these teams — and more — are represented on our 501 Football Team this year. We could easily see more champions come from this year's team. And more importantly, all of these student-athletes are champions off the field and in their communities."