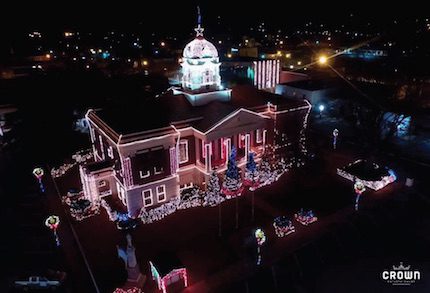 20 Nov

Plans announced for Searcy Holiday of Lights

Musical performances, a living nativity, a skating rink and festive holiday decorations and lights are among the many special activities that will highlight this year's Searcy Holiday of Lights.

The Searcy Regional Economic Development Corporation (SREDC) is bringing an ice skating rink made with artificial ice to the Holiday of Lights celebration Nov. 22, due to a donation made by Larry and Janett Crain.


David Burks, SREDC board member and Holiday of Lights chairman, says this ice skating rink will be placed in the Spring Park pavilion and will be a great addition to the Holiday of Lights season. "We are delighted with the generosity of Larry and Janett Crain in making the ice skating rink a reality for Searcy for this Christmas season. I am excited to see young kids and college students be able to use it and look forward to the excitement that I believe will come from it."


Due to the projected demand and popularity, people who wish to skate during the Holiday of Lights season must make reservations, and each skater will have approximately 45 minutes in the rink. The cost will be $5.


Crain said he and his wife thought this would be a great way to bring more visitors to Searcy, spread the Holiday of Lights spirit and promote the Searcy Beautification project. "Janett and I grew up in Searcy, as did our sons, Larry, Marc and Chris," Crain said. "We've been blessed by Searcy, and we are happy to give back and to contribute to the economic development in Searcy. We look forward to having our family home for the holidays and to their enjoying the Spring Park Ice Skating Rink."


Among the special events, the First Assembly of God in Searcy will present its annual Living Nativity from Friday, Dec. 2, through Sunday, Dec. 4, and Dec. 9 through Dec. 11. The event will be presented 6:30 to 9:30 p.m. on Fridays, 5:30 to 9:30 p.m. Saturdays and 5:30 to 8:30 p.m. Sundays. The church is located at 101 S. Benton. For more information, visit livenativity.com.


Other activities include:


Tuesday, Nov. 22: Holiday of Lights Lighting Ceremonies. 5 p.m. at Berryhill Park, 501 Davis Dr. and 6 p.m. at the White County Courthouse Square, 300 N. Spruce.


Monday, Nov. 28: Harding University Lighting Ceremony, front lawn, 915 E. Market, at 6 p.m. Contact: 501.279.4276.


Friday, Dec. 2, and Saturday, Dec. 3: "A Seussified Christmas Carol," at 7 p.m. at Harding University's Ulrey Performing Arts Center, 409 Jimmy Carr Drive; a reinvention of the Dickens' most beloved story as if Dr. Seuss wrote the dialogue. The event is free. Donations will be accepted for Hope Cottage.


Saturday, Dec. 3: It's a Wonderful K-Life Run, Spring Park, 115 E. Pleasure Ave., 9 a.m.


Saturday, Dec. 3: Holiday Craft Fair, Carmichael Community Center, 801 S. Elm St., 9 a.m.


Saturday, Dec. 3: Old Fashioned Christmas at Pioneer Village, 1200 Higginson St., 10 a.m. to 3 p.m.


Saturday, Dec. 3: Christmas parade, historic Downtown Searcy, 6 p.m.


Saturday, Dec. 3: Harding University and Community Christmas Choir Concert, First United Methodist Church, 8 p.m.


Sunday, Dec. 4: Searcy Tour of Homes: 1 to 5 p.m. Sponsored by Women for Harding. Contact 501-279-4276 or visit searcy.com or harding.edu/events/lights.


For a complete list of activities and additional information, visit searcy.com/holidayoflights or call 501.279.5777 between 8 a.m. and 5 p.m. Monday through Friday.