17 Sep 2019

Plans announced for annual Festival of Chairs

Posted at 12:28 AMh

in

News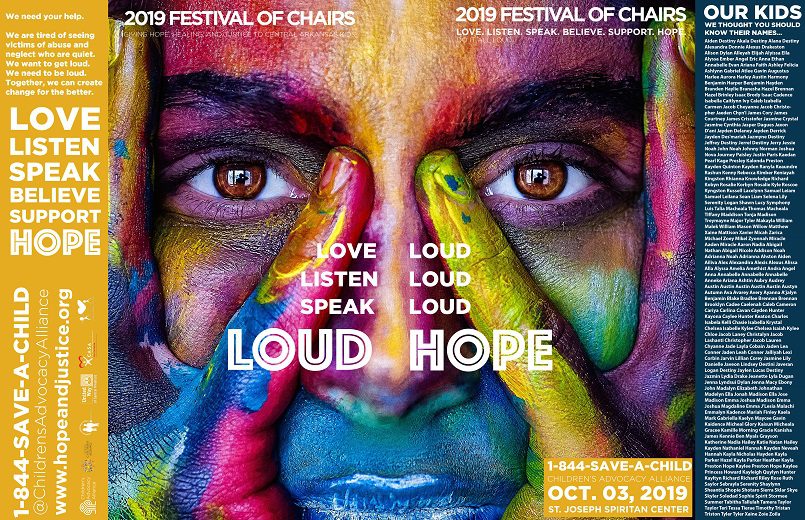 The Children's Advocacy Center in Conway will honor Don Potter at the 18th Annual Festival of Chairs planned 6 to 9 p.m. Thursday, Oct. 3, at the St. Joseph Spiritan Center.
"We are so excited to have Don as our honoree this year. He has such a huge heart for this community and gives back in a multitude of ways," said CAA Executive Director Tess Fletcher. "Many nonprofits in our community are blessed by his time and treasure. Don also gives the best hugs in Faulkner County. You can feel the love and support from him and he shows that same love and support for our entire community." 
This year's theme is "Loud Hope."
As the regional nonprofit provider of advocacy services for abused and neglected children of Faulkner, Van Buren, Searcy, Conway and Perry counties, the Children's Advocacy Alliance (CAA) is a partnership of the Children's Advocacy Center (CAC) and the Court Appointed Special Advocates (CASA) of the 20th Judicial District.
"Festival of Chairs is more than a fundraiser. It's a time for us to celebrate the children in our community who show us the most courage, strength and hope. We are so excited to be hosting this year's event at a new venue with some fun new additions to the program" said Leia Smith, development coordinator of the Children's Advocacy Alliance.
"As an organization of individuals dedicated to responding to child abuse, we would not be successful without community support. Festival of Chairs is the opportunity for our community to join us and help us bring services to more children who need advocacy and care," said Tess.
The new venue will host 500-plus attendees with a maximum capacity of 600 individuals. The CAA is excited about bringing the community together to raise critical funding for children in Central Arkansas.
"We are excited for the opportunity for our parish to host the Festival of Chairs in our new Spiritan Center. We hope that the event will be a huge success and serve to benefit the children of Central Arkansas," said Fr. Tony Robbins, St. Joseph pastor. The Spiritan Center is located at 1115 College Ave. in Conway.
DON POTTER
When Don heard he was being honored at this year's event, he felt others were more active and more deserving. "I am a strong advocate for CAA and its staff," said. Don. "I do understand their daily challenges that they face each day. I personally love their purpose and cannot add one thing to make their purpose more successful. Tess offers unbelievable leadership and she truly loves the hearts of all the children that pass through the paths of her responsibility."
Don, a licensed civil engineer, retired after 40 years with the AR Department of Transportation. He also served as city engineer for the City of Searcy and engineering manager for the Tyler Group in Conway.
"I was a CASA volunteer for approximately seven years and thoroughly enjoyed the job description even though every day was a little painful because you had no control on the outcome of those you wanted to help so badly, especially the child or children," he said.
Don and his wife, Cathy, have been married for 11 years. He is active in a variety of community groups and activities, including Chase Race and Paws, HAVEN (Help for Abuse Victims in Emergency Need), Conway Kiwanis Club, Key Club, Conway Animal Shelter, Conway Running Club, Excel Upward, Boy Scouts, United Way of Central Arkansas, Toad Suck Daze Run, Turkey Trot 5K, Bethlehem House, Salvation Army and Compass Academy.
Don attends Four Winds Church, where he is an elder, youth teacher and lay speaker. He has participated in the Matamoros Mexico Mission work for the past 12 years.
In addition to honoring Don at the event for going the extra mile to help in the fight to end child abuse, the CAA will recognize a survivor of abuse who has risen above their past to fight for others.
"We think it's critical to raise awareness, get loud about it, tell our stories and celebrate those who have inspired this community to do more. Without community support, we wouldn't be where we are today. We need everyone in this fight, after all, we all are responsible for these children," said Leia.
SUPPORTING CAA
Individuals may support this event through attendance, bidding online, sponsorship or donating an auction item. To purchase tickets, which are $75 each, register for the auction or sign up as a sponsor, visit bidrocket.com or call Leia at 501.286.3290.
"This year, I know we are going to have more storytelling, more hope, more healing and more justice. I hope everyone who wants to stand up for the abused, neglected or voiceless child is able to join us," said Leia.
"With your help, we really can end child abuse. It will, however, take us as a community coming together to reach that goal. We chose 'Loud Hope' as our theme this year because we know it takes all of our voices getting louder together to create change for these kids," said Tess.
In 2018, the Festival of Chairs raised more than $60,000 which supported 30 forensic interviews, 20 medical exams and 10 foster children receiving a CASA for a year.
For more information about the Children's Advocacy Alliance, visit hopeandjustice.org.