08 Feb 2023

Pitching lifts Harding to historic sweep

SEARCY — A strong start and a clutch finish lifted Harding to a historic season-opening doubleheader sweep of Delta State on Sunday at Jerry Moore Field. It was the 14th doubleheader ever played between the two schools and Harding's first sweep. The Statesmen had won the previous 11 meetings, with Harding last winning in 2013.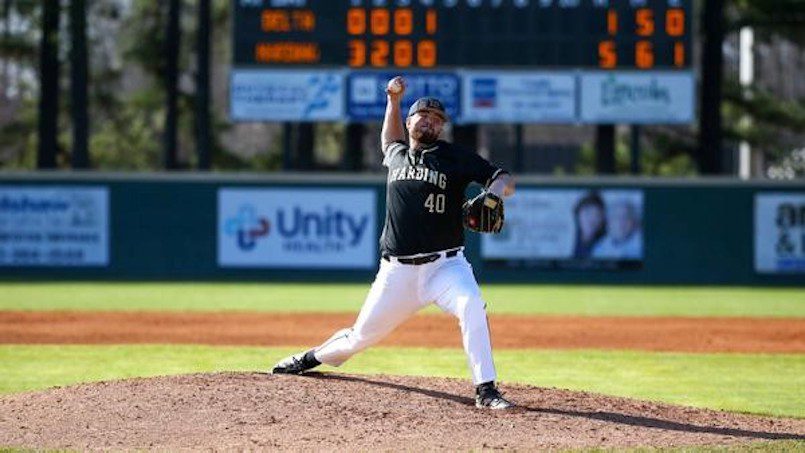 Harding (2-0) scored five runs in the first two innings of the opener in a 7-3 victory, and fifth-year senior Cody Smith drove in two runs with a bases loaded, walk-off single in a 2-1 win in game two. The Bisons are back in action for a three-game series next weekend against Southwest Baptist.
Bison pitching was outstanding throughout, allowing only two earned runs on 11 hits over 16 innings with 17 strikeouts.
Harding had nine hits in the opener with two each from Seth Johnson, Colton Doyle and Sawyer Price. Smith and Price scored twice, and Michael Dewald had a two-run single in Harding's three-run first inning.
Junior Maddox Long (1-0) earned the win in game one, pitching 5.0 innings and allowing only two earned runs with seven strikeouts. It was his sixth career win in 14 starts. Junior Davis Welch earned a four-inning save, allowing only one unearned run and striking out three.
Delta State (0-2) took a 1-0 lead in the second inning of game two and held it until the bottom of the seventh.
Logan Lacey, Dewald and Drew McNeel each walked to load the bases with two outs. Smith lined a 2-1 pitch back up the middle into centerfield, and Lacey came in with the tying run, followed by Dewald with the game-winner.
Harding won despite having only three hits. Lacey and Sebastian Martinez also had singles.Junior Will Roguske continued the solid starting pitching for the Bisons. Making his first Harding start after transferring from Illinois State, Roguske struck out five over 5.0 innings and allowed only one unearned run. Junior Dylan Penick pitched a scoreless sixth inning, and freshman Luke Whaley (1-0) earned the win in his first collegiate outing. He pitched a scoreless seventh.