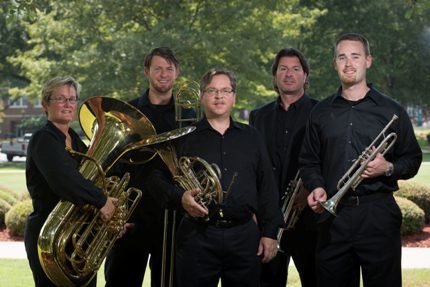 08 Dec 2014

Pinnacle Brass to perform Dec. 16

Posted at 2:12 PMh

in

News

Celebrate the holiday season at the Faulkner County Library with a gala performance by Pinnacle Brass, the premiere brass ensemble in Central Arkansas, at 7 p.m. Tuesday, Dec. 16.

Founded in 2001 as the resident quintet at the University of Central Arkansas, Pinnacle Brass regularly appears throughout the state and the American Mid-South, giving concerts and clinics at schools, universities and concert halls. The group also serves the university by performing in official ceremonies and celebrations, and presents full concerts on campus.


Pinnacle Brass has appeared as featured guests with the UCA Wind Ensemble and UCA Symphonic Band, River City Men's Chorus, Conway Symphony Orchestra and with Arkansas high school bands.


Pinnacle Brass is often called upon to musically support major events in the state, such as the investitures of Bishop Anthony Taylor of the Roman Catholic Church and UCA President Tom Courtway. Pinnacle Brass also has an international reputation, having been invited for a repeat residency at East China Normal University in Shanghai in December 2013. The group has additionally performed with the ECNU Symphony Orchestra and Fujian Symphony Orchestra in China, and on separate tours in Austria and France.


The quintet is comprised of the four full-time brass professors at UCA, along with an invited trumpet student who has proven mastery in technique and artistry. The faculty members are Larry Jones, trumpet; Brent Shires, horn; Justin Cook, trombone; and Gail Robertson, tuba. Ethan Shaw (second trumpet) is a graduate student. All are members of the Conway Symphony Orchestra.


Refreshments will be served.


All library events are free and open to the public.


For more information, call the library at 501.3277482 or email [email protected].