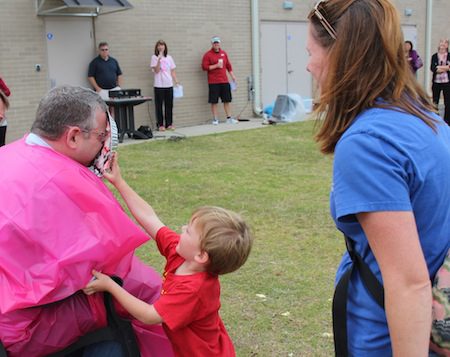 15 Oct 2012

'Pie in the Face for a Cause'

Posted at 8:58 PMh

in

News

The "Pie in the Face for a Cause" event was messy but fun, raising $4,500 for breast cancer research and awareness.
The event was hosted by Conway Regional Health & Fitness Center with proceeds benefitting the Susan G. Komen Race for the Cure, scheduled Saturday in Little Rock.

According to Amanda Polk-Castillo, marketing coordinator at the fitness center, the fitness center's Race for the Cure team has raised more than $7,000 this year. Last year's team raised $4,000.

Twelve individuals from the Conway area agreed to take part in the event — Derrick Barnhart, TGIFriday's restaurant; John Brainerd, general manager, Nutters Chapel Country Club; Rance Bryant, director, Conway Regional Health & Fitness; Bryan Gibbs, vice president of support services at Conway Regional Medical Center; Ritchie Howell, Simmons Bank; Eric King, Centennial Bank; Mark Lewis, principal at Jim Stone Elementary School; Jeff Matthews, B98.5; Ashley Nance, basketball coach at Conway High School; Brian Ratliff, Toadmaster and children's minister at Antioch Baptist Church; Brad Teague, athletic director at the University of Central Arkansas; and Conway Mayor Tab Townsell.
Each pie was valued at $100. Pies were thrown from 11 a.m. to 1 p.m. Friday at U.S. Pizza Co.

"It went perfect and exceeded our expectations," Amanda said. "We're definitely going to do it again next year."