by Don Bingham
You've passed it for years. It's a regular nostalgic observance when passing on to directions headed north from Conway and upon return from that northern trip. The new and revitalized Pickles Gap Village – under the direction of Harold Helton, Bill Helton and Al McKay – is a place worth visiting, and visiting and re-visiting!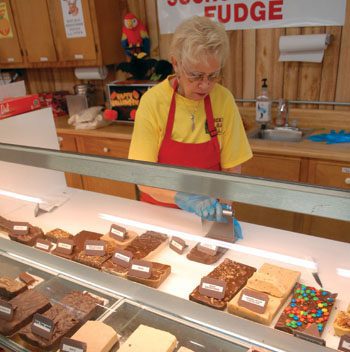 For example, one recent morning I purchased (on the "honor system" with a box provided to insert your money) squash and tomatoes. The fresh vegetables are actually offered by Old Mac Donna's Farm Produce and Plants, the original location in Greenbrier.
I also walked through Something Brewing, the newest and second location of the Conway coffee house/restaurant owned by Liz and Larry Eoff.
On this trip, I also browsed through Precious Memories Antiques with over 1,500 pieces of Depression glass to enjoy! Vonna Coker is the authority on Depression glass and you will not want to miss this Pickles Gap Village offering.
There is also the General Store with Arkansas-made jams and jellies, Mountain Home honey, and kitchen tools everywhere. Right next door is the Native American Store with its offerings of authentic Native American artifacts and more! Then, don't over look David's Knife Shop with case knives, firearms and ammunitions.
The Fudge Store was one of my favorites! Originally the "home of the donothin," now it offers daily-made fudge, sarsaparilla drinks, buffalo summer sausage and Yarnell Ice Cream (made in the 501). The store is open seven days a week!
While discovering this "Ozark Mountain culture" lifestyle, right in the middle of the traffic flow, I also foundout what was "under construction." A quilt store is opening, complete with quilting classes and if you can believe it, overnight cottages are already near completion! You can rent a cottage for overnight lodging — who would have guessed?
There's also the Kids Petting Zoo tucked away on the hillside, just beyond the cottages under construction!
The outdoor dining room was delightful — especially this time of year. Not only did Something Brewing offer a wide array of coffee and tea, but pancakes, omelets, sandwiches, fruit smoothies and burgers. Customers can also enjoy the privilege of WiFi for those who need this service, all available while seated under a covered outdoor patio dining room. (By the way, Something Brewing has been voted the Best Coffee and Best Breakfast by the readers of the Arkansas Times.)
Well, should you purchase more fresh vegetables, antiques, knives, coffee or fudge than your car can handle, there is also the option of renting a U Haul — all located at the Pickles Gap Village, Highway 65, just north of Conway.