by Jacob Ward
Since 1928, Petit Jean Meats in Morrilton has offered an array of products to the 501 and beyond with one thing in mind – quality.
In 1922, Felix Schlosser, a German immigrant, landed in Little Rock, where he began work at a trio of packing companies before moving on to Morrilton, where his widowed cousin, Mary Ruff, lived with her sons Ed and Lonnie. In 1926, he opened his first retail meat market in Morrilton with a partner before taking total ownership of the Morrilton Meat Market and Sausage Factory.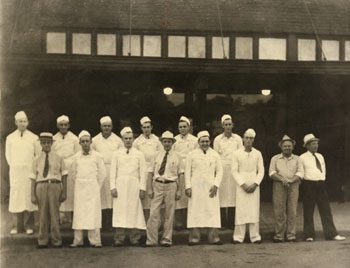 An Arkansas legend was born.
Schlosser's nephews Ed and Lonnie were brought into the business at the ages of 12 and 10, respectively, and first delivered meat to homes in Morrilton by bicycle. "They would deliver meat to people in the area twice daily," says David Ruff, current CEO and President of Petit Jean Meats. He is also Ed's son. "They didn't have refrigeration back then, so my dad and Uncle Lonnie would often deliver sausage in the morning for breakfast and beef or pork in the afternoon for dinner."
It is this commitment to serving quality meat products to a loyal customer base that has carried Petit Jean Meats for more than 80 years and through some of the most significant eras in American history.
In the 1930s, the fledgling company survived the Great Depression by butchering cattle for the Emergency Relief Administration, when the U.S. Government purchased starving cattle from drought-stricken western states and shipped them to various slaughter houses by rail.
The company, then dubbed Morrilton Packing, was contracted via a one-page government document to slaughter and refrigerate the cattle for the compensation of $1 per head plus the hide and offal of each. A canning facility was set up next to Morrilton Packing in downtown, which prepared the meat for distribution to needy families. Approximately 15,000 cattle were processed under the contract.
Some 70 years later, Petit Jean Meats is a modern wholesale business operating in a 56,000-square-foot facility and producing approximately 6 million pounds of product annually. The retail market was shuttered in 1943.
Today, the company offers an assortment of products which are sold and shipped all across the country, and Ruff attributes the continued success to the unwavering practice of the company's philosophy. "Petit Jean Meats always has and always will offer products of distinct flavor and superior quality in trim, texture and content. We have a very loyal customer base."
Pride in the quality of products sold with the Petit Jean Meats name on the package is evident, as each of the company's 65 employees has a vested interest in the success of the company. "We don't have a quality control department. Our employees all contribute to our quality control," Ruff said.
Company founder Felix Scholsser instituted a primitive "test marketing" practice on company employees long ago. "If he had an idea for a new product, he would leave a slab of ham or a piece of sausage and a knife by the door at the plant for employees to sample. If it was gone by the end of the day, he figured it would be a pretty good seller."
This "test marketing" led to many tried-and-true products that date back deep into Petit Jean Meats history, including no water-added ham and all beef and pork hot dogs. Though the business has grown, it still operates as a large family unit, with all employees having input in product development, and despite being a small-town operation, Petit Jean Meats has managed to attain some pretty lofty accolades. Petit Jean Grillers are known statewide as "the official hot dogs of the Arkansas Razorbacks" as well as the University of Central Arkansas Bears, the University of Arkansas at Little Rock Trojans, and the Arkansas State University Red Wolves.
All along, Petit Jean Meats has stayed true to its roots, supporting the community and state in which it has been based for more than 80 years by supporting the local Petit Jean Razorback Club Golf Tournament, Sacred Heart School in Morrilton, and Keith Jackson's P.A.R.K. in Little Rock.
In an economy where sales of most "premium" products are down, Petit Jean Meats is still going strong. "If a family is used to having a Petit Jean ham for Christmas, they are still going to have it. In this respect, our products are seen as a necessity, not a luxury."
This recognition of the Petit Jean name and its equation with quality is what helps the business grow, according to Ruff. "Most of our customers are still customers because they have never been disappointed by a Petit Jean product. They appreciate a premium product, and we always have and always will cater to those customers."