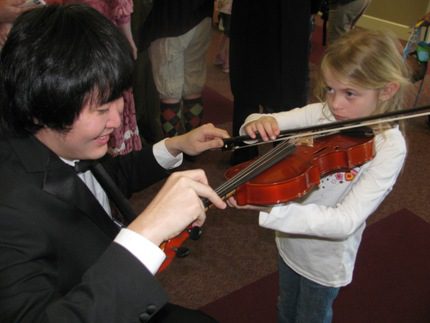 10 Mar 2014

'Peter and the Wolf' coming to Conway

Posted at 10:51 AMh

in

News

Back by popular demand, "Peter and the Wolf" returns to the Reynolds Performance Hall at 2 p.m. Saturday, March 15, as the Conway Symphony Orchestra presents its annual children's concert under the direction of conductor Geoffrey Robson.

This perennial favorite, written by Sergei Prokofiev, will entertain families of all ages. The story of Peter, his grandfather and the animals will be told by narrator Matt Patton, with each character in the story played by a particular instrument and a musical theme.


Tickets are $6 for all seats, all ages, at the Reynolds Box Office, 501.450.3265, or ConwaySymphony.org. Reynolds Performance Hall is located on the University of Central Arkansas campus in Conway, on Beatrice Powell Drive off Donaghey Avenue.


The concert is underwritten by First Security Bank with guest artist sponsorship from Crain Automotive and hospitality sponsorship from Aramark.


Matt Patton is a professional stage actor with more than 25 years of experience. Best known to local audiences for his appearances at Murry's Dinner Playhouse, he has worked on stages coast to coast. Patton is currently a classical music host and programmer for KLRE, Classical 90.5, and is making his first appearance with the Conway Symphony Orchestra.
In addition to "Peter and the Wolf," the concert will feature UCA concerto winner Kayla Smalley. She will play the "X Concerto" (movements 2 and 3), by Scott McAllister, who is particularly noted for his pieces featuring clarinet.

"This delightful event will give families the chance to experience the symphony orchestra in a fun and accessible concert that will have kids and adults alike engaged and wanting more," said Robson. "A wonderful student clarinetist will explore the outer reaches of her instrument in the 'X Concerto,' and the CSO will entertain the audience with a fully narrated version of Prokofiev's 'Peter and the Wolf.' "

The one-hour performance will be followed by children's crafts organized by the Conway Symphony Volunteer Guild, plus refreshments and a chance to "meet the instruments" in the lobby. All children's activities are included in the concert ticket price. Audience members are also invited to bring non-perishable items for local food banks, as the CSO is participating in the Orchestras Feeding America program for the fifth year. All food collected will be given to local food pantries.

Now in its 29th season, the Conway Symphony Orchestra brings professional concerts, exciting guest artists and high-quality music to the Central Arkansas community. For more information on concerts and other programs, visit ConwaySymphony.org or call 501.269.1066.