02 Jun 2023

Pet of the Month: Dizzy and Dad

By Dwain Hebda

Greg Johnston cruises to a halt on the main concourse of Dickey Stephens Park in North Little Rock, just before a brisk shower starts to fall. Rain doesn't completely halt the work of the field crew here, of which Johnston is the superintendent, but it slows things down some, giving him the chance to steal a moment in the stands.

Riding shotgun, as always, is the undisputed superstar of the Arkansas Travelers baseball organization, the Double A affiliate of the Seattle Mariners.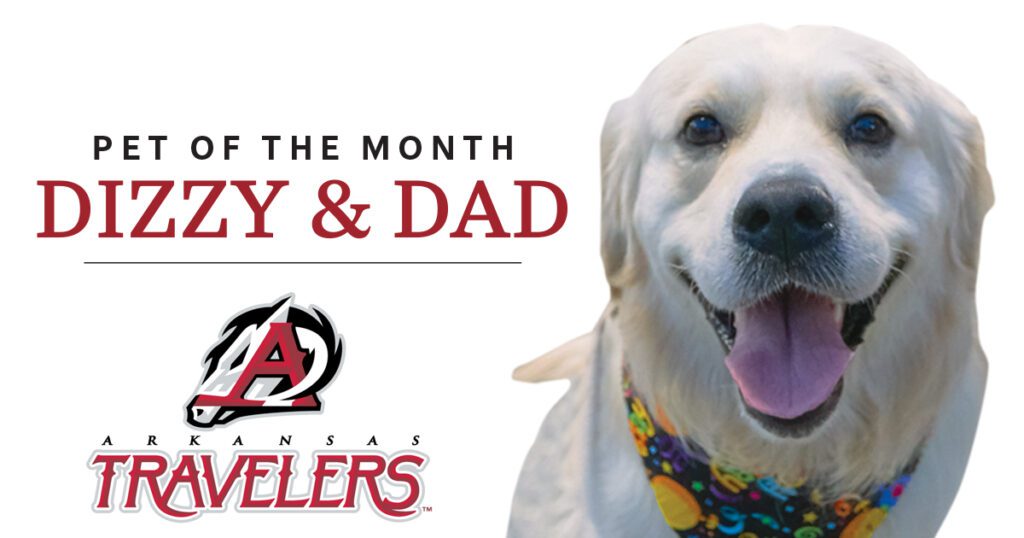 The celebrity is mobbed at every home game and players and front office personnel alike readily yield to him as the king of this diamond, going out of their way to pay their respects and offer tribute.
It's good to be Dizzy "Bug" Johnston, Greg's 6-year-old English cream golden retriever, a figure so beloved he's got his own Instagram (dizzyballparkpup) and three of his own baseball cards. The team may be officially championed by Ace the horse and Otey the Swamp Possum, but even they get a run for their money from Dizzy as the face of the franchise.
"He's been on most of the news channels. I can't go anywhere without hearing, 'Hey, it's Dizzy!'" Greg said. "Two years ago, I was in Gatlinburg [Tennessee] right around Thanksgiving and we're out walking. Thousands of people there. All of a sudden I hear, 'Hey, it's Dizzy!' I thought, 'What in the world? How could someone know Dizzy way up here?' They just knew him."
You'd think a guy like Greg, a bear of a fellow sporting a flowing white beard, would be the one people would recognize. After all, he's spent nearly 50 years with the club, dating back to waving cars into reserved parking lots at the old Ray Winder Field as a kid. Unsure what he wanted to do after high school, he accepted what he thought was a temporary gig, but before he knew it, he was promoted to replace the park superintendent, who was retiring. He's been here ever since.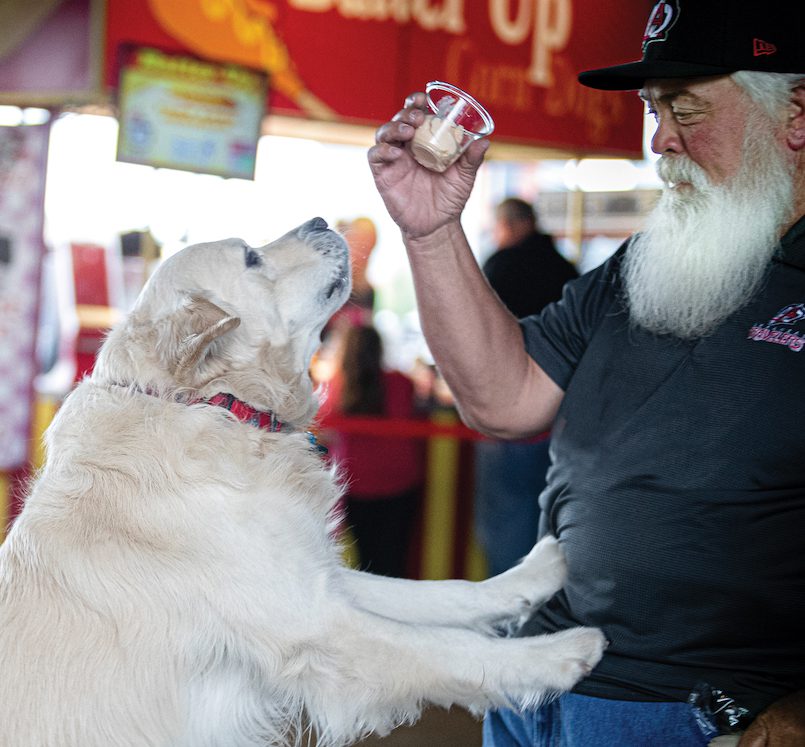 "I mean, I've been here my whole life and I'm still 'Dizzy's Dad,'" he said with mock exasperation in between ear scratches with his famous pooch.
Greg and Dizzy found each other following the passing of Greg's wife, Carol. He connected with Arkgold Golden Retrievers in Dardanelle and its owner, Marissa Hendrix.
"She had all these puppies out there and I'm playing with them. I picked the one I wanted, and she put them all back and said, 'I've got one more I want you to meet,'" he said. "She went over and opened the door and [Dizzy] came walking out, and he sat there and just looked at me. [Hendrix] said, 'Walk to the other side of the room.' So I walked over and turned around, looked down and he was sitting right in front of me. She said, 'Go across the room.' I went across the room and he did the same thing.
"She said, 'Just so you know. Dogs pick humans like humans pick dogs. That dog has picked you.'"
Dizzy (named after baseball great Dizzy Dean) immediately took to ballpark life. In fact, it's the only home he's really ever known. With Carol's passing, Greg doesn't like to face the memories at his house, so he and Dizzy live most of the time in the family RV in the parking lot. Which kind of makes everyone else, paying fan and employee alike, a guest at Dizzy's House.
"He came in and this was his home; he took to everybody instantly. We didn't give him a baseball at first, we gave him a tennis ball and we gave him a Frisbee," Greg said. "One day he found an old, rotted baseball, and he comes running up to me and he was happy as he could be. He thought it was a piece of gold, throwing that old baseball all over the place.
"Ever since that day, it's all about the baseball. He'll collect them off the field; he goes down there and gets a new one every day. He brings them in constantly. He knows how to get them out of the ball bag. He knows when the players lay their glove down, they'll put a ball in their glove. He goes to the dugout because there's always a few laying around there. Last year, I found 37 baseballs in my office. And it's not about the baseball he has, it's the baseball you have. All baseballs are Dizzy's."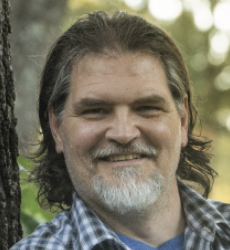 Latest posts by Dwain Hebda
(see all)