30 Oct 2022

Person of the Month: Scott Simon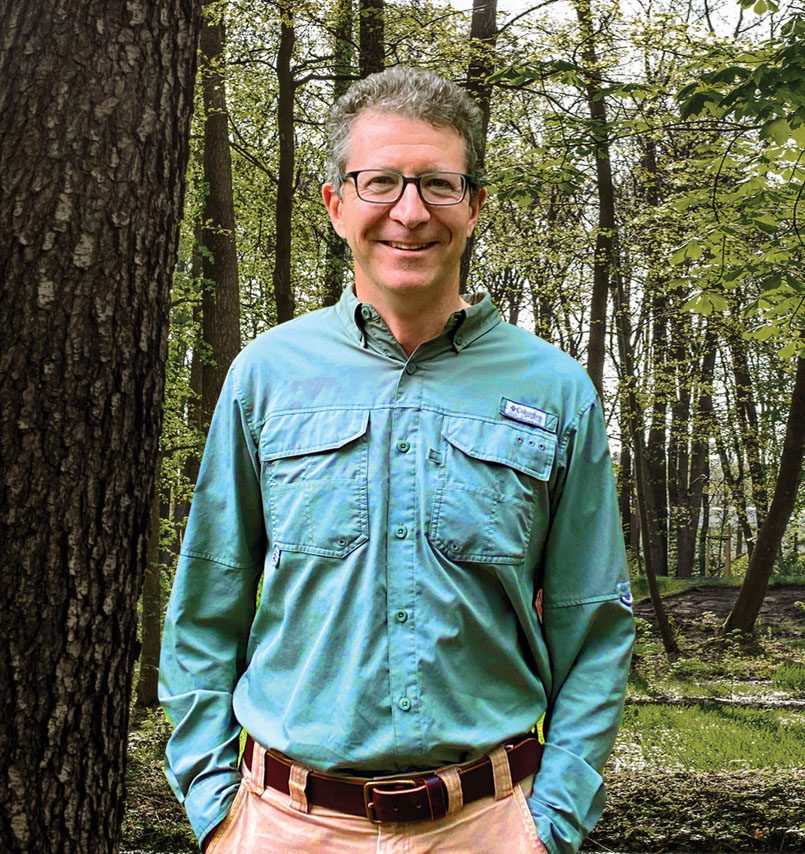 FAMILY:
Angela and I have been married for 29 years. We're proud parents of Charlie, 23, a transportation engineer specializing in bicycle and pedestrian infrastructure in Pittsburgh, and Annie, 21, who is completing her senior year at DePaul University in Chicago.
Education:
A Bachelor of Science from the University of Wisconsin and a Master of Science from the University of Illinois.
Work:
I've worked for The Nature Conservancy (TNC) in Arkansas for 26 years and served as the Arkansas Director for 19 years. I followed two awesome directors: Kay Kelly Arnold and Nancy DeLamar.
Accomplishments I'm most proud of:
Personally, it is working with my wife, Angela, to help our amazing kids, Charlie and Annie, grow into fun, positive, forward-thinking people. I'm also a Certified Prescribed Fire Burn Boss and Arkansas Outdoor Hall of Fame inductee.
Professionally, I'm proud to work with a lot of partners and supporters on projects that Arkansans and visitors cherish, like supporting Governor Hutchinson on the positive resolution of the controversial hog farm CAFO near the Buffalo River and developing a positive private lands conservation program for the watershed. I enjoy working with Arkansas Natural Heritage Commission, Arkansas Game and Fish Commission (AGFC) and Potlatch Corporation on our state's largest conservation easement of 16,000 acres in the open pine woodlands of south Arkansas. We are also helping to develop the Arkansas Prescribed Fire Course with Martin Blaney at the AGFC, Larry Nance at the Arkansas Forestry Commission and Doug Zollner at TNC.
I'm proud to work with many partners to develop our extensive upland woodland restoration effort using prescribed burning and ecological thinning on 100,000 acres each year. And I'm working with many corporations, leaders and landowners to conserve a more than 100-mile corridor along our state's rivers. We are supporting one of the largest habitat restoration efforts in the country, which includes the reforestation of 250,000 acres and the restoration of the rivers in the Big Woods of Arkansas. I'm also working with Gov. Hutchinson and many partners to develop an unpaved roads improvement program to help the counties save money and improve water quality. 
We're bringing additional recreational amenities throughout Arkansas at places like Rattlesnake Ridge Natural Area, the new Blue Mountain Natural Area, Smith Creek Preserve in Boxley Valley, Electric Island in Lake Hamilton, Ranch North Woods in Little Rock, Bluffton Preserve north of Clinton, and the incredible Kings River Preserve. It is so rewarding watching kids experience nature here with their families and watching landowners observe the results of healthy land and river management activities.
Why did you choose your field?
My appreciation for nature was developed by my parents. Among their interests were enjoying wildflowers and bird watching. A family trip to the Florida everglades at the age of 9 was mesmerizing; I enjoyed exploring the wet prairies and forested hammocks among the alligators and wading birds. I spent many of the following summers fishing the northern Wisconsin lakes, enjoying sublime, peaceful times with family and friends, listening to the call of loons and watching eagles fish. My interest in nature led to an internship in prairie restoration at the Chicago Botanic Garden and then to my first job as a field botanist at the Illinois Natural History Survey, working as one of 500 scientists! And, Arkansas is the best place in the country for any love and curiosity about nature to grow.
Community or church activities:
I am very spiritual. Sundays find me at the Church of the Holy View.
Most cherished possession:
My BMW R1200GSW adventure motorcycle. It is a fun way to access and experience nature and our country, and to meet all sorts of interesting people.
It has been an honor to be a part of The Nature Conservancy in Arkansas, helping to conserve these special places for families to enjoy. It has just been incredible! If you haven't visited one of our locations, find one at nature.org. They're open every day from dusk to dawn.