09 Oct 2023

Person of the Month: Rich Thompson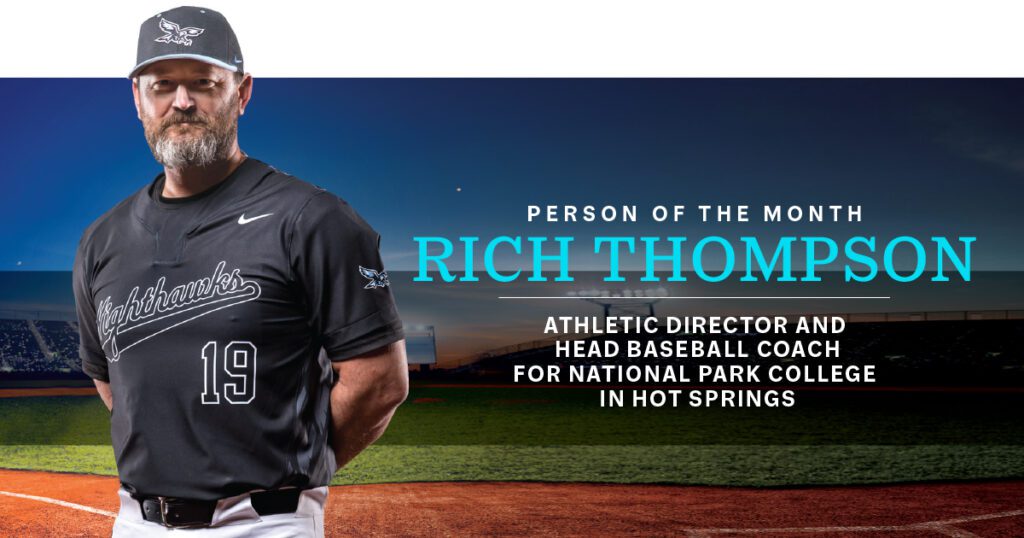 Native of: Australia
Family: Ashley and I have been married for 15 years. Our children are Alfie (13) and Livie (9). I look forward to seeing my son and daughter chase their dreams and grow into young adults. My wife is amazing! She runs nine programs with Ouachita Children, Youth, and Family Services. She is making the world a better place and doing amazing things for our community on a daily basis.
Education: I attended St. Ives High School in Sydney, Australia, and the National Academy of Sports Medicine in the U.S.
Community activities: I own The Practice Field, an indoor sports facility in Hot Springs. We specialize in helping kids reach their athletic goals through strength, agility and sport-specific exercise.
I'm on the Majestic Park board for the construction of the Majestic Park baseball fields project. I am a Friends of Majestic Park Board member, driven to continue development of the Majestic Park area to benefit the community.
In my role as National Park College (NPC) Athletic Director, we saw our athletic program do more than 2,500 hours of community service last year. We really enjoy giving back to the community that supports us.
Most cherished possession: I received an Olympic Silver Medal from the 2004 Athens Summer Olympics for Team Australia in baseball.
Hobbies/personal interests: I enjoy summers on the lake with my family and sharing my love for the game of baseball with the next generation.
Work: NPC Athletic Director and Head Baseball Coach. This is my fifth year of the college baseball program, and we achieved the highest finish of No. 26 in the nation. I've been the Athletic Director for the last 12 months, and I oversee 10 teams at NPC, including baseball, softball, women's and men's basketball, women's and men's soccer, women's and men's cross country and outdoor track and field.
Professional accomplishments:
I played six seasons in the Major Leagues with the Angels, A's and Blue Jays and played professionally for 12 years, including a stop with the Arkansas Travelers.
• 2004 Olympic Silver Medalist
• 2006 and 2009 World Baseball Classic
• 2011 MLB Postseason All-Star Tour
• 2023 Savannah Bananas World Tour
• 2023 Cal Ripken World Series Coach with Hot Springs, representing Arkansas.
How did your love for sports develop: As a young kid in Australia, I played all sports, but at age 5 went with a neighbor to T-Ball practice and fell in love with the game. It has been the one constant sport I have continued through my life. Fortunately, I progressed through state and national teams to sign a professional contract at 17 with the LA Angels.