Nov 22, 2019

Person of the Month: Lisa R. Willenberg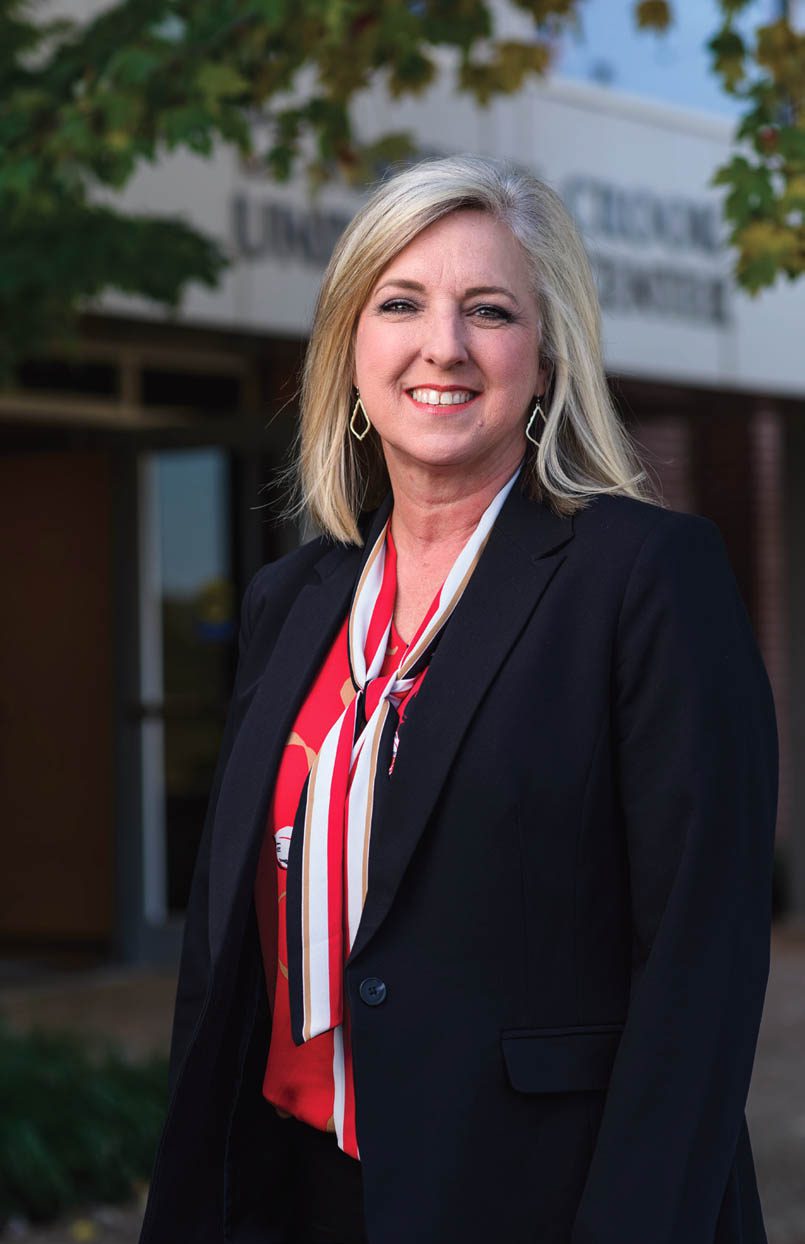 City: St. Vincent Community (just north of Morrilton). 
Work: University of Arkansas Community College at Morrilton, 1992 to present. Positions held include accountant, accounting supervisor, adjunct instructor, controller, vice chancellor for finance, vice chancellor for finance and operations, and chancellor. I also worked at Arrow Automotive Industries in Morrilton during and after college from 1986-1992 as an accounting supervisor. 
Why did you decide to go into education: While education was always important to me and emphasized in my family, I wish I could say I made a conscious decision to go into education.  Instead, my early passion was math, numbers and orientation to detail, hence the first several years of my career spent in accounting and finance-related positions. After starting work at then Petit Jean Technical College, it quickly became very clear to me upon seeing the multitudes of students coming through the college and the opportunities afforded them from higher education, that was where I belonged. One of the biggest obstacles for students in our region to higher education is the cost. In my early years at the college, I had the opportunity to counsel with students and help them find a way to make college possible financially. Over my 27-year career, I have witnessed thousands of UACCM graduates, each with their very own success story, many who didn't believe it could be them on that stage.
Community activities: Over the years I have been involved in many different community activities, including Conway County Vision 2020 Leadership Program (1997), Great Arkansas Pig Out, Toad Suck Daze, Fabulous Fourth Festivities (Morrilton), St. Vincent Morrilton Hospital Foundation Board, Wonderview Booster Club and the Petit Jean Razorback Club.
Church activities: Lifelong member of St. Mary Catholic Church in St. Vincent; Altar Society member; former St. Mary PRE Co-coordinator and St. Mary Annual Bazaar chairperson.
Family: Parents, Norbert and Mary Burgener; siblings James (Joanie) Burgener and Willie (Lisa) Burgener; husband, Chris; children Bethany (Mike) Roberts, Brianna (Dustin) Simmons; Hunter Gunderman, Ben Willenberg and Josh Willenberg; and granddogs Dak, Ellie (Special El), Levy, Bella, Jax, Ellie and Bandit.
Education: Bachelor's degree in Accounting, University of Central Arkansas, 1989; College Business Management Institute, University of Kentucky, Lexington, 1998; and a master's degree in education, UA Fayetteville, 2006.
Favorite place in Arkansas: Finally, an easy one. Greers Ferry Lake.
What do you love about living in the 501: The friendly people who truly take care of each other and the natural beauty of the rivers, lakes and mountains. I have to confess I took these things for granted until I did a little traveling. We live in a paradise of sorts.
Is there anything else you would like to include: I would like to take this opportunity to again thank everyone involved directly and indirectly in my being named chancellor at UACCM. I am deeply humbled and very excited with this opportunity. I would also invite anyone interested in a better life through additional training and higher education to please come see us at UACCM. We have an incredible staff waiting to take the journey with you.