29 Sep 2022

Person of the Month: Kristi Williams
GreenBrier Springhill Elementary School Nurse and pediatric psychiatric nurse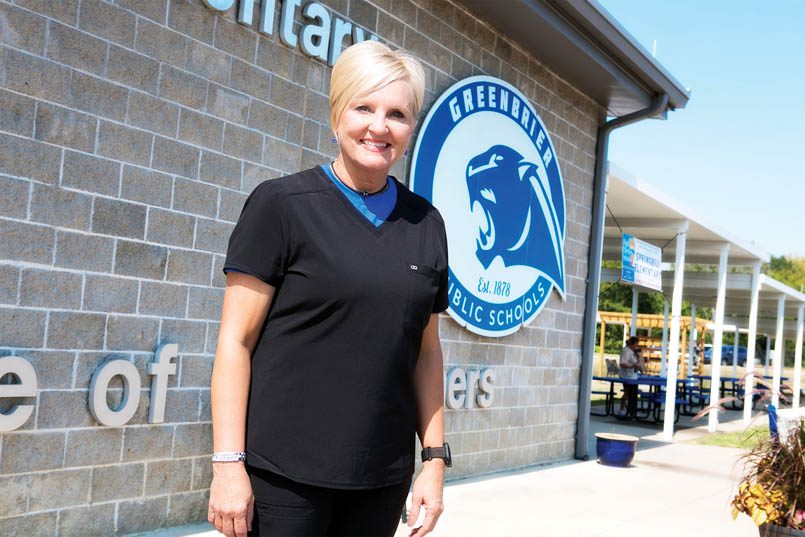 FAMILY: 
My family consists of my husband, Brian, and my four children, Morgan, Grant, Whit and Jack.
Education:
I graduated high school from Star City High School. I received my Bachelor of Science in nursing from the University of Central Arkansas.
Work:
I have been a nurse for 24 years. My career began as a nurse in the pediatric intensive care unit at Arkansas Children's Hospital. I started school nursing in December of 2012 and am still in this position at Springhill Elementary in Greenbrier. I also am a pediatric psychiatric nurse on the weekend and during the summer.
Accomplishments I'm most proud of:
At Springhill Elementary, we use a "standout" award to show recognition to staff that have gone the extra mile during the week. This was an exciting award to get knowing that someone was able to see the effort I put into my job each day.
Why I chose my field:
It is commonly said that nursing is a work of "heart." I chose to pursue a pediatric nursing career to help children in a variety of stages in sickness or injury. Nursing also has a multitude of paths one can work in. As evident by my work history, I have been able to work in multiple different settings caring for children.
my Most cherished possession:
The time I spend with my family is my most cherished possession. As my children get older, we no longer all spend every night together. Any time we can have everyone at home together is my ideal moment.
A fun fact about me:
My favorite activity is crappie fishing and I love to have family competitions in the summer.