28 Feb 2023

Person of the Month: Kellie Wall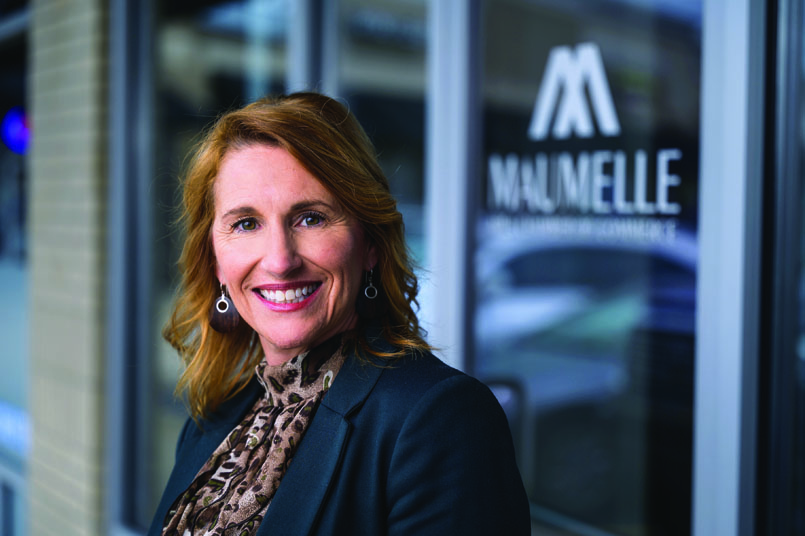 Family: My husband, Stephen, and I have been married 22 years and have been residents of Maumelle for 10 of those. We have three children, Emily – age 25, Spencer – age 18, and Macy – age 17. Stephen is an Allstate Insurance agent, and together we own a food truck, sugARush Snoballs, that serves New Orleans-style shaved ice.
Education: I grew up in Mississippi and graduated from Washington School in Greenville, Miss. I then continued on to the University of Mississippi and graduated with a Bachelor of Public Administration and minored in sociology.
Work: I became the new executive director at the Maumelle Area Chamber of Commerce in January. I am coming over from the Sherwood Chamber of Commerce, where I served as the president/CEO since 2018. In my early career, I worked in the state office of federal legislators. I have worked in government since graduating from college and took the leap to the nonprofit world in 2018.
Professional Accomplishments: I was honored to be a graduate of Leadership Arkansas class XVI in 2022. I currently serve on the boards of directors for the following groups: Arkansas Economic Development and Chamber Executives, the Little Rock Air Force Base community council and the Camp Robinson/Camp Pike community council.
Why I chose my field: After several years, I decided I wanted to use my experience and my efforts in work that would better my local community and, in turn, my home state of Arkansas. I began community development in 2018 and have continued to further my education in this field at the Institute for Organizational Management and through yearly economic development/community development seminars. I recently began taking courses with the Community Development Institute at the University of Central Arkansas. I love being the connector to help further workforce development, community development and educational efforts in my community.
Community/Church Activities: My family and I are members of Fairview Park Church of Christ and help coordinate efforts with younger members for community outreach. I also work with local school districts to help train future leaders with classes in local/state government, economic tours, etiquette classes, the basics of job interviews and community outreach programs.
Most cherished possession: As a mother, my family and my children are most cherished. If I had to choose an item as most cherished it would be my Bible. I find myself turning to God's word when struggling with any decision.
Maumelle is a great city, and we feel very lucky to have been able to raise our children here during their formative years. Maumelle has the advantage of the small town feel where your neighbors are concerned about you, and all want to work together to better the local community. We have beautiful parks, walking trails, neighborhoods and family activities, including a splash pad, public library, fishing and community/aquatic center. Maumelle officials continue to improve the quality of life with future plans for an all-inclusive playground, extended bike paths and a pickleball complex. It is a blessing to be able to work with such a wonderful community, and I look forward to a great future for the people of Maumelle.