02 Feb 2022

Person of the Month: Kathryn Tucker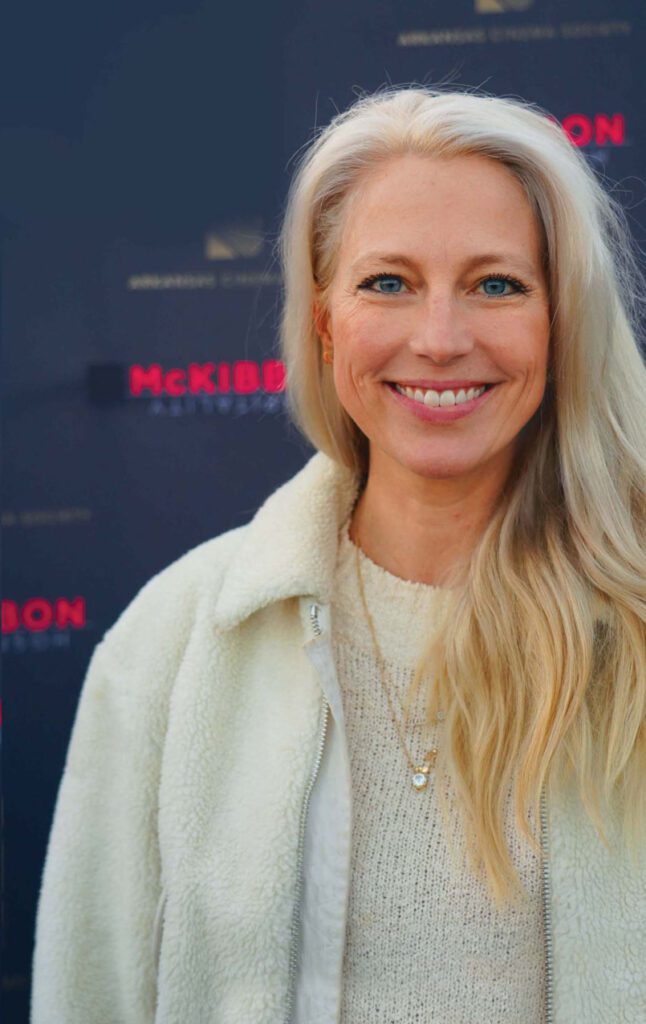 FAMILY: 
My husband, Gabe Mayhan, and I have been married for almost eight years. We have a 6-year-old named Tucker Mayhan and a 3-year-old named Kathryn Clarke Mayhan, but we call her Coco. Gabe has been a cinematographer for almost 20 years.
EDUCATION:
I am a proud graduate of Little Rock Central High School and the University of Pennsylvania in Philadelphia. I majored in photography and communications. I am also a graduate of the Directors Guild of America Training Program in Los Angeles.
WORK:
I co-founded the Arkansas Cinema Society in 2017 and serve as the executive director. I have also been a filmmaker for almost 20 years and have been a director, producer, and assistant director.
WHY DID YOU DECIDE TO GO INTO YOUR FIELD:
I became a filmmaker because I love the collaborative process of artists working together with a unified vision to tell a story. Movies share perspectives we may never experience in our own narrow lives, and they have the ability to transport and inspire unlike any other art form. I started the Arkansas Cinema Society (ACS) because working in film seemed like an impossibility to me growing up in Arkansas. Once I moved to New York and saw that it was a possibility, I jumped in. I hope the ACS gives people of all ages from Arkansas, the tools, resources, and connections to find their way into the film industry — and maybe even help them build it in their own backyard.
WHAT HONORS HAVE YOU RECEIVED:
In 2020, I won a Mid-America Regional Emmy for directing a documentary about Gov. Mike Beebe for Arkansas PBS. In 2011, I was nominated for three Directors Guild of America awards for my work as an assistant director on the first season of the TV series "Glee."
COMMUNITY ACTIVITIES:
ACS hosts Filmland each fall in Central Arkansas with filmmaker-accompanied screenings with talent like Adam Driver and Jessica Chastain attending in person, as well as a robust educational workshop program for filmmakers. Outside of Filmland, the Arkansas Cinema Society stays busy year-round with community film programming throughout the state. We offer filmmaker-accompanied screenings, like the premiere in Northwest Arkansas of the film "Minari," which was written and directed by Arkansas native Lee Isaac Chung; educational programming like our Filmmaking Lab for Teen Girls; our screenwriting film camp in Helena; and Young Storytellers, our screenwriting program for fifth-graders in public schools.
MOST CHERISHED POSSESSION:
I know my kids are not a possession but they are what I cherish most. They are my treasures and have my heart.
WHAT DO YOU LOVE ABOUT LIVING IN THE 501:
Being six generations Arkansan on both sides of my family, I have a very strong, rooted, clear sense of "home" and there is no place like home. I have always loved the warm sense of community in the 501 and am committed to being an active member and giving back to it.
IS THERE ANYTHING ELSE YOU WOULD LIKE TO INCLUDE ABOUT THE ARKANSAS CINEMA SOCIETY:
Arkansas is full of talent. I just want to do everything I can to help everyone who has any interest in film have the tools and resources they need to succeed. Having a healthy film ecosystem employs artists, drives economic development, and helps promote tourism. It's really a perfect industry if you ask me! For anyone that is just now learning about the Arkansas Cinema Society, please check out everything we do at arkansascinemasociety.org.