24 Aug 2023

Person of the Month: Dr. Karen Lois Billingsley Lasker

I am the Assistant Superintendent of Recruitment and Personnel for Conway Public Schools.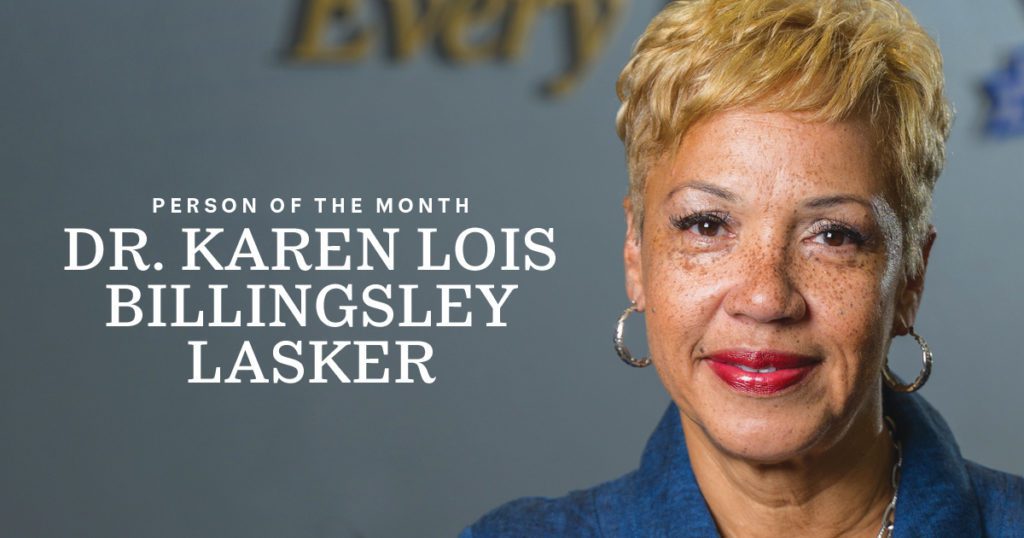 HOMETOWN:
I was born in Brinkley (Monroe County), but I am a proud native of Helena (Phillips County). Since 2010, we have called the great city of Conway our home.
FAMILY:
My husband, Nick, and I will have been married 34 years on Aug. 5. We have one son, Alfred-Lloyd (Big AL) and one grandson, Knox. I was raised with three siblings, Andre (deceased), Valerie and Roslyn. When I married, I gained five other siblings, Dalian (Duck), Lloyd Jr. (Bugg), Tennille, Tanzetta and Terina, all of Conway.
EDUCATION:
I am a 1983 graduate of Helena – West Helena Central High School. I received my Bachelor and Master of Education degrees from the University of Central Arkansas and continued my Specialist and Doctorate Degree in Educational Administration from the University of Arkansas.
PROFESSIONAL ACCOMPLISHMENTS:
This is my 35th year of service to education. I have worked as a substitute teacher, a teacher of special education, a coach for volleyball, basketball, soccer and track in the Helena, Mount Holly and Fort Smith school districts. I worked as an administrator in Fort Smith (Sebastian County), Carrollton, Texas, and Conway.
I received many honors in high school, college and in my professional career. The ones that stand out are Coach of the Year, Administrator of the Year and induction into the Helena-West Helena Sports Hall of Fame. These mean the most to me because it wasn't what I did individually but what we accomplished as a team! I have been the first to do a lot of things in my life, but the honor has been that someone paved the way for me. I stand on the shoulders of many before me, and one of my greatest accomplishments would be to make them proud.
WHY ARE YOU PASSIONATE ABOUT PLACING THE BEST CANDIDATE IN THE RIGHT POSITION:
My favorite thing to do is to help/serve others. In my position, it is all about the people. My "why" is knowing that you have the opportunity to help someone solve a problem or issue or just being a listener. During my career, I have strived to impact lives athletically and or professionally. I am a recruiter at heart — the better teachers I recruit, the better impact it will have on the process of educating our youth. When you see me in the store, at church or at a restaurant, I am probably going to talk to you about education.
COMMUNITY & CHURCH ACTIVITIES:
I love the community I live and worship in. I think it is important to not only live in a community but become a part of it. I am an active member of my sorority Delta Sigma Theta, Inc. Recently, I have been attending church more often with my mom, Maureen Billingsley, who turns 85 in August and is going strong.
MOST CHERISHED POSSESSION:
My family and my faith is my most cherished possession. My dad passed away in 2003 and my brother more recently in January. My sisters, mom, husband, son, grandson and I spend as much time together as we possibly can. We all lean on God and each other for support and encouragement.
WHAT DO YOU LOVE ABOUT
LIVING IN THE 501:
The one thing I love about Arkansas is the people. No matter where you go, you will find someone who treats you with kindness and oftentimes will invite you over for dinner!