05 Nov 2023

Person of the Month: Dr. Charles 'Chuck' Barber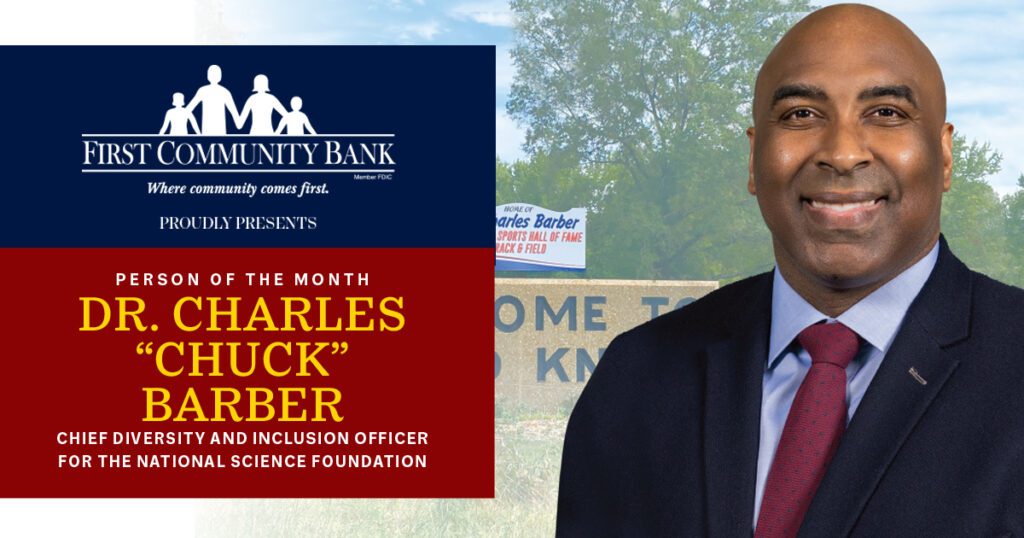 HOME: Lorton, Virginia
Native of: Bald Knob. Arkansas
Family: I live with my immediate family in Virginia, and I have family in Texas and extended family in Bald Knob, Searcy, Stuttgart and throughout Arkansas.
Education: Ph.D. in transformational leadership from Bakke Graduate University, undergraduate degrees in organizational leadership and business management from Columbia Southern University, Excelsior College and Ouachita Baptist University. My high school diploma is from Bald Knob High School.
Community activities: I would not be the man I am today or in the position that I'm in today if it hadn't been for Pleasant Grove Baptist Church and the Bald Knob community wrapping its arms around me, doing its part to help me take advantage of opportunities to get to where I am. Because of that, I think it's very important that I continually go home and talk to the kids in White County and surrounding areas, because they need to see somebody from that area like me who has grown up there and gone off to do things at our nation's capital and beyond.
Personal interests: I really want to help Bald Knob Public Schools establish a science, technology, engineering and math (STEM) lab within White County. When you think about the future, STEM really advances science and the well-being of our nation and even national security. I want to make sure we put opportunities to grow STEM talent everywhere, and in a lot of cases, some rural areas like Bald Knob get left out. If I can help them take advantage of opportunities and work through the system, we all benefit.
Work: I am the chief diversity and inclusion officer for the National Science Foundation (NSF). I have been in this role since January 2023.
Professional accomplishments: Bald Knob is and will always be home. Bald Knob and Arkansas are the center of the universe for me. What I learned at Bald Knob High School led me to broaden the entire rest of my life. I was able to earn a track and field scholarship to Ouachita Baptist University in Arkadelphia, which led me to be a sprinter and earn the All-Army 100 Meter Dash Championship on the All-Army Track & Field teams, which led me to set athletic goals and reach world class and Olympic qualification standards. As a result of that, I will always be humbled by being inducted into the Arkansas Track and Field Hall of Fame in 2022. I'm also proud of my deployments to Kosovo and Iraq, and I am particularly proud of my presentation, "Reimagining How We Harmonize Diversity & Meritocracy," on TEDx.
CURRENT PROFESSIONAL GOALS: Part of the reason why I like to do what I do is because I like to teach society. There's a right way to do this kind of work without it being viewed as activism or being viewed as divisive. DIA is not just an abbreviation for diversity, equity and inclusion. To me, it's the gateway to the psychological work in organizational change, where we need to really do better as a part of society. I now have a platform where I get a chance to talk to university presidents throughout the nation as well as other federal agencies on diversity and inclusion initiatives. My ultimate goal is to teach others that we can show love and pride for this country while we reconcile with past indiscretions and vice versa. We have to do it together to get better. It is absolutely possible.
What was your reaction when you learned your hometown has placed your name above the "Welcome to Bald Knob" sign. Honestly, I cried. Bald Knob is the center of the universe to me, and regardless of what we all go through, that sign, to me, represents something just much bigger than just Chuck Barber.