31 May

Person of the Month: Casey Griffith
Casey Griffith
CONWAY wampus cat forensics & Debate teams coach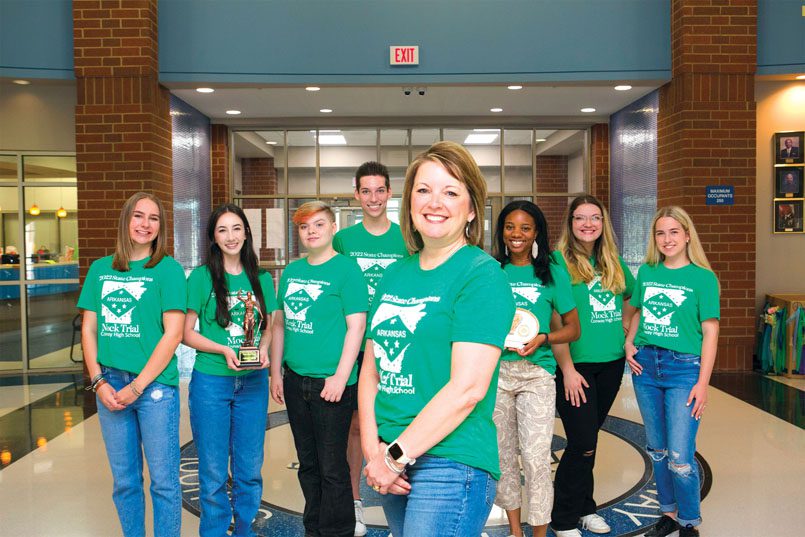 FAMILY:
Shane (husband), Holly (daughter), Cade and Katherine (son and daughter-in-law). My parents are Chesley and Joyce Boggan, who are both retired Arkansas public school teachers (my inspirations)!
EDUCATION:
Bachelor of Science in Education with a major in Speech and Theater and a minor in English from the University of Central Arkansas. Master of Science in Education: Advanced Studies in Teaching and Learning, also from UCA. ESL certification from Arkansas Tech University.
WORK:
Teacher at Conway High School (CHS) for 10 years. I coach Forensics and Debate Team. Forensics and Debate Team is not a club. We are a competitive, extra-curricular team sanctioned by the Arkansas Activities Association and we compete under the rules of the Arkansas Communication & Threatre Arts Association and the National Speech & Debate Association. I also teach Principles of Communication at UCA.
PROFESSIONAL ACCOMPLISHMENTS:
Established and built the Conway High School Forensics & Debate program; Arkansas High School Mock Trial State Champions 2019, 2022 (undefeated season); Arkansas High School Mock Trial State Runners Up 2021; National High School Mock Trial Championships representing Arkansas in 2019 in Athens, Ga. and in Kalamazoo, Mich. in 2022; National Speech & Debate Association (NSDA) Quad Ruby Award for coaching; NSDA first Diamond Coach Award; eight NSDA Academic All-Americans from within my team over the past four years; five NSDA National Tournament Qualifiers in both forensics and debate; and, various Arkansas Communication and Theater Arts Association state title holders in both forensics and debate.
WHAT DID YOUR STUDENTS RECENTLY WIN:
The CHS Mock Trial team won the Arkansas High School Mock Trial Championship on March 5. We went undefeated in both regional and state competition. We just completed representing Arkansas in the National High School Mock Trial Championships May 5-7. We competed against the best teams from 46 states and South Korea. When the 2022 Mock Trial season began, there were around 4,000 teams across the nation. In May, the best 46 teams competed. Each state enters only one team, so we were honored to be the state champions who proudly represented Arkansas and CHS. Students competing in Mock Trial must learn law, including rules of evidence, objections, arguing objections, entering evidence, tendering an expert witness, and impeaching a witness. They must do all of this in a professional and respectful manner. My students and I put in over 100 hours outside of school preparing for both the state and national tournaments. It is a lot of work, but it is very much worth it!
COMMUNITY/CHURCH ACTIVITIES:
Fellowship Bible Church of Conway; 2023 National High School Mock Trial Championship steering committee; Junior Auxiliary of Conway, past president; Women Run Arkansas, past Conway director; Phi Mu alumnus.
MOST CHERISHED POSSESSION:
My first half-marathon medal (St. Jude's) because I learned more about myself and what I am capable of accomplishing physically, mentally, and emotionally while training for and running that race. I did the training and racing on my own, and I will never forget the joy and realizations that day brought to me.
LOOKING FORWARD TO:
In 2023, Arkansas is hosting the National High School Mock Trial Championships, right here in the 501 in Little Rock! Hundreds of students, coaches, attorneys, judges, and family members will travel from across the nation (and hopefully South Korea, too) to compete in the national tournament. This is Arkansas's first time to host, and I am thrilled it will be in our backyard. Of course, I am hoping CHS Mock Trial Team will represent our state again next year. Hosting the national tournament is an honor, and the committee is working hard to make it a meaningful, exciting, and quality experience for everyone.