11 Sep 2023

Person of the Month: Amber Straughn, PH.D

I am an Astrophysicist, the Associate Director of the Astrophysics Science Division and Deputy Project Scientist for the James Webb Space Telescope Science Communications at NASA's Goddard Space Flight Center. I have been an astrophysicist at NASA for 15 years.
HOMETOWN:
I lived in Bee Branch (Van Buren County) from birth through high school (1979 – 1998). Now I live in Glenn Dale, Md.
Family:
My husband, Matt Straughn, and I have been married for 22 years. We met at the University of Arkansas. My mom, Carolyn Wetherelt (and stepdad Colin), still live in Bee Branch, where I grew up, as does my brother, Shane Holley; my sister, Ashley, and her husband, Ashkon, live in Fayetteville. My father-in-law is in Little Rock – most of our family is still in Arkansas so we make it back a lot!
Education:
I graduated from South Side High School in Bee Branch in 1998 and attended the University of Arkansas (go Hogs!), where I got my B.S. in physics in 2002. I earned my Master & Ph.D. in physics with an emphasis in astrophysics from Arizona State University in 2008.
Community:
I'm involved in several community groups here in Maryland, including some focused on providing food assistance and companionship to senior citizens, as well as racial justice and voting rights activism groups.
Most cherished possession:
I tend to cherish memories and experiences more than possessions, but I do love my collection of photos – probably because they remind me of past experiences! I'm also fond of various gifts from my husband, including several photos and album covers signed by my favorite musical artists. I also have a book signed by Buzz Aldrin.
Professional accomplishments:
I'm a first-generation college student, so getting a Ph.D. in itself was a huge goal and accomplishment for me. My job at NASA is pretty much my dream job! As part of my NASA work, I've met both Presidents Obama and Biden, as well as Vice President Harris. I've been featured on two episodes of CBS' "60 Minutes" and in several science documentaries (including one that won an Emmy), done live interviews on CNN, and received several alumni awards from the University of Arkansas.
At what age did your love for space develop and how did that unfold:
I've loved space for as long as I can remember looking up at the dark night skies in Bee Branch. I was very young – elementary school age – when I started really wondering what was beyond the stars I could see with my eyes and how it all worked. I remember that NASA's Hubble Space Telescope launched when I was in the fifth grade and being blown away by the images after the mirror was fixed. Space has always been a calling for me.
Most exciting project:
My most exciting project is the main project I'm working on now: the James Webb Space Telescope (JWST)! I've been working on it for more than 15 years, and when it finally launched into space on Christmas Day 2021 and we got the first images back in July 2022, I knew it was all worth it. JWST is the largest, most complex telescope we've ever sent to space, and in just the short year and a half that it's been returning data, it's already starting to revolutionize our understanding of the universe. It's incredible to be part of such an amazing team of brilliant, hard-working people.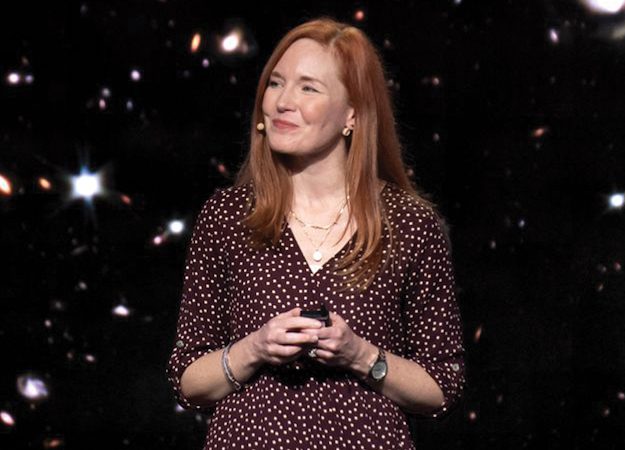 Dr. Straughn will be speaking at Reynolds Performance Hall on the UCA campus, Sunday, April 7, 2024, the day before the eclipse. 
I'm so excited to be able to experience next year's total eclipse in my home state! I'll be doing some public events surrounding the eclipse, but plan to spend the day of the eclipse at home with my mom and family in Bee Branch to experience totality with them. I saw the 2017 total eclipse in Nashville, Tenn., and was surprised at what a surreal, emotional experience it was.
Let's all hope for clear skies next April!