01 Mar

PCSSD students called on to solve real-world problems

Winrock International's The Arkansas Regional Innovation Hub and Pulaski County Special School District are partnering to challenge 3rd- through 12th-grade students to be innovators. As a result of the COVID-19 pandemic and its impact on education, this event serves to challenge students across Arkansas in the field of science and technology in a new, innovative way.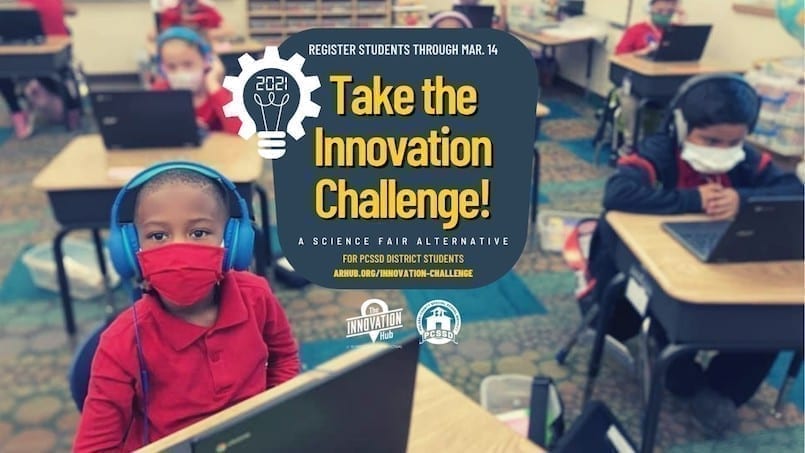 COVID-19 has greatly impacted in-person learning and potential science fair events that typically take place in the spring of each school year. The Innovation Challenge will encourage students of all ages to apply the knowledge they already have, learn new skills, and work with Arkansans already working in science-based fields to solve a real-world problem.
"We are proud to be part of this event and make something like this available to all the schools in PCSSD," said district instructional strategist Laura Strickland. "The Innovation Challenge inspires students to think outside the box to find solutions to problems using technology. The mentorship and networking opportunities available through this challenge are unique and will aid students from across the state."
Student innovators will learn through virtual training and consultations along with on-demand video lessons in topics such as CAD design, vector design, branding design, prototyping, and basic construction skills. Students will then incorporate their new skills into the solution of their real-world problem. Afterward, they will develop a presentation and pitch for their project.
"To meet the challenges of tomorrow, we must prepare the talent of today. The Innovation Challenge is a science fair-meets-'Shark Tank.' By developing practical solutions to real problems, students will hone their scientific and engineering skills, they will also get a taste of what it means to be an entrepreneur
PCSSD teachers are invited to register students through March 14th. The challenge will officially launch on March 15. Resources for students and teachers have already been developed. Teachers will be encouraged to schedule student and class consultations and training sessions with Innovation Hub staff.
The top 5 winners will receive Innovation Challenge winner t-shirts, laser-cut certificates of achievement, and a package of virtual learning and group consultation to help take their ideas to the next level on topics like entrepreneurship, website design, 3D printing, laser cutting, and more.
One grand prize winner will be awarded a prototype of their product, a customized t-shirt of their new brand, one-on-one consultation in entrepreneurship, and 10 hours of private instruction from the Innovation Hub.