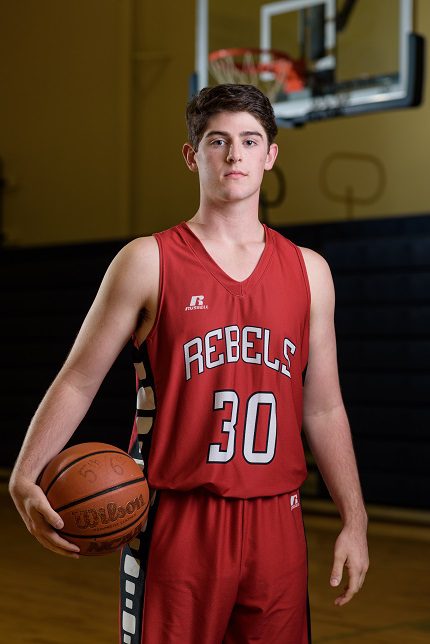 03 Jan 2018

'Passionate' Poole unites Rebels

by Mark Oliver


It's been a season of peaks and valleys for Sacred Heart High School.


After kicking off a brand-new season with an impressive 11-2 run, the Rebels have recently fallen on hard times, losing nine of their last 10 games, including six straight losses. At a time where wins aren't coming, senior forward Andrew Poole says it's time for his team to rise to the challenge — together.


"We started out the year on a great stretch, but have fallen behind in the past few weeks," Poole said. "We're working hard to bring ourselves back up. If we work together, we can get out of this hole and be a strong competitor in the Class 5-1A North."


Poole was selected to this year's 501 Basketball Team — 37 players representing the best the 501 has to offer both on and off the court. The team is sponsored by Conway Ortho and Sports Medicine, Conway Regional Health System and First Security Bank. Poole was nominated by his head coach, Aaron Duvall.


"Andrew has a passion for basketball and for the team," Duvall wrote in his nomination. "His dedication is obvious through his work ethic, and his teammates see this every day. He is also very vocal in practice and games and knows how to execute our offenses and defenses. He has the ability to carry the team when he needs to."


As Sacred Heart enters the new year, Poole and the Rebels aim for improvement through setting goals and following through as a team.


"We have many goals as a team this year," Poole said. "We want to be a top-three team in our conference. We'd also like to win 23 games and go into the state tournament. As a team, we also have a team GPA goal of 3.5 and a goal of no technical fouls this season. So far so good."


To motivate his team, Poole recalls a time last season where the Rebels overcame the odds to achieve their goals.


"Last year, we didn't have a very strong team, but we still made it to the state tournament," Poole said. "Winning two big games last year in the district and regional tournaments was huge for us. This year, even though we have just three seniors, we each have our individual roles.

"We're trying to help our juniors and sophomores become better role models and start playing as a team."


This week, in a key conference match-up against Nemo Vista, Poole sees an opportunity to help his team right the ship.


"We're excited to play Nemo Vista this week," Poole said. "They're sort of a different team than we played during the first part of the season.

"One of their players, Ethan Hill, is a strong competitor. I believe if we can shut him down, we shut down the rest of the team because everything goes through him. Our game plan will be to take care of him."


"We have placed very high expectations on Andrew this year, and he knows he has what it takes to achieve all of them," Duvall wrote. "For us to have a big year, Andrew must have a big year. He started last year as a post on a team that went to the state tournament, so he knows what it takes to succeed at this level. He is also no stranger to end-of-game situations. His calming, no-stress demeanor makes him perfect for last-second shot situations."


Off the court, Poole enjoys the outdoors, plays first base for Rebels baseball, is a member of Key Club and Beta Club and serves as Student Council President.


"Andrew is the Student Council President for Sacred Heart this year, which shows how much the student body sees him as a leader," Duvall wrote. "He is also very involved in just about every event at Sacred Heart from volunteer opportunities with Key Club to community dinners held in the gym to being a Eucharistic Minister at church. Being so involved has made Andrew a better leader and a more well-rounded person."


In the future, Poole plans to major in agricultural business and veterinary science at Arkansas Tech University in Russellville.


"The one thing I want people to know about me is that I go 110 percent all the time," Poole said. "On the court, it may be 120 percent. This year, I wanted to put an imprint on the younger guys to work hard, play your best and play as a team. You can't try to do everything yourself and be successful."


Sacred Heart plays host to Nemo Vista at 6 p.m. Friday.