18 Jun 2020

Party by the pool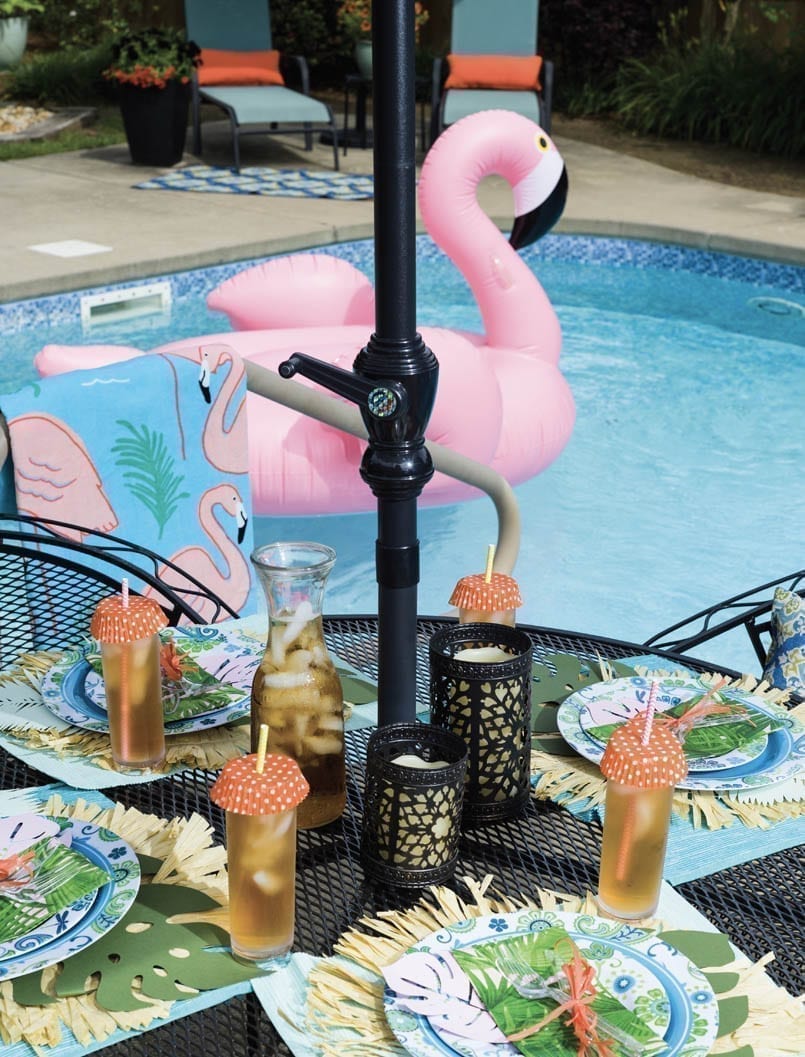 by Julianne Milner
Summer's here! There's always something exciting about taking the party outside. Easy, relaxed and casual — that's how I like to entertain in the summer. Come along as I take the party patio/poolside and share some secrets every outdoor party host should know.
My suggestions and tips:
Set up a mobile cart or separate table for all drinks and drink-related items so guests can serve themselves during the party.
Keep insects out of your drinks by topping your glasses with a patterned cupcake liner. Poke a hole through the center with a hole punch to insert a fun straw.
Wrap cutlery in a napkin so it is easily kept together. Placing cutlery bundles at the end of your table lineup saves your guest having to juggle too many items while filling their plates.
Choose sturdy, but lightweight plates. I prefer melamine dishes because they are sturdy and unbreakable.
Opt for inexpensive centerpieces. Votives inside lanterns or wine bottles with flowers picked up at the grocery are my go-to. I also love to have my centerpieces at each table be the take-home gift for the evening.
To keep guests entertained while you're greeting everyone, hang a picture frame from a tree limb and place a table of fun photo props beside it. Guests will gravitate to it for some memorable selfies.
Maintain freshness and keep flies away by serving food from glass jars with lids. An added bonus is how pretty your food will look through the jars.
Food tents are also handy to have when serving outdoors.
When choosing your menu for your poolside/patio party, keep it light and choose foods that won't disintegrate in the heat.
S'mores by the firepit are always a big hit! Bring out a tray with added ingredients so guests can customize their s'mores. I added white chocolate, dark chocolate, Ghirardelli chocolate with caramel candy bars, sprinkles and of course, bacon, to my tray.
Planning on ending the party with a cold treat? Try this trick! Pre-scoop ice cream, or other cold desserts, before the party. Place individual containers on a cookie sheet and stow them in the freezer until time to serve.
Add a little torchlight to each table, hang outdoor string lights in a few trees or stake a few torches around the perimeter of your backyard. A little added lighting will keep your party going after the sun goes down.
Include some classic games to keep the guests entertained during the evening. Cornhole and bocce ball are two of our favorites. For a mess of laughs, spread out the old Twister mat! Hula hoops and bubbles keep little guests busy.
Have comfortable seating scattered around the yard. It doesn't have to be fancy. Outdoor chairs with festive pillows give guests a place to rest and chat.
If scattering a few throws around on the grass, placing a shower curtain under the throw prevents it from getting damp or soggy during the evening.
Don't forget the tunes! Music brings people together and is such an important part of planning any get-together. Decide upon a long playlist ahead of time and set on repeat. Be sure to include a good variety and some summertime favorites!
For MY pool party, I served Linguine with Shrimp Scampi, Green Salad and Hawaiian Fresh Fruit Salad, with a S'mores Tray for dessert by the firepit. I'm including two of the yummy recipes for you to enjoy!
With these outdoor entertaining tips and recipes, you should be ready for a backyard of summer fun! It's such a treat to share an evening of great food, conversation and laughter with good friends. Follow me on Instagram @juliannessoutherntable for more summer entertaining ideas. Happy July, from my family to yours!
Linguine with Shrimp Scampi
Vegetable oil
Kosher salt
1 1/2 pounds linguine
6 tablespoons unsalted butter
5 tablespoons good olive oil
3 tablespoons minced garlic (9 cloves)
2 pounds large shrimp (about 32 shrimp-peeled and deveined)
1/2 teaspoon ground black pepper
3/4 cup chopped fresh parsley
Grated zest of 1 lemon
1/2 cup freshly squeezed lemon juice (4 lemons)
1/2 lemon, thinly sliced in half-rounds
1/4 teaspoon hot red pepper flakes
Drizzle some oil in a large pot of boiling salted water, add 1 tablespoon of salt and the linguine, and cook for 7 to 10 minutes, or according to the directions on the package.
Meanwhile, in another large heavy-bottomed pan, melt the butter and olive oil over medium-low heat. Add the garlic. Sauté for 1 minute. Be careful, the garlic burns easily. Add the shrimp, 1 tablespoon of the salt and the pepper. Sauté until the shrimp have just turned pink, about 5 minutes, stirring often. Remove from the heat, add the parsley, lemon zest, lemon juice, lemon slices and red pepper flakes. Toss to combine.
When the pasta is done, drain the cooked linguine and then put it back in the pot. Immediately add the shrimp and sauce, toss well and serve.
Hawaiian Fresh Fruit Salad
6 cups (total) of your favorite fresh fruits, such as:
Bananas, peeled and sliced
Blueberries
Pineapple, cut into bite-sized pieces
Blackberries
Raspberries
Mango, peeled and cubed
Strawberries, stems removed and berries cut in half
Oranges, peeled and cut into chunks
Dressing:
1/3 cup fresh lime juice
1 1/2 tablespoons honey
3/4 teaspoon ground ginger
Mix 6 cups total of the fruits you choose from above list in a large salad bowl. Mix the lime juice, honey and ginger in a small bowl. Pour the dressing over the fruit and stir. Serve immediately. If you are using bananas and make the salad ahead of time, hold out bananas until just before serving.