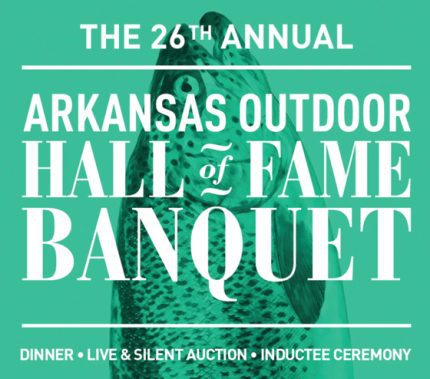 06 Jul 2017

Outdoor Hall of Fame honoring new inductees

The Arkansas Game and Fish Foundation will welcome three new names to the Arkansas Outdoor Hall of Fame at this year's annual banquet, Friday, Aug. 11, at the Statehouse Convention Center in Little Rock. David Pryor, Ross Whipple and Mark Karnes will be inducted into the Hall of Fame, and the late Winthrop Paul Rockefeller will be honored with the Hall of Fame Legacy Award.


Pryor, former governor of Arkansas, member of the Arkansas House of Representatives, the U.S. House of Representatives and U.S. Senate has made headlong strides at both the state and federal level to advance conservation and protect the land for fish, wildlife and the people who enjoy them.


Ross Whipple, chairman of the board of trustees for the Ross Foundation, has worked to oversee millions of dollars in donations to support forestry research and conservation management through the Arkadelphia-based foundation.


Mark Karnes, Ross Foundation director, has worked to create lasting partnerships with the Arkansas Game and Fish Commission and other agencies to promote hunting and wildlife-associated recreation on the foundation's 60,000-acre timber holdings.


In addition to his years as lieutenant governor, Winthrop Paul Rockefeller served as chief executive of Winrock Farms, Inc. and served as chair of President George H. W. Bush's Council on Rural America. He served as president of the Quapaw Area Council of the Boy Scouts of America, the largest area council in Arkansas, and served on the national board for the Boy Scouts of America. He was highly influential in the creation of The Nature Conservancy in Arkansas and the Billfish Conservation Foundation. He also spearheaded the National Rifle Association's Project ChildSafe in Arkansas, providing hundreds of free trigger locks to gun owners throughout the state.


The inductee ceremony is only part of the night's festivities. A catered dinner and open refreshments are provided, and many raffles and auctions keep the activities lively. Deke Whitbeck, AGFF president, said Foundation staff have worked hard to make the banquet appealing to anyone who attends.


"Between silent auctions, raffles and live auctions, we have items ranging from African safaris and duck-hunting boats to gift cards for local restaurants," Whitbeck said. "We'd love for all Arkansans who care about the outdoors to be a part of the celebration."


Doors open to the banquet at 6 p.m. and dinner is served at 7 p.m. Tickets are $125 each, with proceeds going to the AGFF. Visit agff.org or call 501.223.6396 to purchase tickets or learn more about the event.