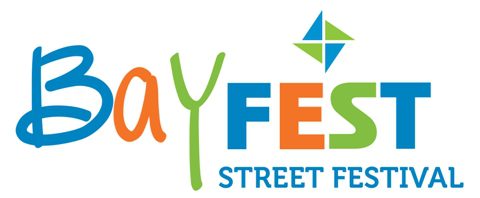 31 Aug

Outdoor events planned at Fairfield Bay

Several special events are on tap in September at Fairfield Bay.


Visitors are encouraged to enjoy these events and spend the weekend exploring Fairfield Bay. Other activities include:


• Hike Arkansas' only mountain island trail.


• Swim, fish or cruise the clear water.


• Play championship golf and then try mini- and disc golf.


• Take a self-guided art galleries tour.


For more information on vacation packages available, call a personal concierge to create a unique trip at 501.884.4202.


The Second Annual BayFest Street Festival will be held 10 a.m. Saturday, Sept. 3, at the Fairfield Bay Village Mall.


The event has fun for the entire family, from arts and crafts and live music to a car show and pet parade. A portion of the proceeds from food sales will benefit the Fairfield Bay Animal Shelter.


"It's always a great time when the community gets excited about these festivals," said Dan Feuer, festival chairman. "This year, we're bringing back the feel of a real hometown street festival, with food and crafts, parades and pet activities, a classic car show and fun that the whole family can enjoy all day long. It's like being part of the neighborhood."


The festival schedule:


9 a.m. – Fairfield Bay will begin the day by hosting the inaugural Great Southern Stone Skipping Championships at the Fairfield Bay Marina.


There's a big surprise in store for those attending: Kurt "Mountain Man" Steiner, the current world record stone skipper with hitting 88 skips, will be competing. "It simply defies your eyeballs to see his stone keep going and going," said Alex Thayer, event co-founder.


Free to spectators, those wishing to compete pay a $10 entry fee for a chance to win cash prizes.


"One would think that with all the beautiful lakes and streams here in the South that this sort of competitive event would already exist, but I could not find one," said John Baker, a board member and event co-founder. "I found stone skipping competitions way up in Michigan near Canada and one over in Pennsylvania where it is very cold. But, strangely, I found none here in the South.


"My two friends and I thought we ought to change that and the Great Southern Stone Skipping Championships were born."


Proceeds from the charitable event will go to the Arkansas Food Bank and its member food pantries in Choctaw, Clinton, and Greers Ferry.


Cash prizes (ranging from $200 to $50) will be awarded for the top three finishers in the adult flight (13 and older) and the children's flight (12 and younger). Judging will be performed by volunteer military veterans with keen eyesight.


More information about the event, including sponsorship applications, can be accessed from the public group page on Facebook named "Great Southern Stone Skipping Championships."


10 a.m. – The street festival kicks off at the Fairfield Bay Village Mall where you can enjoy a myriad of street vendors. Pick up one-of-a-kind items, specially crafted by local artisans, that will without a doubt be a conversation starter with friends.


No street festival would be complete without sampling the food trucks for some good old-fashioned carnival street fare.


Amazing classic beauties will be on display at the popular car show. Talk with the owners about the history of the cars. Be sure to cast your vote for your favorite. Award ceremonies will be held at 5 p.m.


Hwy. 31 will kick off their set at 10:30 a.m. under the big tent, and local favorite Lucky Draw will play from 3 to 6 p.m. Bring a lawn chair, kick back and relax and enjoy the tunes.


Starting at 1:30 p.m., the pet parade begins. Dress up your pet and enter them in the parade, and watch Fido and Fluffy strut their stuff along the red carpet. The overall winner will win a portrait painted by Doris Sexton.


Corporate sponsors are Noacon, Ozark Resort Homes, Goodwin & Herman Real Estate, Brown & Brown Insurance, Regions Bank, Red River Boating Center and Petit Jean Electric. Event sponsors are Baptist Health Family clinic, Community Water Systems, Bud Lady Fishing, Mountain Ranch Golf Club, Tannenbaum Golf Club, Eagle Bank, Fairfield Bay News, Payton Chevrolet, Rogers Jones Auto Body, First Service Bank and Cravens.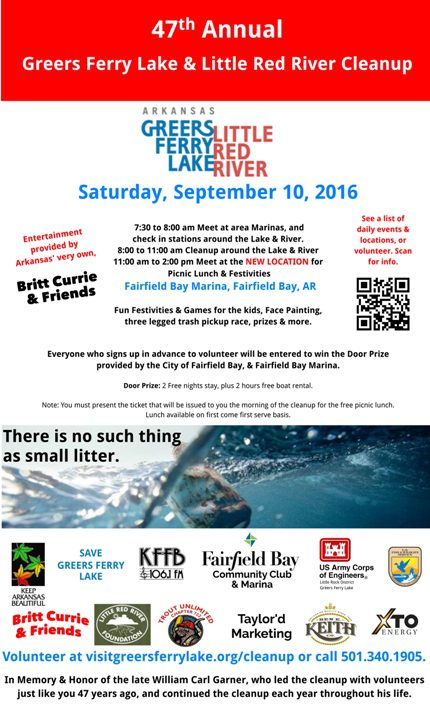 The 47th Annual Greers Ferry Lake and Little Red River Cleanup is planned Saturday, Sept. 10, as part of the Love the Lake & River Weekend.

The Greers Ferry Lake and Little Red River Tourism Association and the Army Corps of Engineers are seeking volunteers and sponsors to pitch in from 8 to 11 a.m.

In addition, to celebrate the Tourism Association's 50th year, the association along with area businesses and attractions are hosting the first ever "Love the Lake and River Weekend," Sept. 9-11 with free camping to all cleanup volunteers, free behind the scenes tours, activities, and up close and personal community experiences.

Volunteers are asked to register online at VisitGreersFerryLake.org or the association's web based app at GoSeeDoAR.org. Cleanup day check-in will occur between 7:30 and 8 a.m. at any of the participating Greers Ferry Lake area marinas: Eden Isle Marina, Fairfield Bay Marina, Heber Springs Marina, Smith's Hill Creek Marina, Lacey's Narrows Marina, Shiloh Marina, Furgersons Choctaw Marina, Peter's Sugarloaf Marina, Dam Site Camping Gatehouse and Lindsey's Resort.

A celebratory lunch will be held for the first time in Fairfield Bay. Hamburgers and hot dogs with all the trimmings along with lemonade will be served from 11:30 a.m. until 2 p.m. to the first 800 volunteers at Fairfield Bay Marina. Entertainment during lunch will include Britt Currie & Friends, a local Arkansas favorite. Also, as a tradition, the Harding Choir will perform during the opening ceremony. Kids and adults alike can enjoy face painting, a water safety booth, a three-legged recycle race, door prizes and more.

Sponsors are asking volunteers with boats to bring them to transport their own families and friends or to help with transportation for volunteers who do not have boats.

The Greers Ferry Lake and Little Red River Association will hold a special dedication ceremony at the luncheon for the late Carl Garner, cleanup founder.

For more information visit http://arkansasadventures.org.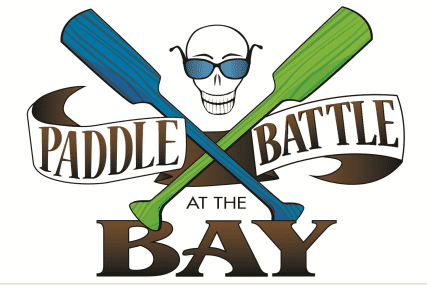 Paddle Battle at the Bay will take place at 10 a.m. Saturday, Sept. 17, Fairfield Bay Marina, located at 4350 Hwy. 330.

The second annual event is open to racers of all skill levels. There are races for everyone in the family: a 3- and 5-mile competitive paddling race, plus a 1.5 mile fun paddle. Each race includes kayaks, canoes or stand-up paddle boards competing in four divisions: youth (13-17), adult (18-49), senior (50-64) and master (65 and over). There is plenty to do for kids under 12, including a kayak sprint (1/4 mile), a watermelon relay and Bazooka Battle.

Fairfield Bay has two professional SUP exercise instructors who will demonstrate the latest exercise craze. Joanne Camp and Tammy Jo Griffith will show how to do Yoga, Pilates and exercises on SUP. Classes will be offered at 12:30 and 1:30 p.m. Bring your board, or rent one and take part.

In addition to the races, enjoy the kayak yoga and stand-up paddle boarding demonstrations, kids kayaking, live music, good food (including a fish fry by John 3:16 men's ministry), craft vendors and lots of family-friendly fun.

"Paddling is the hottest thing on the water, and we're excited to bring it up a notch with the second Paddle Battle. If you have a paddle, you can battle," said Roxie Bailey, Fairfield Bay event manager. "There's something for everyone who loves to paddle, whether you're racing or just out having fun. This family event has activities to engage and delight all ages."

Registration and check-in begin at 10 a.m., with race entries just $10. Proceeds benefit the John 3:16 community support ministries. To register or learn more, visit VisitFairfieldBay.com/paddlebattle or call 501.884.6030. Kayaks, canoes and stand up paddleboards will all be available to rent. Be sure to register and get your rental early.
Awards will be given to all age groups with a unique paddle going to the first-place place winners in each category for each class and distance.

Race categories for kayaks and canoes:

• Three-mile – competitive

• Five-mile – competitive

• One-and-half-mile – recreational fun

Race categories for SUP (Stand Up Paddleboard):

• Three-mile – competitive

• Five-mile – competitive

• One-and-half-mile – recreational fun

Race categories for kids 12 and under:

• Kayak sprint race (1/4 mile)

• Plus, more kid fun with a watermelon relay and Bazooka Battle!

For more information on these events and Fairfield Bay, go to visitfairfieldbay.com/events/.