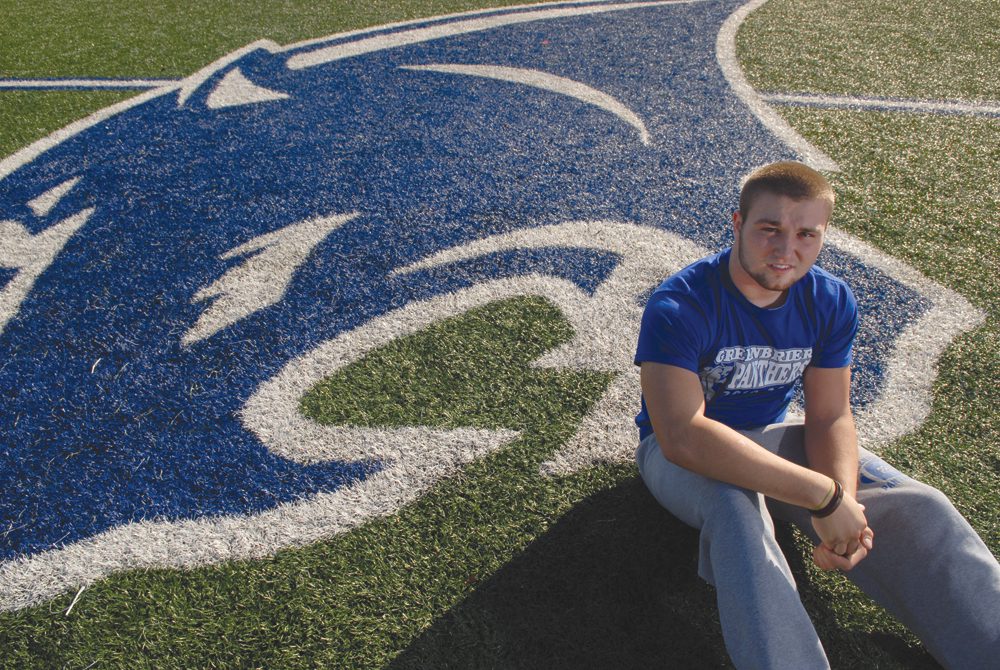 24 Dec 2010

'One tough, competitive, hard-nosed football player'

"Last year, people weren't expecting it out of us, so we came out and surprised people," he said. "This year, they knew we were good. We actually had to fight."

As a junior, Winston rushed for 1,650 yards and 25 TDs and caught 44 passes for 770 yards and nine touchdowns in a 13-game season.

As a senior, he finished the regular season (10 games) with 1,108 yards on 142 carries (averaging 7.8 yards per carry and 110.8 yards per game) with 15 touchdowns. In the first playoff game, he earned 72 yards on 10 carries, playing only in the first half.

But it hasn't been easy.

"He's had a really good year, but what some people don't know is he's played the whole year hurt," Greenbrier coach Randy Tribble said. "He tore his meniscus during our preseason scrimmage.

"You hate for your senior year to have to battle through that, but he's battled through and done an awesome job for us even with the knee problem."

Doctors said they could perform knee surgery following the injury or he could play with the injury and have surgery after the season.
Winston chose to wait.

"At first they said I'd miss two games, then it was four," he said. "But it was my senior year, and I figured if I could walk on it, I could play."
Tribble said the strategy worked at first.

"We had to get him a little time off," he said. "He was still putting up really good numbers, not quite as good as last year, but real close."

But about midway through the season, the knee got worse, and Winston's practice time was limited.

"Any time he worked on it real hard, it took some days to recover," Tribble said. "It got real stiff. About the last month of the season, he was out there at practice with us and going to physical therapy. He kept ice on it just about every day, and then he played on Fridays, so it's been hard on him and the team, too.

"You wonder every week, is he going to be able to play or not? But he's played in every game. Against Siloam (Springs), he probably shouldn't have played, because right then was about when it got worse, and it's been inflamed ever since."

Surgery was scheduled for shortly after the season ended.

His response was an example for all the Panthers.

"He is one tough, competitive, hard-nosed football player," Tribble said. "It's inspirational to us for him to get out there and be able to play as well as he has. He's scored 20-something touchdowns and has 35 receptions, so he's just a great football player, and he's still real, real important to us."

Winston has experienced the highs and lows of Greenbrier football. His sophomore year, the Panthers finished 1-9.

"The group I grew up playing with, the seniors this year, we all grew up together playing pee wee, and we were used to winning," he said. "We knew when we got up here to high school, we could make a difference. We weren't hoping we could; we knew we could. When the new coaching staff came in, we started putting it all together and that made the difference."

He said the atmosphere of the school and the entire town had changed.

"Greenbrier's more like a family now," he said. "Everybody's happier. It's a better vibe. Everybody's cheering, excited. They actually get into it. They're actually going to watch and not just to be at a football game."

He described the crowds every week like those at the Faulkner County rivalry game with Vilonia.

"We all really came together and worked hard for what we got," he said. "Hats off to the coaches and everybody who helped — the scout team, the younger people. I hope they can carry it on next year."

A few days after the season ended, Winston was able to put things in perspective.

"I thank God for all my blessings and talents and opportunities," he said. "And for the fans, coaches and community, I was getting money donated to the Autism

Speaks charity with every touchdown I made from banks around the area."

He's played catcher for the Panther baseball team, but he said with the knee surgery, he'd probably move to center field in the spring. He plans to play college football next year, having received recruiting interest from Arkansas, Arkansas State, the University of Central Arkansas, Brigham Young, Missouri and NCAA Division II schools in Arkansas.

He said the football transformation had extended to his grades as well. After Tribble challenged him in the classroom, he moved his GPA from the low 2.0 range to nearly a 3.0, which he said he'd get after this year. He's recorded 22 on his ACT. He was considering coaching, sports psychology or sports medicine for his future.

"I want to be around it even if I can't play," he said.