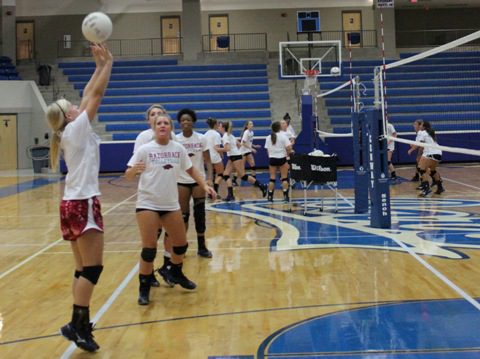 21 Aug 2013

On opposite sides of court

by Donna Lampkin Stephens


Rick Crow will literally be the man in the middle as high school volleyball starts this week.

His wife, Laura, is the ultra-successful head coach at Conway High. His daughter, Jessica, is a 5-6 senior setter for North Little Rock.


The Lady Charging Wildcats will be among the visitors to Conway's Buzz Bolding Arena on Thursday for a preseason jamboree. Conway will travel to North Little Rock on Tuesday, Aug. 27, to officially open the season.


"I'm not saying anything," Rick Crow said, chuckling, when a caller asked for which team he'd be rooting. "You're not getting me on this one.


"Maybe they'll get a tie and I'll be safe."


Jessica played soccer and basketball before getting to know her stepmother, whom she met when she was about 8.


"She introduced me to (Junior Olympic volleyball), and ever since I started playing in fifth grade, I've had a huge love and passion for it," Jessica said.


Laura, among others, encouraged that love.


"It's a really good sport and a lot of fun," she said. "She ended up falling in love with it just like I did."


Jessica's mother, Windy Campbell, also played high school volleyball.


Although in recent years Conway has had the upper hand in the rivalry, it is a definite rivalry for several reasons: the Crow family, the proximity and Cheryl Bing. Bing was Crow's assistant for several years before taking the head coaching job at North Little Rock. She returned to the Conway district this year.


"That match has always been draining," Laura said. "Cheryl and I are good friends, and with Jessica on the team, it's even more draining. They're a great, competitive team, and it's nice to play them."


Conway has won six consecutive conference championships, including several while in the same league as NLR. Laura Crow, starting her 12th season atop the Lady Cat program, is 265-57 overall (.823) and an incredible 142-6 (.959) in conference matches.


A couple of those losses have come to North Little Rock, but not in recent years.


"And I hope it stays that way," said Laura, who became Jessica's stepmother in 2006.


Jessica agreed the rivalry was exciting.


"She's my stepmom, and I hope her team does really good," she said. "I like watching how she does her job. She does a really good job.


"I want to win for my school and everything, but a game's a game, however it plays out."


She said they sometimes talk about their sport at home.


"We try not to give out our secrets for when we do play each other, but we've both seen each other play and can point out things to each other," she said.


While Laura doesn't get to see her stepdaughter play many high school matches because of the Lady Cats' schedule, she does get to watch Jessica's JO matches with the Fatchmo squad, based in Conway — often sitting with Campbell.


"One of the best things she brings to the court is her personality," Laura said. "She's super positive, upbeat, cheering. She has a presence on the court. It's almost like she just beams happiness. She's a good little leader."


Jessica said she hoped to play college volleyball next year.


"I would love to if anybody would take me," she said.


Laura is going to put together a DVD her stepdaughter can send to college coaches.


Maybe next year, Rick Crow won't be torn.