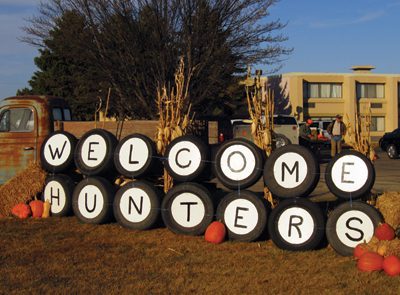 17 Dec 2011

On hunt, pheasants and some fellowship

by Chris Green

Several years ago, I was introduced to pheasant hunting by a dear friend, and it has since become one of my favorite hunting seasons.

As many of my friends can attest, I like to talk, and bird hunting allows me to do just that without scaring away the intended quarry. Don't get me wrong, deer hunting is at the top of my list, too, but there's just something about pheasant hunting that keeps me coming back for more.

This year I was fortunate enough to be invited to go on a pheasant hunt in South Dakota, the mecca for all pheasant hunters. I've hunted in Kansas a few times, and without well trained bird dogs, it can be quite hard to bag your limit. The laws in South Dakota don't allow hunting until 10 a.m., so it's quite a change for an Arkansas boy who is used to being in the woods at least 30 minutes before daylight. There, you have time to eat breakfast and take a nap before donning your blaze orange.

One early morning in Kansas, we were walking from the farm house where we spent the night to a field just a few hundred yards away. Ronny, the guy in our group with the well trained bird-dogs, brought along Roscoe, his trusty Springer Spaniel.

If you've ever been around a bird-dog owner, and especially had the opportunity to hunt with one, they don't want their dog distracted by any other kind of animal, living or dead, because it takes their mind off the task at hand. On our way to that first field, Roscoe was distracted by a raccoon that was simply going about his early morning business. Dogs don't like raccoons, and this raccoon didn't like Roscoe. Roscoe charged, and in the pre-dawn darkness, all we could hear was barking, wailing and gnashing of teeth.

Ronny, in a panic, ran to the scene, all the time yelling, "Roscoe! Roscoe! Roscoe!" – as if the dog were suddenly going to drop his pursuit. Roscoe probably knew he was going to be in trouble whether he quit or not, so what did he have to lose? The raccoon, being in the middle of an open field, had nowhere to hide and nothing to climb to escape his attacker. At least not until Ronny walked up.

Up and around the legs he went, and again all we could hear was, "Roscoe! Roscoe! Roscoe!" Ronny finally got hold of his defiant dog, and the coon high-tailed it for the nearest tree line. Ronny was sour about this for the rest of the week.

Now that I think about it, what I like about pheasant isn't about the pheasants at all. It's about the fellowship and all the stories that come home with me.

Beast Feast tickets on sale

Tickets are now available for the 11th annual Beast Feast planned Saturday, Feb 4, in Conway.


The guest speaker will be long-time TV host Hank Parker, who has had his own fishing or hunting show since the late 1970s.


The location has not been finalized, but organizers hope to have the event again at the Conway Expo Center and Fairgrounds. Doors will open at 1 p.m. for the expo area with the program at 5 p.m.


Beast Feast is an outreach of the Second Baptist Men's Ministry. It has grown in attendance from 500 in its first year to 2,500.


Tickets can be purchased in the fellowship hall at Second Baptist Church, 701 Polk St., Conway.


For more information and to see photos from last year, please visit beastfeastarkansas.com.