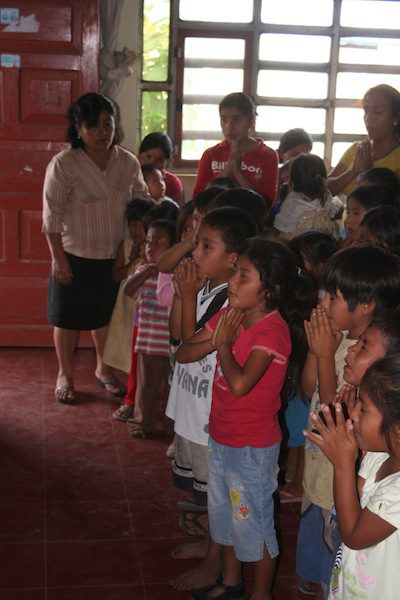 22 Aug 2011

On a mission: Group travels to Peru

Posted at 6:52 PM

in

Faith

In May, the Rev. John and Lali Palmer of Conway and eight others set out for a mission trip to various towns in Peru in South America. John is the campus minister at the Wesley Foundation at the University of Central Arkansas. Lali is minister of communications and office manager at Grace United Methodist church. The following excerpts are from a journal Lali kept during the trip.

Day 1 – May 10


The day has arrived! Up at 7 a.m., our flight leaves at noon from Little Rock. Packing had to be a work of art. We are taking a good amount of VBS supplies. Some of them were graciously donated by Grace United Methodist and the rest we were able to get thanks to the generosity of our supporters.


Our Mission team is made up of six students from the Wesley Foundation at the University of Central Arkansas: Sarah Church, Kelly Hale, Daniel Ledbetter, Kayla Marsden, Katie Vance and Alex Walsh. Plus our children Isabella (6) and Illias (3) and John and I are going.


Everybody is very excited.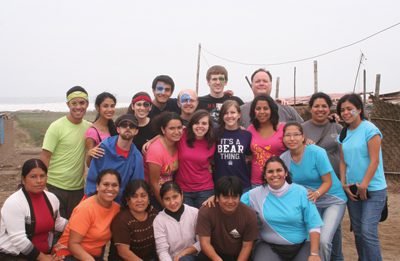 Day 2 – May 11

Long night at the airport, we are beyond tired. Last night was spent running around the airport, laying on the floor and playing cards. The students got little sleep. Our children got almost none. But, we were ready to be in Trujillo. Plane left on time.

If we wouldn't have taken the plane, we would have had to ride the bus for nine hours….

We made it to Trujillo, safe and sound. The Quevedo family, our host family, was waiting at the airport for us. Jorge, the head of the family, took our luggage and John home in his jeep. The rest of us took several taxis.

Public transportation is the main way to move around Trujillo. There are lots of taxis and buses. Traffic is extremely hectic. Our students were in for an adventure.

The Quevedos' home is five minutes away from downtown.

The girls and guys have nice bedroom arrangements. But only one of the bathrooms has hot water, so a few will be taking cold showers here and there.

It's uncommon to have hot water at home in Peru.

The day got noisier and noisier by the hour as more Peruvians arrived to meet the mission team . . . laughs, songs, hugs, so much love and appreciation for the team's presence.

Day 3 – May 12

Today we met with the leadership team from the Misioneros de la Cruz church. We worshiped, planned and rehearsed the program we will have at the university tomorrow night.

The students are excited about the drama. Our 6-year-old daughter will get to participate. She is thrilled. It's going to be a mime. Some of our students will have to come out of their comfort zone to do this. But it is a great way to work around the language barrier.

This morning we met with one of the Professors in charge of the Department of Institutional Image; he gave us a tour around the university. UPAO has around 15,000 students and is one of the major educative centers in north Peru.
They just purchased around 10 SimMan for their science programs.

We got to pass flyers and invite students to the program tomorrow night.

We were able to make a connection with the head of security. His mother is a Christian; he has been to church a few times.

"There is no perfect happiness," he said, after talking about his family. He has a 20-year old son with leukemia. "Nobody could ever imagine he is sick because he looks tall and strong." The illness is in remission for the moment.
But there was much sadness in his voice.

Sometimes words are not enough to comfort somebody in the midst of disappointment and pain.

Our hearts broke for him, and we promised to lift his son up in prayer.

Day 4 – May 13

Great day of work at the university!

We had a good crowd of students at the auditorium. There was a lot going on on campus.

Daniel gave his testimony in English; Esteban interpreted. It was amazing to hear his story. He has really had to come out of his comfort zone, and he did an amazing job.

The music was great. Kayla Marsden sang a solo, "How He Loves Us," very moving. Our band was made up of American and Peruvian musicians. We sang songs in English and Spanish.

Rev. John Palmer, our leader, brought the message from Titus 2:11-14: "For the grace of God has appeared that offers salvation to all people. It teaches us to say 'No' to ungodliness and worldly passions, and to live self-controlled, upright and godly lives in this present age, while we wait for the blessed hope – the appearing of the glory of our great God and Savior, Jesus Christ, who gave himself for us to redeem us from all wickedness and to purify for himself a people that are his very own, eager to do what is good."

Afterwards, we met in small groups to talk with the students and pray.

We are thankful for this opportunity. Having a Christian event at UPAO has become harder during the last couple years, probably due to the change in administration. But God open doors for us and we were able to find grace with the people in charge. That allowed us to pass flyers and establish conversation with the students.

We came back home around 10 p.m. and had dinner. Everybody was so pumped; it was hard to go to sleep.

Day 5 – May 14

Today we met with the youth for worship and games. Because the patio was taken with construction supplies, we sent the youth for a scavenger hunt around downtown.

It was a lot of fun. They have connected quickly.

Also, we have started rehearsing the choreography for the VBS songs.

Kelly Hale will be telling the story of Jesus calming the storm from a fish's perspective, and he will do it all in Spanish.

Day 6 – May 15

We had worship at the Huamanchumo's home. The Misioneros de la Cruz church is a relatively new Methodist church start. They alternate their meetings between two of the member's homes. The music is a mix of old hymns and contemporary songs at a very upbeat rhythm. The pastor, Jorge Quevedo, led worship by playing guitar. Jose played djembe and Elisabeth played the tambourine. Our 3-year-old son, Illias, got a hold of the shakers. There was not one person that was not singing; it was amazing! Even Illias was trying to catch on the words, play the shakers and move his feet with the music. And we were all singing in Spanish!

The Sermon today spoke about an angel appearing to Cornelius and asking him to call for Peter. Peter then has a realization: "I now realize how true it is that God does not show favoritism but accepts from every nation the one who fears him and does what is right." Then the Holy Spirit came over all who were present, Gentiles and Jews.
Their eyes were then open to see that no matter what nation you are from, we have all been favored with God's grace; we are all His children.

Two nations, two cultures, two languages, worshiping one God, one Lord, in one Spirit. What a blessing!

John made Mexican chicken, and everybody was invited to partake in lunch and try some American food. They all loved it.

We tried to rest in the afternoon.

Day 7 – May 16

Today, we had an orientation meeting at the Center for Attention and Education to the Family (CAEF). We met the staff and had lunch with the children when they arrived from school. Some go to school in the morning; others go in the afternoon.

CAEF is a Christian non-profit organization that works on the physical, psychological and spiritual restoration of kids in extreme poverty to reach their social adaptation. They strengthen children's education, train youth leaders and prepare parents.

CAEF is around 14 years old. They have been working with children in high risk that live in extreme poverty and have been victims of physical, emotional or sexual abuse.

Currently, the government has no funds to support CAEF, but they continue to send children to be taken care of. CAEF was founded by faith and subsists by faith.

They minister to the last, lost and least.

A few years ago they were able to buy some land through a donation and build their home in Moche about 5 minutes from "Las Delicias" beach and 15 minutes from Trujillo. It was a dream come true.

They are seeking ways to help the families of the children they minister to by teaching them skills to generate some sort of income. They have tried sewing, jewelry, candy and now they dream of buying the land next to their home to build a hotel for "Solidary Tourism." In that way, people who want to do tourism in Trujillo have the option to contribute to CAEF's ministry while they stay there.

CAEF was built with the purpose to have children stay the whole week at the home. However, due to budget limitations, they can only have them for part of the day and provide only lunch. They are praying for funds to hire night-shift staff and to be able to provide children with dinner and breakfast.

When children arrive from school, the staff helps them with their homework and according to their psychological needs, offer therapy for kids and parents.

After the orientation meeting we got to have lunch with the kids. We had burgers, potato salad, rice and passion fruit juice.

Before we got there we were warned to not waste any food. When working under these conditions, food should never be wasted even if we don't like it. After lunch, some in our team had not finished or touched part of their meal. Children were coming to the CAEF director to ask if there was any more food for seconds. One of the volunteers brought a bowl that was left in the kitchen and collected the food that had not been eaten to be given to the children that were still hungry.

After lunch there was a closing ceremony for mother's day celebration. It had to be done in two parts. One part had the party honoring mothers, and the other was a drawing contest. Through their drawing children needed to express what their mothers meant to them or what they wanted to tell to their mothers. It was a heart breaking time.

Due to the bad relationships many of them had with their moms, expressing what they wanted to tell them came in different forms through their art. Children were invited to explain what their drawings meant; some couldn't even speak and started crying. Some members of our team were invited then to share what we would tell our mothers through a drawing. We hit a connecting point then. Some members of our team had only one parent or were raised by their grandparents. We had more in common than what we had imagined.

It was hard to continue to interpret without breaking into tears.

After judging these drawings, it was explained that they are used as indicators of the children's psychological needs, and therapy was the next step.

When the ceremony was over, we got to play with the kids until 5 p.m. when the taxis arrived to pick us up. We got home to help make dinner, eat and clean up the kitchen.

We are worn out.

Day 8 – May 17 – VBS at Taquila

Today was our first day of VBS. We call it Vacation Bible School because of the format rather than the timing. It's not really vacation time here in Peru just yet.
This morning pastor Jorge took us to a place called Eguren. Eguren is the name of the street where all the stores that sell groceries by the bulk are located. We drove through the black market while John tried to film the streets. Pastor Jorge then closed the windows of the car almost all the way. It was not a very safe place. We also drove through the meat and vegetables market; the smell was hard to stand. There was the smell of fish, chicken, beef and pork cut up and hanging in the stands, plus the trash outside.

We went shopping for toothpaste, toothbrushes and candy to put goodie bags together for around 160 children. We have been so excited about being able to provide these things for the kids. We can't wait to see the smiles on their faces.

Our first day of VBS started in Taquila at 2 p.m. It's a shanty town right in front of the beach. Houses are made mainly of adobe. This place started as an invasion from people who migrated from the mountains to the coast. Their main activities include working at the chicken houses around the area, raising pigs, working for the asparagus plantation or fishing. Although they have electricity, there is barely any water. Water comes once a day, and people have to bring their buckets to fill up as much as they can, which makes for really poor sanitary conditions.
Part of CAEF's ministry at Taquila is about prevention. They educate children and families about how to deal with family problems, how to prevent sexual abuse and they teach them values and good hygiene habits.

We had around 60 children, between 4-16 years old. We met at one of the parent's home. It was a small space for all of us, but we had to be creative.

Kelly Hale taught the Bible story in Spanish! He did it with so much love and sweetness, it was touching to hear him talk. The children were very pumped with the choreographies and enjoyed the crafts we brought for them. We had stickers, pillows, stuffed turtles, wooden boats for them to paint, sailor hats and face painting. Time ended up being short for all that we wanted to do.

Then we passed the goodie bags with the theme Bible verse: "When I am afraid, I put my trust in You" – Psalm 56:3.
They loved everything. We were so happy for them.

Day 9 – May 18 – VBS at CAEF

VBS at CAEF seemed to go pretty fast, at least to me. While the students led the kids in songs, I prepared the supplies for each group. Part of our group went to CAEF early to take pictures of the 10-12 age group for the picture frames they made as their craft.

CAEF works with the parents also. They had a group of about 20 parents that meet regularly for something like a "School of Parents." We brought them a set to make a quilt and travel mugs they were able to decorate with stickers and pictures of their families. They loved it!

Kelly Hale has been chosen to do the Bible study at all the places. His face was completely painted as a fish, and his name was "Babaloo." His Spanish is very good, and the kids love to hear the story from him.

Our taxis were late to pick us up. Peruvian time rules here – this means about one hour later than the set time.

Day 10 – May 19 – FREE Day

We visited Huanchaco Beach. We were told that there is almost no beach left. Due to Japan's Tsunami, the sea has come out significantly. The Pacific Ocean seemed really aggressive. The pier has been closed.

But surfing was on its best.

We got to see a couple of girls get in the "Caballos de Totora." Totora is a large reed used in pre-Incan times to make fishing boats. Today, they are still used for artisanal fishing and touristic attraction.

If you want to go for a ride, you get in a little space in the boat while the fisherman paddles on his knees.

It was a cloudy day, and there was a little space to walk in the sand.

Around 1 p.m. we went to lunch. A couple of adventurous students tried "Ceviche," which is fish marinated in lime juice served with sweet potatoes, corn and lettuce. Limes in Peru are significantly more acidic than the ones in the U.S.

John got sick today. Everybody thinks its "Alan." A couple of students got sick a few days ago with something similar. They named it "Alan." Alan is the tourist sickness. The symptoms are tiredness, diarrhea, nausea and/or vomit. It is treated with Cipro, fluids and plenty of rest.

Day 11 – May 20 – CAEF Volunteers' Day

John and Rosa, the pastor's wife and our hostess, made chili for the CAEF volunteers. We didn't have all the peppers needed, but it turned out good.

Last year we surprised the volunteers with manicures, pedicures and facials. We made them burgers and had Communion afterwards.

This year we prayed, brainstormed and tried to think hard of what we could do to show them our appreciation and encouragement. The only thing we could think of was to add a time of prayer to what we did last year. So, we set up praying stations: Wailing Wall, Burdens, Forgiveness and Thanksgiving Art.

John introduced the stations and made the invitation to participate.

"We had been thinking of what we could do to encourage you all," he said. "We wanted to put our hands on you. We wanted to touch you somehow and let you know in tangible ways how much God loves you and appreciates you for the service you are doing."

Then he cried, and we were all crying.

The constant thought in our heads has been how can we show these people that work daily with children in extreme need with the minimum resources and support that they are loved and appreciated – that the service they are doing is not in vain. It's a service to Christ himself.

Then we had Communion and provided all the 13 volunteers with journals and pens. They were not expecting the gift but appreciated it very much.

The Burdens praying station read: "Come to me, all you who are weary and burdened, and I will give you rest. Take my yoke upon you and learn from me, for I am gentle and humble in heart, and you will find rest for your souls. For my yoke is easy and my burden is light" Matthew 11:28-30.

After dinner, Judy, CAEF's founder and director, gave me a hug and started to cry. She is a strong and tough woman. But here she was telling me in my ear how tired she felt from carrying this burden and how sometimes she felt like stopping.

"Today as I came to the Burdens praying station, I was reminded it's not my burden to carry," she said. "Christ called me, He empowered us and He is carrying it. I feel relieved."

At the end, we hugged, encouraged and blessed each other. Thank you, Lord, for your presence here.
Day 12 – May 21 – VBS at Torres de San Borja

This morning was our last VBS program at Torres de San Borja.

It's another shanty town up on a hill. Living conditions are similar to those in Taquila, but here children have to walk about 30 minutes to go to school. When they arrive they are sweaty and tired. There is no vehicle that will go up the hill to pick up the children.

They grow pigs around here, too, and children tend to play in the dirty water with them. Skin diseases are very common in children and animals. Sanitary conditions are poor. Some children have shoes; some have school uniforms and have to share them.

CAEF's work here is on prevention of abuse and teaching of values and good hygiene habits.

We had around 75 children and two classrooms to work with. Children ranged from 2-17 years old.

The program got the attention of more than just the children that are part of CAEF's program. Thank goodness we had extra VBS supplies and goodie bags, so no child would be left behind.

What would it take for the authorities to give more attention to these places? They only come by during election time to make promises and get people to vote for them. But very little goes on for the communities after elections.

We had worship with the youth this afternoon. Time has passed way too soon. We are trying to use every bit of time we have left with our Peruvian friends.

Day 13 – May 22 – Worship and Leadership Meeting

We had our last worship service this morning. Everybody is really tired.

In the afternoon, we had a gift exchange and got to discover who our secret prayer partner was. As we did this I was reminded of Philemon 1:6: "I pray that the sharing of your faith may become effective when you perceive all the good we may do for Christ."

We started planning, praying and fundraising a good while ago. Time has gone too fast. All that we have done was possible because we received understanding of how important the mission God was calling us to do is. When we understand we can give, receive and meet Christ in the work we do and when we see all the good that can be done in people's lives through the sharing of our faith, everything else becomes so dim. Our differences and personal interests are set aside, and the Holy Spirit takes control. He uses us TOGETHER to bring blessings to those in need.

How I hope we will remember that always and may continue to lift up the name of Christ.

Day 14 – May 23 – Departure

Plane left at mid-morning today. They didn't want to let me fly. I am 29 weeks pregnant and feel pretty good, but for some reason they just now they realize I am pregnant and need to fill out a release form to fly at my own risk. So I started to pray, "Lord, don't let this baby come any sooner than needed."

We arrived in Lima at 11:30 a.m. We had a long stay at the airport because our flight to Atlanta didn't leave until midnight. We had to be creative with the children. The students found a hallway and laid there. There was a lot of turbulence from Lima to Atlanta, but we are back home safe, sound, tired and happy. Thank you, Lord.

Reflection

I am a Peruvian. I lived there for 24 years. I have been in the U.S. for eight years now. When I was 5 years old, the pastor would come by my house and ask me, "Lali, let's go to Peru?" I always said yes. We visited three places weekly – similar places to Taquila and Torres de San Borja. Our local church had missions there. We had Sunday school, worship and Easter and Christmas programs. The church distributed donations of food and clothing to the community.

It wasn't until much later that I realized, hey, I live in Peru already – why was the Pastor inviting me to go to Peru? Because this is the real Peru. After more than 20 years, the need may have moved to a different place around the city but continues to be the same.

And no matter where I am, the invitation continues to be the same: "Lali, let's go to Peru?

Then the words of Proverbs 21:13 speak to me: "If a man shuts his ears to the cry of the poor, he too will cry out and not be answered."

I have heard the cry of the poor. Maybe if I had never heard it before, there would be an excuse. But now that I know about it, what else can be done for these children and families?