09 Jun 2021

OK Boomer we'll play your game!

By Becky Bell

It's like tennis. It's kind of like badminton, but not exactly. And you can definitely work up a sweat while playing.

Pickleball is the unique name of this sport, which has been growing across the nation for years but has been gaining popularity in Arkansas more recently, according to David Stefan, an avid player from Bryant.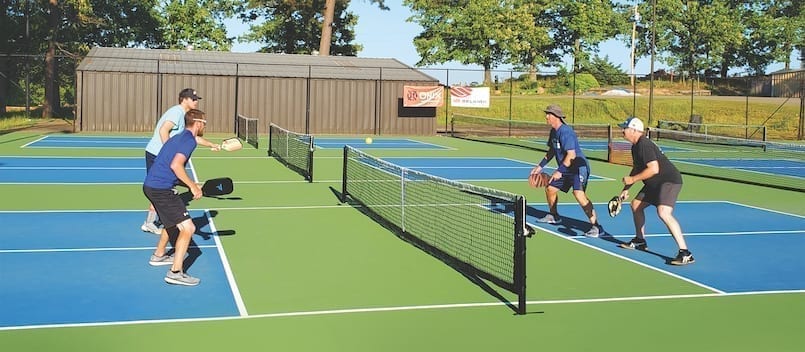 The game involves players using paddles to hit a perforated plastic ball over a net. It was originally created in the 1960s as a backyard game for children, but is hugely popular with Baby Boomers. Pickleball is played on a pickleball court, which resembles a doubles badminton court, and can be set up on a tennis court.
Stefan said he first learned about pickleball from his father, who introduced him to the game six years ago during a visit to Wisconsin. His father is in his late 70s and loves the game.
"I wasn't real interested in pickleball in spite of my dad's urging and suggestions," Stefan said. "But I decided to humor my dad and play with him one time and check that off. I had a great time and went back to visit him a month or two later. I think I played two or three times while I was there and decided this is something I want to figure out that I can play back home in Arkansas."
For the past six years, Stefan has been a USA ambassador for pickleball and created the Central Arkansas Pickleball page on Facebook that has more than 1,000 followers.
Other than his father, Stefan is the only person in his family to play pickleball. He said you can find the pickleball paddles at any sporting goods store.
The court size of pickleball is smaller than a tennis court. It is played on a badminton-size court, which is 20 feet wide by 44 feet long, he said.
"Especially when you are playing doubles, you have a lot less real estate to cover, and there are other rules to pickleball that are unique that really skew it toward a finesse game rather than a power and speed game like tennis," he said. "If you have a powerful serve in tennis, the other player doesn't have a chance. But men and women can play competitively in pickleball. We sometimes have families of three generations having fun playing out on the court."
Stefan said he was really surprised that he became such an avid fan of the game after playing only a few times with his father. He said he was mainly playing the game to get his dad's mind off of his mother's passing. But the game took hold and eventually led him to leadership in the world of pickleball.
"Never did I know I would be an ambassador and start the nonprofit Pinnacle Pickleball," he said.
The nonprofit promotes pickleball in Arkansas and helps raise money to enhance the game. For example, the organization raised money to purchase the lights at the Kanis Park Pickleball courts in Little Rock so people can play after dark.
The eye-and-hand coordination required to play is similar to what it takes to play ping pong. And finding a game when you are vacationing is not a difficult thing to do, according to Stefan. He mentioned a retirement community in Florida that has 100 courts.
"The culture of pickleball is welcoming," he said. "The culture is 'come on in and we will teach you and it's a blast.' If you show up to a court, people will put a paddle in your hand and show you the ropes."
Stefan said he expects the sport to continue to grow in popularity and is so grateful to his father for introducing him to it.
Want to know more about pickleball?  Visit usapickleball.org for answers to all of your questions, including what the sport  is, how and where to play, as well as the official rules and merch needed to look like a pro.