By Don Bingham
If you take Highway 365 through Mayflower in southern Faulkner County, you'll find one of the newest surprises in the culinary offerings in the 501 area – O'Henry's Restaurant.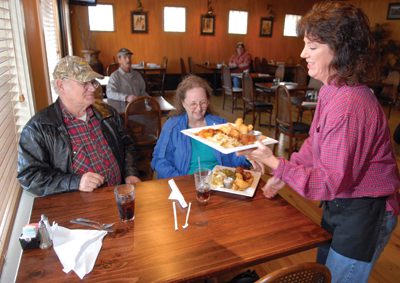 I've enjoyed eating there twice now, and with each visit I learn a little more about this new place, named after Henry Lee, the up-and-coming chef of Mayflower's newest restaurant.
Perhaps I should give a little history of O'Henry's. How many of us have fathers that are willing to set us up in business, make sure we pay the bills on time, and encourage us in myriads of ways to pursue our dreams? Well, Dan Lee is one of those dads, who along with his son, Henry, and with a little help along the way from a great staff like Gina Perkins and others, have begun another wonderful option for dining.
The eating establishment is in an old gas station-grocery store — loaded with "If these walls could talk" potential — at the edge of what would be considered Mayflower or Conway — across from Sidebottom Road.
The structure has been completely redecorated on the inside, with one of its most interesting features being the beautiful hardwood floors and the exposed pine beams that were hidden under layers of insulation.
The restaurant has a seating capacity of 64 and is open for breakfast, lunch and dinner.
There is actually a clientele already traveling from Little Rock to visit O'Henry's, as well as a lunch crowd from Conway and surrounding areas.
Chef Henry Lee's philosophy has always been "let the food do the advertising" and in his temporary absence, Gina Perkins continues this tradition with wonderful "grandma taught" cooking. The menu boasts of red beans and rice, fried sweet potatoes, field peas, fried cabbage, broccoli salad, and pies made from "scratch" — even "home-done" crust! Many guests will come just for beef brisket or beef liver and onions — and catfish on Friday nights!
Gina comes from a culinary background of homegrown cooking – at Stoby's for 18 years, to Pickle's Gap, to Gina's Jewel and to O'Henry's. Chef Henry's sauces are one of the drawing features for the future menu — not many make veal stocked-based sauces these days! And don't forget Gina's "chocolate gravy" and biscuits from "scratch."
O'Henry's has only been open since August and the word has spread rapidly. There is a children's menu, several dessert offerings, and quite an ambitious menu for any diner. O'Henry's Restaurant – located at 283 Hwy. 365 – is a "must try!" Carryout is also available.