25 Apr 2022

Nursing Instructor a top nominee

Posted at 6:58 PMh

in

News

SEARCY — Amber Dale, Practical Nursing instructor at ASU-Beebe Searcy campus, was among the top three nominees for the 2022 Arkansas Outstanding Nurse Educator of the Year Award. Dale was recognized on April 2 at the Publishing Concepts, Inc. 16th Annual Nursing Expo in the Jack Stephens Event Center at the University of Arkansas at Little Rock.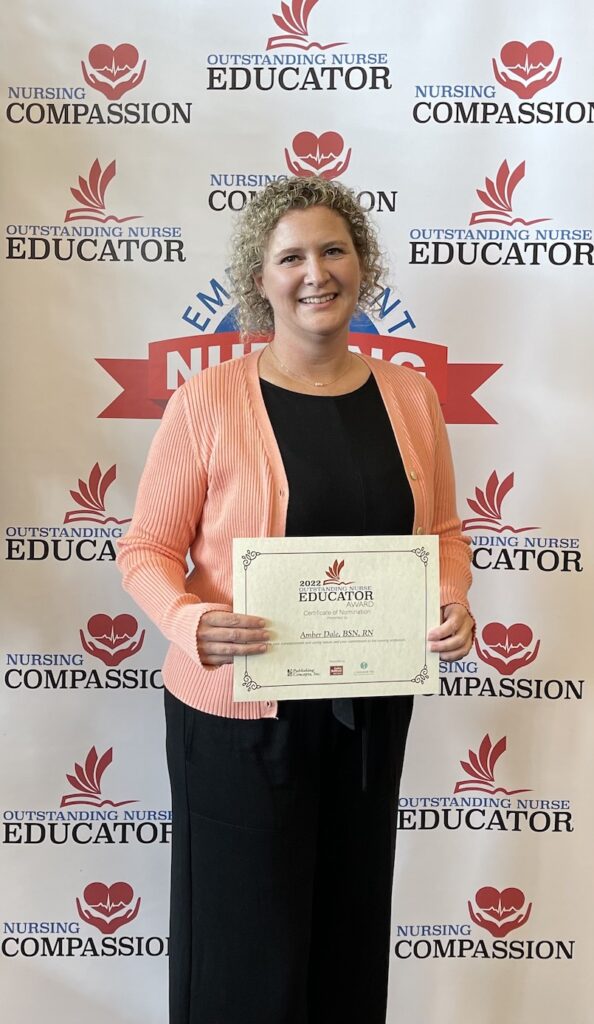 The oldest of six siblings, Dale grew up in Illinois. She earned her bachelor's degree in nursing in 2002 from Pensacola Christian College and went on to work in pediatrics and obstetrics and eventually the Neonatal Intensive Care Unit at SIH Memorial Hospital of Carbondale.
Dale, a registered nurse, worked at Carbondale for seven years before moving to Arkansas in 2009. She worked at Unity Health New Life Center and in the NICU at Baptist Health in Little Rock, where she still works on the weekends, before coming to ASU-Beebe. Dale said she also taught science at a small private school while her children were in school. "Having the opportunity to combine my love of teaching and nursing as a nurse educator has been awesome," she said.
Several of her students submitted nomination forms in support of Dale for the award. One student commented, "Open door policy is what every teacher says they have, but as a very approachable instructor she makes her students feel comfortable knowing they can come to her with anything, even if it is just a bad day." Another student wrote, "The thing that truly makes Mrs. Dale stand out from the rest is her outstanding show of love, compassion, and support for her students and their emotional and mental health. Many of us have spent countless hours in her office crying to her, being comforted by her, and being uplifted by her. I know several of us might not have made it through school nor would we have had the confidence to continue without her guidance and encouragement."
Dale said her love of interacting with her students drives her in her role as an educator. "We are like a family. Our nursing students have to attend class six to seven hours a day five days a week, so we get to know each other very well. I love the opportunity to support them and prepare them for what is to come as nurses." 
Dale thanked her husband and family and her coworkers for their support throughout her career.