29 Sep 2022

Not your average JoJo

By Becky Bell

Wagging her tail is the same as smiling for JoJo, a yellow Labrador retriever who lives and works with her owner, Roe Henderson.

Henderson operates a Shelter Insurance office in Conway and has taken his beloved four-legged friend to work with him every day for the past six and a half years.

JoJo, who is 9, does not bark or jump on customers as they come in and has been calm since turning 2 years old, Henderson said. "She is good with kids and good with people, and she is exceptional in those talents," he said. "That's why she gets to go to the office."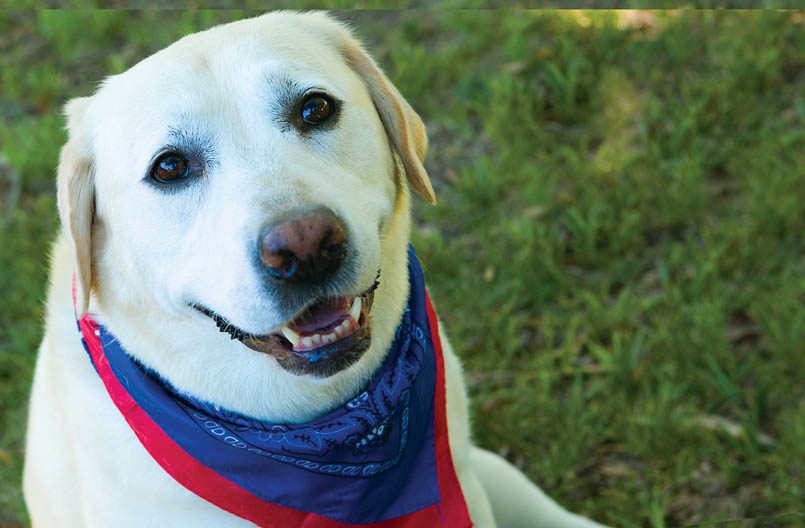 Because some people who come into an insurance office might be upset about a recent life event, JoJo's presence can make them feel better when they are stressed or even if they are just sitting there, he said. This is true for Henderson's three employees: Netta Schultheis, Patti McClure and Sam Frank. "Jojo takes her time each day to go to each of their offices and lay down," Henderson said. Each Wednesday at the office, JoJo gets to join the staff and dines on a delicious Chick-fil-A breakfast. She orders the four Chick-n-Mini biscuits. The workers also bring her special treats and so do some customers who stop by to visit JoJo. "We have people come by and say when they die, they want to come back as JoJo," Henderson joked. "She has a hard life. It's tough being her."
JoJo has a special relationship with co-worker Frank because when Henderson and his wife, Missy, are out of town, she stays at Frank's farm. On the farm, JoJo has made friends with all kinds of animals. "She has a couple of pig buddies, and they have mud holes," Henderson said. "She is a girly-girl dog but loves being a dog-dog too. If there is a dead worm, she will roll on it. It doesn't matter what it is; she will roll on it." JoJo enjoys getting filthy with the pigs, and when it is hot, she refreshes herself by jumping into one of the horses' water troughs.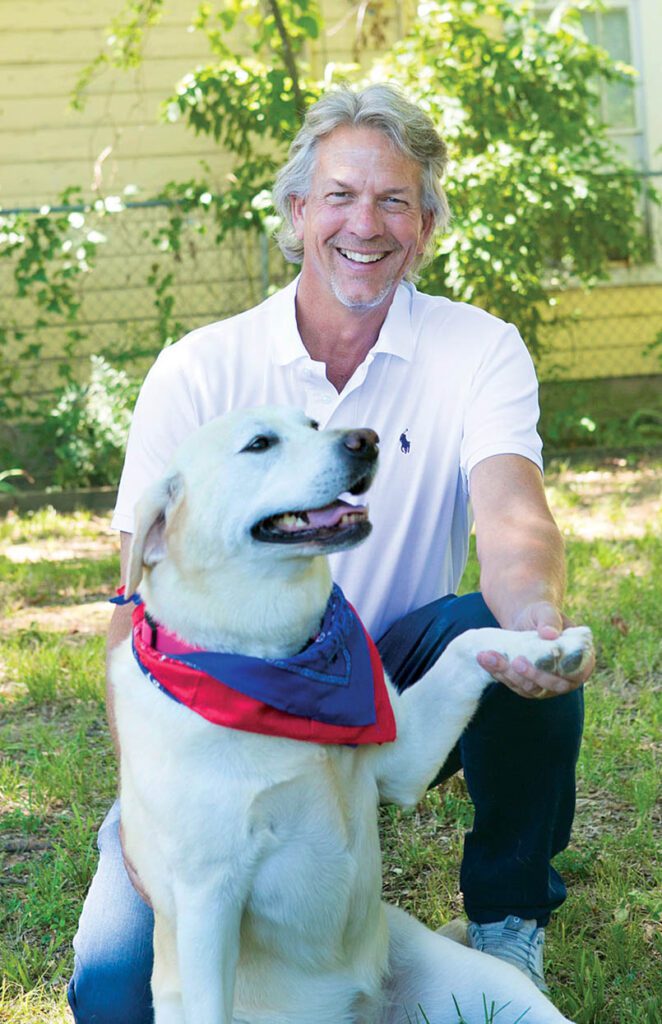 The Hendersons installed a pool a year ago, and JoJo doesn't miss a minute of the fun. "We got a cement pond, as they say on the 'Beverly Hillbillies,'" Henderson joked. "JoJo enjoys it. She will wait until she is told she can get in, and then she does. But after a couple of laps, she gets out to lay in the sun. She is 9 and a half."
Henderson said he has owned different breeds of dogs throughout the years, but Labrador retrievers are his favorite so far. Both he and JoJo look forward to pheasant hunting in South Carolina each October.
When at home and interacting with other dogs, JoJo has a sense of how to behave based on their size, Missy said. "She will play really sweet and gentle with a small dog, and with a big dog, she will play aggressively, but she still wants to play with the little dog," she said.
Henderson said JoJo has made a tremendous difference in his life and has touched the lives of others too. He said he didn't want to come off in any way saying his dog is a god, but there is that old saying that says, "Dog is God spelled backwards."
"They are a great picture of God's unconditional love for us," Henderson said. "They love us despite our warts."