29 Apr 2021

Not your average Bear

By Dwain Hebda

It's been 55 years since Kay Hinkle first stepped foot on the University of Central Arkansas campus. In that time, the Conway institution of higher learning has produced few alums as dedicated to advancing their alma mater as she.  

But as Hinkle herself sees it, it's just a matter of paying back an institution that has ably served her family for three generations.

"I met my husband at UCA; we married after graduation," she said. "We have two daughters and they both graduated from there. We also have four grandchildren and our granddaughter started UCA this past year.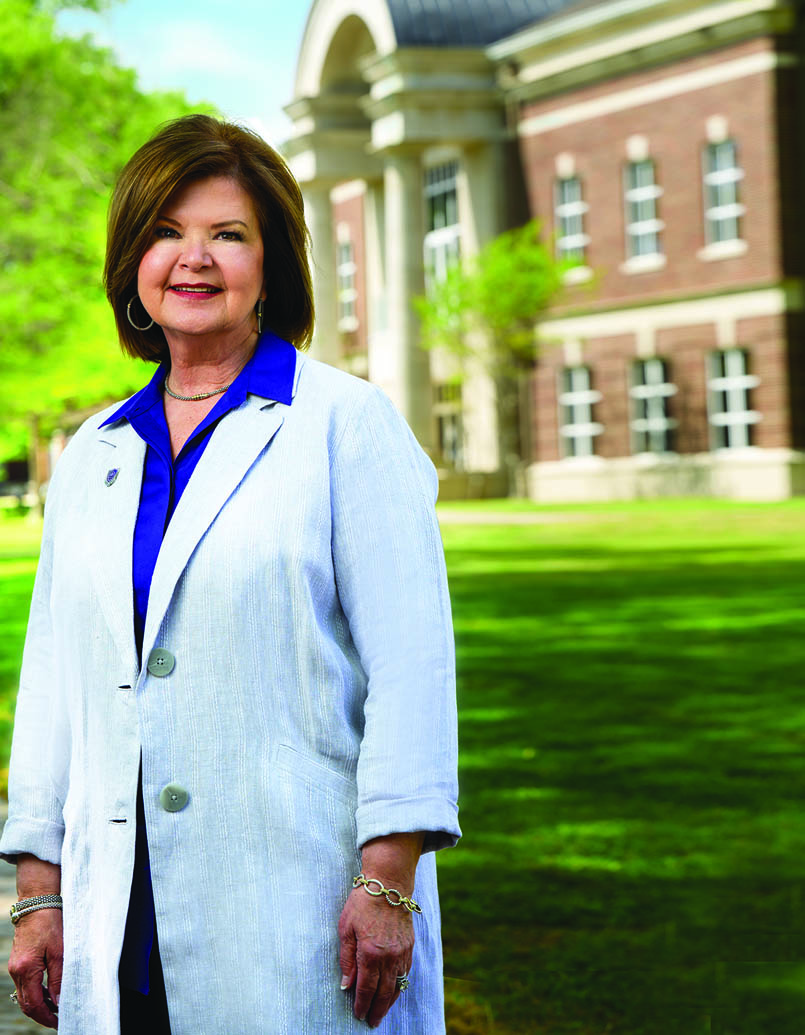 "I look back on the influence that UCA and some of those faculty had on me — they were some really meaningful, close-knit relationships. I think the faculty still does that kind of thing today. We still have faculty that cares and wants to see to it that the student gets the education they deserve."
It's a good time to be a Bear, thanks to multiple capital projects and a continued emphasis on quality and value in higher education. Ask Hinkle to list the school's competitive advantages and the Malvern native doesn't miss a beat.
"We've got a great honors program, probably one of the best in the state, if not the best, in my opinion," she said. "We have 160-something academic programs to choose from. We moved, in athletics, to the ASUN Conference and that will give us another recruitment tool, in another area that we haven't had before. And right now, we're already up in enrollment and this is several months before school starts in the fall."
Looking around the campus, one can see all manner of construction projects, from new Greek houses to academic buildings such as the forthcoming health sciences and fine arts projects. Hinkle said it's more than just window-dressing. In today's higher-education climate, such improvements are part of the arms race schools wage to attract and retain students.
"It's very competitive," she said. "We've tried to do a lot of different things to not only get students on campus but to keep them here and help them become successful. Our student to faculty ratio is 16:1. We've tried to work on retention by raising the standards, so now our average ACT score is 24.2."
All of this is a far cry from the UCA to which Hinkle reported in 1966 from her hometown of Malvern. It was a time when the student body hovered around 4,000, less than half of what it is today. After graduating with a degree in business education and marrying Jim Hinkle, whom she met in square dancing class, Kay settled into Mountain View where she taught school and worked in Jim's family businesses.
The couple returned to Conway, which allowed her to become more active in campus governance. She's sat on the UCA Board of Trustees for 17 years and is in her third go-around as chairman. In those years, she's had a hand in helping the college overcome numerous difficulties, though none so profound as what was experienced in 2020.
"Without a doubt, in my terms of serving in higher education, it was definitely the most challenging, difficult situation that I had ever seen in my lifetime," she said. "It wasn't just a particular group of people [being affected]. It affected everyone, basically every single person.
"As far as how we handled it at UCA, I think it was handled very responsibly. I think we rose to the challenge. The administration developed a task force immediately last March, when all this took place. They met weekly and discussed the challenges that lay before them. I think we have come out of it remarkably well because of that leadership."
Hinkle said the proof of the plan is in the numbers: Out of 10,000 UCA students, only 550 cases of COVID–19 developed.
"To say that it ended well is really an understatement," she said. "I think we weathered that storm very, very well."
With such days behind her, Hinkle is free to look toward the future with her customary optimism — as well as backward with considerable pride.
"I think being in financially good condition, I'm very proud of that," she said. "We've had some very challenging times at UCA, financially. Today, I feel like we're in excellent financial shape where a lot of universities are not. We knew that was coming, that there were going to be financial challenges for higher education, and we stand in good condition there.
"One of the things I'm very excited about for the future is our foundation. We're getting ready to launch the largest fundraising campaign in our history, $100 million. That's something I look forward to — seeing what that future holds and how much we can raise. Hopefully, that will continue for years to come."