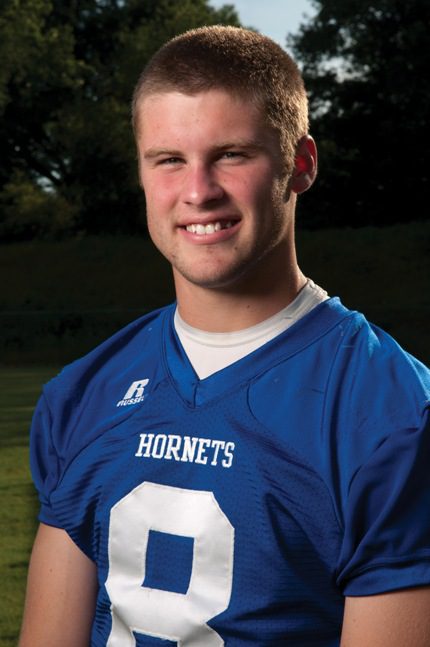 11 Sep 2013

Nossaman leads on and off the field

by Levi Gilbert


The Bryant Hornets don't have to look far for a leader on the field this fall — he'll be flying all across the field on defense.

Senior Davis Nossaman, a 2013 501 Football Team honoree, is the spirit of the Hornet defense.


"He is a leader!" Coach Paul Calley wrote in his nomination form for Davis. "He's a heady player that reads quickly and often plays above his ability level. He's a leader off the field also, being vice president of the student spirit group, the Swarm, and Youth Alive (student-led Christian group). He will be president this year of the Swarm. He's respectful and hard working with a great sense of humor."


The senior played safety for Bryant in 2012, but this year will see the defensive specialist hopping back and forth a bit between linebacker and the secondary.


"Our plan is to move Davis around and let him play several positions on defense to help make an impact," Calley said. "He is a great tackler, plays the ball well in pass coverage and has the ability to rush the quarterback. Davis was responsible for several big plays on defense last year, and we expect more this season."


Nossaman doesn't worry too much about where he's lining up as long as it will help the Hornets.


"It's mainly just a personnel change," Nossaman said. "We lost a couple of linebackers last year. The secondary stayed pretty much the same. The coaches tried me at linebacker some, and we really just tried to work out what would be best for the defense. That's the way it's going to work out with me playing linebacker this year."


Nossaman was second on the team in 2012 with 98 tackles. He recorded two tackles for a loss, two interceptions (with one returned for a touchdown), 10 special team tackles, four pass break ups and two fumble recoveries.
"He has such a positive attitude," Calley said. "He's a motivator; unselfish. He has an ability to lead by example, and he's always positive and a great role model. He's very goal oriented and always focused.
Teammates know how strong his desire to win is and that he plays with reckless abandon."

Nossaman provides high value on the field and even more value off the field.

"He volunteered to coach a Bryant City League basketball team last summer that took up a lot of his time," Calley said. "He helped put on an inner city soccer camp for the Knollwood Community and does lots of inner city mission work with Crosswalk Church of Christ in Little Rock.

"Davis is willing to step to the forefront and ask the tough questions when representing the student body. He is a leader in the classroom with over a 4.0 GPA, and we are anticipating him being named a National Merit Finalist."

Nossaman exudes energy in every phase of his life. It's a philosophy that could serve him and the Hornets well as they aim for a return trip to the playoffs in 2013.

"The key is keeping everyone's energy high throughout the year," Nossaman said. "The season isn't a sprint. It's a marathon. It wears you down. Keeping the energy up and spirits high is the keys so that we can always be prepared for what comes next."