31 Aug 2022

North Little Rock native interns at Arkansas Coding Academy

By Rita Halter Thomas

A quick online search of cybercrimes data will return eye-raising statistics from a variety of sources, but they all paint an alarming picture of vulnerability. The rapid development of new technology is outpacing the number of people entering the cybersecurity field. Skyler Austen, a senior at the University of Central Arkansas, hopes to change that.

Austen, a 22-year-old North Little Rock native, will graduate in December with a double major in computer science and cybersecurity. He found his passion for the industry after participating in cybersecurity competitions while in high school.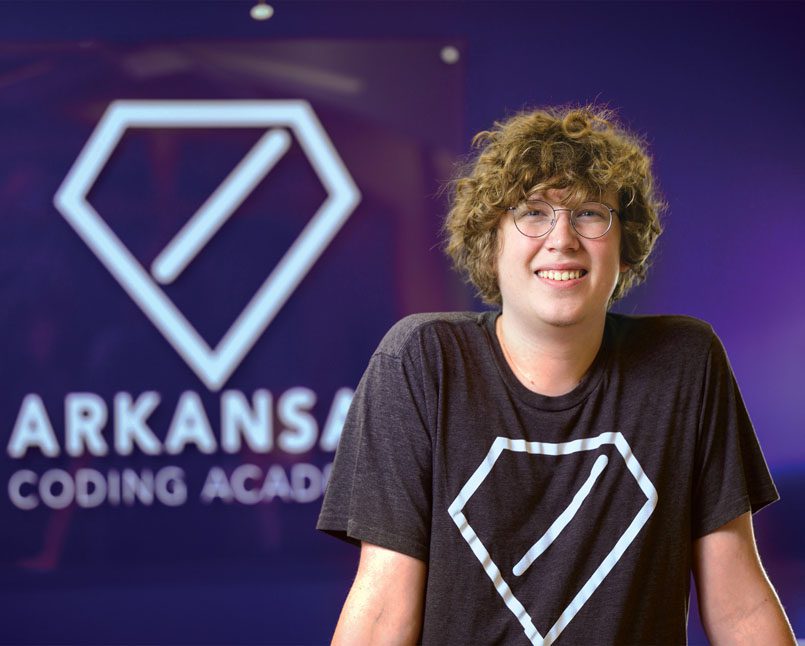 "There was a University of Arkansas at Little Rock student who came in to set up a cybersecurity competition team at Catholic High. We competed in some cybersecurity competitions, and I absolutely loved it," he said.
Austen credits his high school exposure to cybersecurity for lighting the fire he holds for the field. He hopes to ignite this same passion and interest in other high school students across the state. With the growing gap between new technology development and those with the skill set and training to test and secure these products, Austen recognized the need to raise interest in the field and tackled the challenge.
"I started the Cybersecurity Club at UCA just because of the experience I had in high school. I was like, this competition team was so impactful and so much fun, I wanted one at UCA."
The club hosts speakers, provides a training environment for college students, offers demonstrations and workshops, and competes in cybersecurity competitions locally.
"We've actually done pretty well," Austen said of the seven-member team. "Back in March, we competed in a cybersecurity competition at the national level and placed in the top 3%."
Austen wants to recreate a portion of his high school experience by developing a more beginner-friendly version of the competitions and making them accessible to high school students, along with developing programs for teachers.
"There are some high school teachers who have the technical background [to teach cybersecurity], but a lot of times what we're seeing is an English or math teacher being asked to teach computer science or cybersecurity. And so, they're learning right alongside their students."
While teachers can teach from slides to explain concepts, Austen understands most students learn best when they are "hands on." For that reason, Austen created a program using the frameworks already in place in some cybersecurity competitions. These competitions, which are basically virtual Capture the Flag games designed to develop skills and teach strategies used in real-world cybersecurity operations, are accessible online from the classroom. The programs and challenges are designed so teachers can administer them without the complex knowledge of setting up a server vulnerable to hacking. The program also promotes student sharing in group settings for problem-solving, so students share knowledge and help each other learn different techniques. As a bonus, teachers can cue up the program, select a challenge, and let students learn without the teacher needing to dive in and learn everything right alongside their students. The program contains everything the students need to know to meet the challenges.
"Arkansas is on the cutting edge of how we teach cybersecurity at the high school level. We're, like, leading the charge," he said, touting the governor's initiatives in computer science and cybersecurity and the state's approach to teaching these disciplines in the classroom.
Austen speaks to civic groups, schools and other organizations about cybersecurity and the growing demand for employees in the field. He shares staggering statistics regarding the vulnerabilities in the software released into the marketplace and dangles a carrot in front of career seekers. Cybersecurity professionals, based on skill and abilities, can earn an income of more than $100,000 annually, according to the U.S. Bureau of Labor Statistics. With the growing demand, it's attractive for those interested in cybersecurity as a career.
Austen is a Cybersecurity Intern at the Arkansas Coding Academy who develops curricula and programs and tutors students. Last summer, he interned with the NASA Jet Propulsion Lab and created workable challenges for NASA employees.
What's next? Grad school.
"While I can definitely see myself coming back to Arkansas, I'd like to take this opportunity to go out of state," he said. His short list includes Purdue, Northwestern and the University of Michigan.
In the long term, Austen sees himself eventually teaching at the university level.
"Arkansas is trailblazing in computer science and cybersecurity education, which is good. We are a player at the national level, and so far, we're setting the pace when it comes to how we teach those topics in school," Austen said.
"Arkansas's government is like a national advocate for computer science education, and that's what we're propelling our people into," he said.
Skyler Austen: Arkansas can be proud to call this difference-maker one of their own, born, raised and made right here in the 501.